The Seattle Storm could be building the WNBA's new dynasty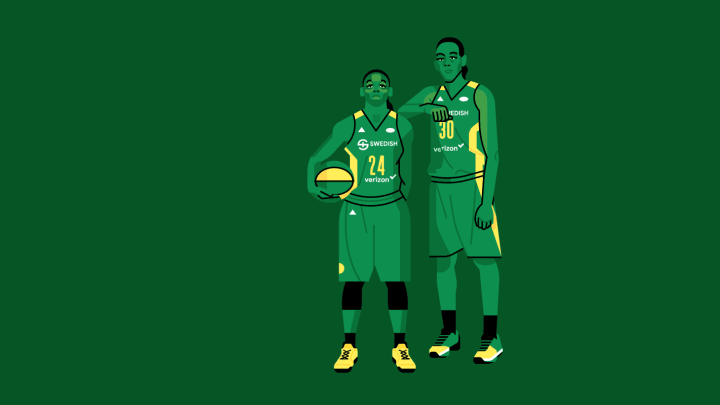 Photo by Scott Cunningham/NBAE via Getty Images Photo by Scott Cunningham/NBAE via Getty Images /
In the same way that the job of every other NBA team is to somehow beat the Golden State Warriors, the job of every other WNBA team is to somehow find a way to beat the Minnesota Lynx. The Lynx dynasty began at the 2011 draft lottery, when the ping-pong balls bounced in their favor and they were able to grab that year's transcendent UConn prospect, Maya Moore, with the No. 1 overall pick. In the seven full seasons since then, the Lynx have made it to the WNBA finals six times, winning four championships. The Lynx extended years to their dynasty with the crucial mid-2015 trade for center Sylvia Fowles. This move was not the equivalent of the Warriors adding mercurial DeMarcus Cousins — it was the equivalent of the Warriors bringing on the stoic David Robinson in the prime of his Hall of Fame career.
Minnesota's most serious threat, up to now, has been the Los Angeles Sparks. The WNBA abolished playoff seeding by conference heading into the 2016 season, clearing the way for titanic battles between the Western Conference foes Minnesota and Los Angeles in the 2016 and 2017 WNBA Finals. Each year, the teams pushed each other to a winner-take-all Game 5, splitting the pair of contests.
While a rubber match in September would be the most poetic outcome, it looks increasingly unlikely. This year both the Lynx and Sparks are treading water in the incredibly tight middle class of the league, where the second-best and ninth-best of the 12 teams are separated by only four games. Plus, both teams are looking up at a third, surprise contender who are slowly distancing themselves from the rest of field: the Seattle Storm.
---
Read More:
Courtney Paris is a WNBA No-Stats All-Star
---
As recently as this May, the Storm looked like a rebuilding project that had gone awry. The Storm were the last WNBA champions before the Lynx dynasty, winning in 2010 on the shoulders of the ageless pass-first point guard Sue Bird and dominant Australian stretch-5 Lauren Jackson. Even though Jackson was only 29 at the time, 2010 would be her last full healthy season. Her sudden absence triggered a slide down the standings until Storm were picking first in both the 2015 and 2016 drafts.
Seattle used the selections on Jewell Loyd, a walking bucket at 2-guard despite her slight 5-foot-10 frame, and Breanna Stewart, a slightly undersized stretch-5 who had, incredibly, won an NCAA championship each of her four years at UConn. Still, the 2017 season saw the Storm finish just 15-19 — perilously close to the 12-22 record that "earned" them the No. 1 pick for Loyd — and had fired a head coach for the second time in three years.
Two offseason additions to the team — neither of which made waves in the WNBA news cycle — have proven to be the catalysts that began channeling all of Seattle's raw talent into wins. The first was Natasha Howard, an undersized 4 poached from the Lynx's bench unit — plus a veteran of three WNBA Finals in her four career seasons in the league. Howard is receiving nearly double her career average of minutes this year, and she has kept up all of her stellar per-minute statistics while graduating to an expanded role. Alongside the capable offensive leaders Stewart, Loyd, and Bird, the low-maintenance Howard and hard-nosed 3-and-D wing Alysha Clark — a Seattle mainstay in her seventh year with the Storm — are ideal complements to round out an imposing starting lineup.
The second addition was head coach Dan Hughes, who had been at the end of the bench in 16 of the WNBA's 21 previous total seasons. Hughes was responsible for some of the stingiest defenses in WNBA history, occasionally holding teams to under 40 points over a whole game in the early aughts with the (now-defunct) Cleveland Rockers. While the Storm have historically elite offensive firepower on their roster, they have a league-best winning percentage because they are elite defensively as well.
Unlike the current NBA game, the WNBA still revolves around an elite class of big, imposing centers who do their work on the low block. Hughes takes advantage of this lack of spacing from the opposing offense by coordinating an aggressive team defensive concept, relying on trapping dominant bigs with double-teams. Double-teaming is a gamble that only works if all five defenders on the floor have their heads on a swivel, prepared to help the helper — which is exactly what Seattle's starting lineup is prepared to do.
The result has been some disastrous nights for opposing All-Stars: in back-to-back games in early July, Seattle limited Chiney Ogwumike to a 3-for-8 night, and then held Tina Charles to 3-for-14. The Storm can even limit an opposing star even when they do get their buckets. In late June, Candace Parker dropped 27 points over Seattle — but needed 20 shots in order to get there, plus she turned the ball over seven times against three assists. This pressure helped the Storm go 2-1 in their already-finished season series against Parker's Los Angeles Sparks, meaningfully proving their progress against a likely playoff opponent.
But make no mistake: the Storm play a demanding defense, but the identity of this team is their historically great offense. Seattle's 107.8 offensive rating is sixth-best in league history, which is not that far behind the all-time-best 2000 Houston Comets, at 108.6. The Storm are generous and responsible with their passes, carrying a 1.52 assist-to-turnover ratio that's third-best in league history (behind only the 2013 and 2014 editions of the Lynx). Seattle is also on pace to set the league record for made 3-pointers per game, currently edging out the 2007 champion Phoenix Mercury, led by Diana Taurasi. When asked about the Storm's historic effectiveness so far in early July, Loyd felt like the team actually had a higher ceiling: "For us, we feel like we haven't even been in rhythm a lot. There's games where we shot really good, shot really bad — we've kind of been all over the place."
All of the Storm's offensive creativity begins with Bird, who began the season as the oldest player in the WNBA, and just this month became the league's all-time leader in games played. Years of watching oldest players in the NBA has conditioned us to think that the oldest player in the league is collecting their salary because of their supposed mentorship abilities, because they don't contribute much in the spare minutes they gimp around the floor. Bird is doing the exact opposite, not just maintaining the same effectiveness from earlier in her career but actively adding new dimensions to her game. In the spring of 2016, Bird wrote an impassioned plea for stronger WNBA analytics in The Players' Tribune. Accordingly, in both 2017 and 2018, Bird took the analytically sound step of launching more 3-pointers than 3-pointers for the first time in her career, and did so while maintaining her 40 percent career marksmanship.
Bird also set dramatic new career highs in assists per minute in both 2017 and 2018. While Bird has a commanding lead on the WNBA's total career assists list, she had actually never matched the historic assist-per-minute rates of lower-scoring pass-masters Ticha Penicheiro and Courtney Vandersloot. No longer: Bird's 9.8 assists per 36 minutes in the 2018 would be a WNBA record for a player earning starter's minutes. (Brittany Boyd of the New York Liberty is slightly ahead of Bird's assist rate this year while playing 18.6 minutes per game).
In true assisting fashion, Bird credits her late-career statistical renaissance to her teammates: "I think it's just our offense. Our offense lends itself to making the right pass at the right time, and that's really all that I do. You know, I'm not out there necessarily breaking down the defense and making the exciting pass every time. Every now and then does that happen? Yeah. But I think for the most part, I'm just a player that's trying to do the right thing at the right time. And when you have offensive threats the way we do, people who can make shots the way we do, that's going to lead to a lot of assists."
Bird is, of course, performing her signature move of being unbelievably modest. It is also true, though, that she does walk onto the floor each night alongside four other potent offensive weapons. Howard will reliably cut open underneath the basket, and Clark is a reliable safety valve in the short corner, but the team's scoring onslaught is undoubtedly led by their two No. 1 picks.
Loyd was part of her first career WNBA All-Star game this weekend. The honor is well-deserved — and also looked far from a certainty during her uneven 2015 rookie season. That year, Loyd registered more turnovers than assists, and her solid collegiate 3-point shot withered to 20% accuracy. The three seasons since then have seen Loyd gradually, constantly improving different facets of her game until growing to this year's All-Star level. Her always-present isolation skills are now coupled with more judicious shot selection, and a savvy ability to read the pick-and-roll means that she racks up plenty of assists on the possessions when Bird isn't registering one herself. There are only four other players in the league who are performing above Loyd's level of 18 points and four assists per 36 minutes, and they are all team-leading perennial All-Stars: Parker, Taurasi, Angel McCoughtry, and Skylar Diggins-Smith.
But the biggest improvement to Loyd's game in 2018 is her massive willingness to do what is basically the custodial work on the floor: crashing for offensive rebounds, digging in to defend a larger player — plus an uncanny knack for causing jump balls:
This is not the score-so-I-get-the-assist style of selfish-unselfishness that can happen in the NBA. Loyd actually had no idea she had more offensive rebounds on the year than Stewart — who is half a foot taller — until I asked her about the accomplishment before a recent Storm home game. For a second I wondered if I had just given Loyd some material for future teammate-on-teammate trash talk. But no — Loyd responds with the Storm's team-wide habit of incredible modesty: "I think it comes from my dad, always making sure I was rebounding in high school, things like that. But, I'm just trying to get more opportunities for our team. If I'm around the rim, it puts more pressure on their defense to try and box us out, and it creates other opportunities for our team."
The difficulty of stopping the Storm should be apparent, seeing as we have not gotten to the team's most problematic matchup: Stewart. She is a strong candidate for 2018 MVP, and, in her age-23 season, she maybe still has not explored the upper reaches of her ceiling.
Stewart is not an offensive star in the planets-revolve-around-me style of Kobe Bryant, Allen Iverson, or playoff LeBron James. Instead, Stewart's game is closer to the impeccably well-rounded skill-sets of point-centers Nikola Jokic or Giannis Antetokounmpo — if they also led the league in scoring average, as Stewart does. For Stewart, nearly every facet of the game is, realistically, a strength. On any given play, she is equally likely to lead a fast break with heads-up vision, block a shot with timely help defense, or operate effectively as either ball-handler or screener in the pick-and-roll.
The weak point in Stewart's game, as far as there is one, is that she does have a size disadvantage when defending the WNBA's very biggest low-post centers, like Brittney Griner or Liz Cambage. However, when those centers must guard Stewart on the other end, Stewart can make them uncomfortable by forcing them to patrol the perimeter — she takes four 3-pointers a game — which also leaves the key open for Seattle's intelligent cutters.
Putting all these talents together, the Storm offense is preposterously quick, unselfish, and balanced. Seattle can produce box scores like their early-July dismantling of the Connecticut Sun, when six players scored in double-digits — while their leading scorer had 13. If the Storm have a signature play, it's their instinctual awareness to know when the opponent is taking a split-second nap, and they suddenly turn a defensive rebound or even an opponent's made basket into a dynamic fast break:
Bird, a WNBA champion in both 2004 and 2010, aggressively resists talking about what this team may do in the playoffs. Following that same Sparks victory, Bird insisted that all the win signified was that the Storm now owned a potential tiebreaker over Los Angeles. She cautioned that Seattle's toughest portion of their schedule sits waiting after the All-Star Break, when only three of their eight games are at home, including road games in Phoenix and Minnesota.
Nine-year WNBA veteran Courtney Paris, a newcomer to the Storm this year who appeared in the WNBA Finals as a second-year player in 2011, at least acknowledges that the Storm are championship contenders. Although she modestly restrains from getting any bolder than that: "I'll say this, I think we have the talent to do it, and the experience to do it. But it's such a hard thing to do, you know? Teams keep getting better, rosters are so strong, so it's definitely not an easy thing to do. In my free agency this year, I was looking for a team that has that chance, and I think Seattle has that chance."
The Storm do have weaknesses that could end up being their undoing. Outside of Paris, a lockdown defensive center, Seattle's second unit struggles to find their way on both ends and frequently gives back leads built up by the starting unit. Many Seattle box scores show dramatic plus-minus differences between the starters and the reserves. The problem is exacerbated when Hughes rests the triumvirate of Bird, Loyd, and Stewart at the same time instead of staggering their minutes, resulting in lineups that muddle through without an offensive initiator.
Whatever it's worth, there also is the issue of playoff experience. Squads like the Lynx, Sparks, and Mercury are battle-tested against each other, featuring starting lineups that have stayed together for geologic lengths of basketball-time. The Storm's last single-game playoff victory came in 2012, which only Bird and Clark were a part of. Seattle hasn't won a playoff series since that 2010 championship.
Then again: if the Lynx, Sparks, and Mercury had the same championship potential from previous years, wouldn't they be able to distance themselves in the standings from teams like the rebuilding Las Vegas Aces, or the all-defense/no-offense Atlanta Dream? The Seattle Storm might not be ready to defeat the Lynx in this September's playoffs. But if you were to start building a hypothetical team that would one day take down Minnesota, it would look an awful lot like this.
Stats via WNBA.com and Basketball-Reference.com. Artwork by Matthew Hollister.