Dallas Stars: Full line combination predictions for 2018-19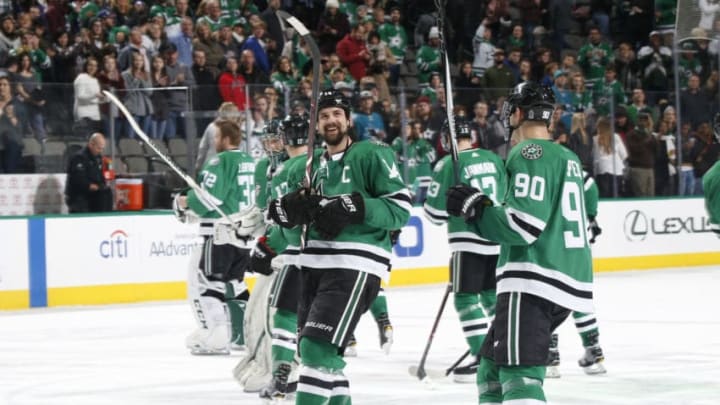 DALLAS, TX - DECEMBER 31: Jamie Benn #14 and the Dallas Stars wave to fans after a win against the San Jose Sharks at the American Airlines Center on December 31, 2017 in Dallas, Texas. (Photo by Glenn James/NHLI via Getty Images) /
As the Dallas Stars inch toward their new campaign with a new head coach, it's time to take a guess at October's starting lineup.
While we're still about a month off from the beginning of preseason hockey — Sept. 18 for the Dallas Stars — it's never too early to start making some predictions about who will land an opening game roster spot or which players will fill out which lines.
For Dallas in particular, how the final lineup shakes out is going to be largely dependent on what happens during training camp and the games that don't actually count. While there are of course several locks — Tyler Seguin, Jamie Benn and Alexander Radulov, to name a few — the Stars employ plenty of younger guys still trying to find a home in the NHL.
Roope Hintz and Denis Gurianov will be fighting to make the roster under new head coach Jim Montgomery, while others like Devin Shore, Jason Dickinson and Brett Ritchie will need to prove they can maintain success at the highest level.
Scoring depth is perhaps the biggest unknown this team is facing at the moment, outside of how well Montgomery's style will mesh in the NHL. With that, here are our projections for opening night.
LOS ANGELES, CA – APRIL 7: Tyler Seguin #91 of the Dallas Stars celebrates with teammates following a goal against the Los Angeles Kings at STAPLES Center on April 7, 2018 in Los Angeles, California. (Photo by Adam Pantozzi/NHLI via Getty Images) *** Local Caption *** /
Top 6
Jamie Benn-Tyler Seguin-Alexander Radulov
This is a near stone cold lock as the top set that Dallas will put out come Oct. 4. We say "near" if only for the fact that Montgomery could experiment with Radulov on the second line, that is, should he feel that there isn't enough firepower up and down the lineup. Again, the Stars have known commodities on their team and guys who can and have produced in the past, but they're also bringing back players who struggled last season to generate enough offense on their own.
We saw players floating from one line to another almost daily at times under Ken Hitchcock. That includes Radulov and Benn, who were platooned to help others during a time of intense goal-starvation late in the year.
This trio though seems the most likely as they were a nightmare for opponents in 2017. We don't figure Montgomery will move too far away from that success.
Mattias Janmark-Radek Faksa-Valeri Nichushkin
From here on out is where things get very interesting on the Dallas roster. It's doubtful Montgomery goes with anything close to the combinations we saw last year, aside from the top unit. And why would he? They didn't work consistently enough to warrant retaining. Then again, this isn't Hitchcock's team any longer so who can really say? A different coaching style could work wonders for the youth of this club.
In that same vein, Montgomery is coming from the college ranks and his affinity for helping younger players reach their potential has been talked about a lot since his hiring a few months back.
Well, Janmark and Faksa are two of the best players 25 or under that Dallas can deploy.
While the former knotted 19 goals last season in his comeback from knee surgery, Faksa is establishing himself as not only the best defensive forward on the team, but he's garnering Selke votes to boot.
The only question here should be this: Who mans that right side? Personally, Tyler Pitlick seems perfect for what Montgomery wants, which is an aggressive approach to the forecheck. He wants someone who can regain possession of the puck, and Pitlick has speed to be a nuisance to the opponent while also putting up some numbers. He scored 14 goals last year averaging 13 minutes of ice time.
The obstacle here is that Dallas just signed former first-rounder Nichushkin to a two-year deal, which brought him back to the NHL from Russia. If we had to make a guess, "Nuke" will be given as much of an opportunity as possible to succeed in those two seasons. That means it isn't a good bet he's found floundering on the fourth line to start the year.