After four years, we still don't know what to make of Aaron Gordon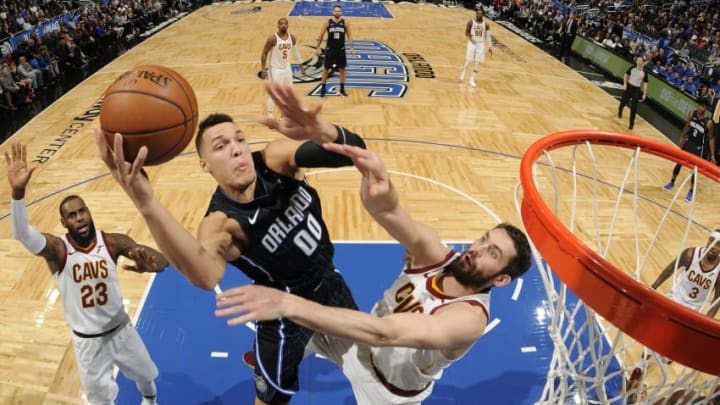 ORLANDO, FL - JANUARY 6: Aaron Gordon /
Twenty-two…the age of possibility. After a year spent reaping the rewards of finally having a valid ID (and downing the Excedrin that comes with it), it's when you begin to get to work. The world is your oyster; the possibilities, endless. It is a beginning, and the end is nowhere in sight.
Just don't tell that to Aaron Gordon.
On the NBA's official buzz-o-meter, the excitement for Gordon's upcoming 2018-19 season ranks somewhere between the Grizzlies new uniforms and Rodney Hood's next home.
Sure, it doesn't help that he plays in Orlando, a team that's such an afterthought to the common NBA fan that it was accidentally left off the Step Back's offseason writer's matrix and no one noticed for days.
(Ok that's a lie…someone picked up on it in a few hours, but the guy who caught it is a Magic fan. If he didn't exist, we probably would have made it to at least training camp before anyone realized).
---
Read More:
An ode to Kenneth Faried, a once-good NBA player
---
Regardless of where he plays, isn't it a bit odd that there's been less time spent talking about what lies ahead for Gordon this year than virtually any other talented young player in the league? Hell, Dante Exum — taken one spot after Gordon in 2014 — has generated far more words in the blogosphere despite being a backup who's played in 101 fewer games.
On paper, it's an undeserved slap in the face. Gordon has checked all the requisite boxes of a player who should be coming into his own. His scoring has increased by at least 3.5 points every year he's been in the league, and while this hasn't been accompanied by a similar increase in efficiency (his 53 true shooting percentage last season was the exact same as the year before, and close to his career average), the gradual uptick in his usage somewhat makes up for it.
On the court, while the Magic weren't exactly world-beaters with Gordon last season — they were just 19-39 when he played — they completely fell apart without him, winning just six of the 24 games he missed. According to Cleaning the Glass, Gordon's presence was worth 16 wins over an 82-game schedule in each of the last two seasons. When he sat, the Magic went from just plain bad to mildly abhorrent.
When you factor in Gordon's age, it's a wonder that there isn't more anticipation for his fifth NBA campaign, one which figures to see him finally make the leap into stardom. Last year, Gordon became only the seventh player in the last 10 years to average 17 points, seven rebounds, two assists and one steal per game in an age-22 or under season, joining Kevin Durant, Giannis Antetokounmpo, Anthony Davis, DeMarcus Cousins, Nikola Jokic and Paul George.
The PG13 comp is particularly fascinating. Side by side, their numbers at the same age are nearly identical. George was an All-Star that year, the perimeter lynchpin of the best defense in the league, one that would propel the Pacers to a spot in the Eastern Conference Finals. He was quite clearly the cornerstone of the franchise. Gordon meanwhile, despite possessing arguably the same defensive ability and putting up the same numbers at the same age, was quietly discussed by Orlando with other teams this past February.
Following his signing a four-year, $84 million extension in July, Gordon will be a member of the Magic for the foreseeable future, which in this case is at least Dec. 15, the first date that free agents inked this summer can be dealt. At the moment, Gordon appears to be no more or less marketable than he was at the trade deadline. League consensus is that his new deal is fair.
Still, it's telling that none of the few teams with space made an aggressive play for a young player seemingly built for the modern game, especially one who Orlando might have been willing to part ways with. In trying to figure out why that it is, it pays to explore why it's necessary to throw "seemingly" into the prior sentence.
For starters, Gordon's progression as a shooter is dubious at best. On one hand, after making only 13 triples his rookie year, the former Wildcat drained 115 last season at a 33.6 percent clip. Making a third of your deep balls won't get you guarded, but it's not far away from a number that will. Gordan's 39 percent conversion rate on catch-and-shoot 3s last year is a good sign. Less encouraging is is the fact that after shooting 44 percent from long range over a scorching first six weeks, he hit just 28.3 percent the rest of the way, which is right in line with his career numbers.
If he can't get any better than the middling shooter he currently is, Gordon could still have value, especially alongside a new-age 5 like Mo Bamba. That would, of course, require him to continue showing improvement in other areas as well.
As Zach Lowe detailed towards the end of last season, Gordon has largely eschewed the pick and roll as either the ball-handler or the screener, and yet doesn't have anywhere close to the isolation chops to back up that decision. According to Lowe, Gordon would be far better served becoming more of a drive and kick force who's more of an offensive fulcrum rather than a finisher.
It's not a crazy idea, especially thinking back to the Blake Griffin comps coming out of Arizona. The only problem is that Griffen's career assist rate is more than double Gordon's. Ditto for Draymond Green, the player Lowe suggests that the Magic star model his game after. If Gordon has those passing chops in him, he hasn't shown it.
The question is, has Gordon avoided becoming this type of player because he feels he needs to do more of the heavy lifting, or because the offense he's been operating in has suffocated any potential growth? While it might not solve all of Gordon's problems, being flanked by a genuine NBA playmaker certainly couldn't hurt. From the day he was drafted, the Magic have had arguably the most deplorable point guard situation in the league. Even worse is that there's little hope on the horizon. Incumbent D.J. Augustin is, at best, a serviceable backup. Recent acquisition Jerian Grant might be the answer to certain questions, but none of them are "name a capable NBA ball-handler."
The smart money says Gordon continues on the same track he's been circling: a mostly inefficient scorer who doesn't have the chops to elevate his team singlehandedly but is also probably their best option on most possessions. Steve Clifford is a good coach, but his Charlotte teams finished 24th, 28th, 9th, 14th and 13th in offensive rating during his tenure. He is no one's idea of an offensive genius.
So what are the odds that Gordon ends the first season of his new contract in a Magic uniform? Given how much he would almost certainly benefit from playing alongside a top banana who could allow Gordon to function as a 1B if not a really good number two option, the odds have to be about even. Where he'd end up is tougher to guess.
Indiana is the safest bet. They were a rumored landing spot heading into July, and they have the salaries to get it done. They also have a potentially promising young point guard in Aaron Holiday, but if he shows enough promise to get the Magic to bite, it's doubtful the Pacers would want to give him up.
Orlando would likely love a chance to get its hands on Terry Rozier, but it's hard to see Boston moving both him and Marcus Smart, who would need to be included for salary purposes, especially with Kyrie Irving's situation up in the air heading into next summer. The Jazz have the aforementioned Exum, but he would have to seriously pop — and Gordon would need to have a truly rough go of things – for a deal structured around those two to happen. There's not a whole lot else out there that makes sense.
For now, the Magic will sit tight and hope for the best. They don't really have a choice. Just don't count on them — or Gordon — being any more relevant this time next year.