Matt Kemp the hero again as Dodgers retake first place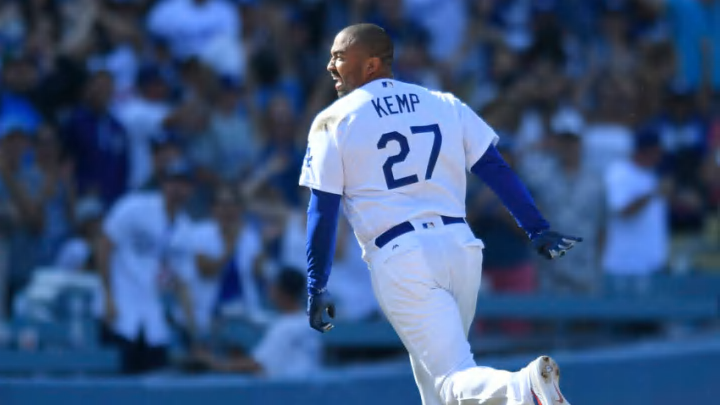 LOS ANGELES, CA - SEPTEMBER 02: Matt Kemp #27 of the Los Angeles Dodgers runs toward third base after a walkoff double against Brad Boxberger #31 of the Arizona Diamondbacks for a 3-2 win at Dodger Stadium on September 2, 2018 in Los Angeles, California. (Photo by John McCoy/Getty Images) /
Matt Kemp provided the drama for the second straight game on Sunday, hitting a two-run, walk-off double to give the Los Angeles Dodgers a 3-2 win over Arizona and move them back into the NL West lead.
If the Los Angeles Dodgers end up winning the NL West this season, they will have Matt Kemp to thank.
Kemp was the hero for the second straight day on Sunday, hitting a walk-off, two-run double off Archie Bradley to give the Dodgers (75-62) a 3-2 win over the Arizona Diamondbacks (74-63). The Dodgers now lead the division by 0.5 games over Colorado, while going a game up on the Diamondbacks.
It was Bradley who was also victimized by Kemp on Saturday. With Arizona leading 2-0 in the bottom of the eighth, Kemp hit a three-run homer as the Dodgers won by the same 3-2 score. Then on Sunday, after starters Walker Buehler and Clay Buchholz both pitched one-run ball, Arizona took the lead in the top of the ninth after a Daniel Descalso home run.
When closer Brad Boxberger walked the first two batters in the bottom half of the inning, Diamondbacks manager Torey Lovullo made the decision to remove him and put Bradley into the game. That set up a rematch between Bradley and Kemp. Kemp hadn't even started the game, coming in as a pinch-hitter for Chase Utley in the seventh. With runners on second and third, Kemp hit Bradley's first pitch off the wall in left-center, driving in both runs and setting up celebrations in Los Angeles.
Despite his heroics from the night before being played back for him, Kemp admits he wasn't trying to replicate what he did on Saturday coming to the plate. "When I was walking up to the plate they were showing what happened last night," he said after the game Sunday. "I mean, in my mind, I wasn't really thinking about hitting a home run. I'm really just trying to get that one run in at third base. Just so happened I got two."
September couldn't have come soon enough for Kemp. He had a rough month of August, hitting just .214 with one homer. His home run on Saturday was his first since Aug. 17, a span of 11 games. Manager Dave Roberts has taken to sitting Kemp against right-handers, only using him as a pinch-hitter late in games. Roberts says, however, that Kemp's ability to still produce key hits for the team despite the drop in playing time is testament to his character.
"Two of the biggest hits of the year for us, really," Roberts said. "The last month has been tough sledding for him, but for him to understand a different role for him, but to come prepared every single day to help us win a game at some point in time, just a tribute to him."
The win on Sunday was LA's eighth in their last nine games. On Aug. 24 they were 4.5 games out of first, but have now retaken solo possession of the division lead for the first time since Aug. 7.
Kemp says these two wins over a division rival can serve as a catalyst for the team going forward the rest of September.
"Those are two big wins we got, you know, especially in those situations," he said. "We can definitely feed off that and take that into tomorrow."
With the Dodgers, Diamondbacks and Rockies all separated by just a game in the West, every game between them is a must-win. The Dodgers open a series against Colorado on Friday, but don't play Arizona again until Sept. 24, the penultimate series of the season.