ACC power rankings: Miami, Florida State stumble in opener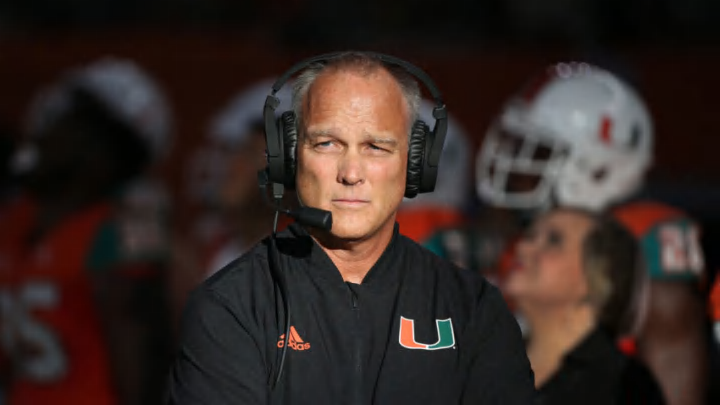 Miami Hurricanes head coach Mark Right watches from the sidelines as the University of Miami Hurricanes take on the LSU Tigers during the AdvoCare Classic on Sunday, Sept. 2, 2018 at AT&T Stadium in Arlington, Texas. (Al Diaz/Miami Herald/TNS via Getty Images) /
Anytime Duke is responsible for the ACC's most impressive win of the weekend, you know the conference is in serious trouble.
With all due respect to David Cutcliffe and the Blue Devils, officials at the ACC office weren't hoping Duke's resounding win over Army would be the league's best performance of the weekend. The failure of Miami to show up in their primetime matchup against LSU made the entire ACC look bad in Week 1.
Other than the Canes debacle, things went pretty much as expected. North Carolina failed to pull off the upset at Cal, but that shouldn't shock anyone. Louisville fans might have hoped for a little better showing at Alabama, but that's not a game the Cardinals were expected to win.
Everyone else won games they were supposed to win. Nothing about this weekend is going to elevate the ACC's reputation around the country, but only the Hurricanes really deserve criticism. Without delay, we start the power rankings with a predictable team in the top spot.
Editor's Note: Notre Dame will be included in our ACC Power rankings moving forward since they play a part-time ACC schedule.
Dabo Swinney officially has a quarterback controversy on his hands. Kelly Bryant played solid football against Furman, but it was impossible for Tigers fans not to come away in awe of freshman phenom Trevor Lawrence.
It's hard to envision Bryant holding on to this job for long. Swinney will likely continue to give his veteran snaps for the next few weeks, but Lawrence's upside is simply too high to keep him on the bench when Clemson needs a big play.
Duke had the best win of ACC's full members, but Notre Dame had the best victory of anyone on this list. Their opening victory over Michigan announced to the rest of the country that the Fighting Irish have what it takes to contend for a spot in the College Football Playoff.
Brandon Wimbush's numbers in the game don't jump off the page at you, but he was dominant against the Wolverines. He controlled the full scope of Brian Kelly's offense all game long and kept Jim Harbaugh's defense off-balance. The Irish are for real.
It's hard to imagine Virginia Tech getting off to a better start to the season. Winning at Florida State isn't as difficult as it used to be, but it's still something for the Hokies to be proud of.
Justin Fuente even managed to work a little Beamer Ball magic into the win. Virginia Tech's blocked punt for a touchdown surely put a smile on a lot of faces in Blacksburg. Now the coaching staff will need to bring this young team back down to Earth. Make no mistake, they're a legitimate ACC title contender.
We told you last week that the Seminoles would miss Jimbo Fisher more than many fans predicted. That doesn't mean we expected to see the Florida State offense sputter to a grand total of three points at home against Virginia Tech.
It will be interesting to see if Deondre Francois opened the quarterback competition up with his three interceptions against the Hokies. Willie Taggart would be smart to stick with his signal caller. He has much bigger issues to fix heading into Week 2.
Before Wolfpack fans get too excited about leapfrogging Miami, let's make it clear this is more a product of the Hurricanes' poor play than anything NC State did this weekend. James Madison isn't a pushover, but Dave Doeren's team should have won this game with more room to spare.
The good news for the Pack is that Ryan Finley started the season on a good note. Throwing for 309 yards and two touchdowns against the Dukes won't vault him into the Heisman race, but NFL scouts are paying close attention to the prototypical quarterback.
The final score wasn't atrocious, but Miami was thoroughly outclassed by LSU on Sunday. Specifically, the Tigers' ability to control the line of scrimmage will be a big concern for Mark Richt moving forward.
The good news for Miami fans is that they won't face many fronts with the same quality LSU possesses in the ACC. Look for the "U" to bounce back in future weeks, but they are still a year or two away from being legitimate title contenders.
Some Pitt fans will want to see their team leapfrog Miami this week, but beating Albany isn't enough to make that happen. They've closed the gap on the Canes, but it will take more than a win over a FCS team to close the gap entirely.
Predictably, the Panthers spent a lot of time working on their ground game in the opener. They won't rack up 238 rushing yards against everyone, but this was a good start to the season for their stable of running backs.
The biggest surprise of the opening weekend for the Eagles was the fact that AJ Dillon failed to reach 100 yards rushing. Instead, he only managed to rush for 98 yards on 20 carries.
The upside to that is that the Boston College passing attack exceeded expectations. Anthony Brown threw for 279 yards and four touchdowns. If he can help provide offensive balance all season long, the Eagles can move up the ACC standings.
The Ramblin' Wreck got off to a nice start against Alcorn State, but this sort of blowout didn't tell us much about the team. Predictably, the Yellow Jackets chose to bludgeon the Braves to death on the ground.
The real test for Georgia Tech will be whether they can assert their dominant ground game against better opponents. Until they prove it against better competition, they'll stay at this spot in the rankings.
Starting a true freshman at quarterback on the road in a season opener is always a nervy proposition. Sam Hartman performed well for the Deacons, but they needed overtime to put away a pesky Green Wave team.
Duke fans may feel aggrieved not to leapfrog Wake this week, but the Deacs get credit for winning on the road. Dave Clawson's team will face tougher opponents in the coming weeks, but they got the job done in New Orleans.
Duke beating Army at home wasn't a surprise, but dominating the Knights was a positive step forward for Cutcliffe and company. Their defense played really smart, assignment football which allowed them to limit Army to just 168 yards on the ground.
On offense, Duke was more balanced than most people expected. They rushed for 184 yards and threw for 197. If they can keep opponents off-balance this season, they could sneak into the upper half of the ACC.
Traveling to play at Alabama on opening weekend is a pretty poor job of scheduling by the Louisville administration. It certainly was a bad decision to make this trip the year after Lamar Jackson took his talents to the NFL.
Jawon Pass struggled to lead the Cardinals offense to any meaningful success. His QBR rating of 24.3 wasn't good enough to give Louisville a chance in this one. Still, this was against arguably the best defense in college football. We'll withhold meaningful judgments about the Cardinals until they play a winnable game.
The Tar Heels got off to a really bad start by falling down 17-0 to the Golden Bears. They deserve credit for fighting back and making it a close game, but they never really looked like they were going to pull off the upset.
In fairness to Larry Fedora and company, NCAA suspensions are wreaking havoc on the team's depth. That issue won't fully be handled for several more weeks. It will be interesting to see if Carolina can stay afloat until they get everyone back.
Bryce Perkins powered the Cavs to a nice opening win against Richmond. There aren't many quarterbacks in the ACC who are capable of throwing for 185 yards and rushing for 108 in the same game.
Of course, the competition will get tougher for the Wahoos in the future, but they're not in a position to take wins for granted. Perhaps Perkins can be the guy to lift them up into the middle of the pack in the ACC.
The Orange aren't in the position to take wins for granted either, but this weekend nearly turned into a disaster for Syracuse. Giving up 28 points in one quarter against Western Michigan was not an encouraging sign.
On the bright side, they were able to score 55 points in the win. Maybe they can outscore opponents in the future. They will need to if they want to keep dreaming about bowl eligibility.