18 signature holes for a PGA Tour signature course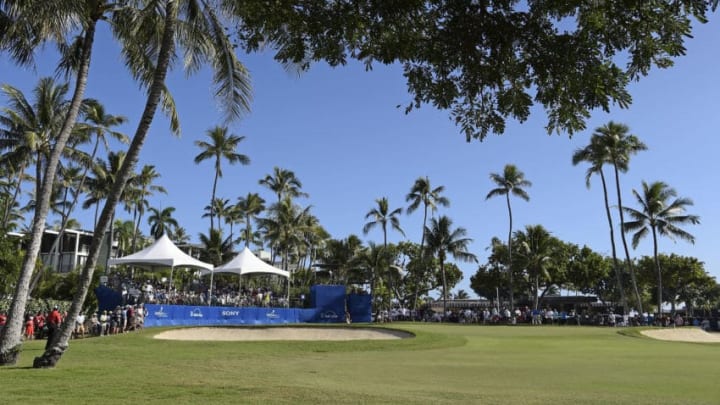 HONOLULU, HI - JANUARY 16: A view of the 9th green during the third round of the Sony Open in Hawaii at Waialae Country Club on January 16, 2016 in Honolulu, Hawaii. (Photo by Chris Condon/PGA TOUR) /
Holes 1-3
Hole 1: Par 5 – TPC Blue Monster #1
Prior to a recent redesign, the opening hole at Doral was "a guaranteed birdie" according to designer Gil Hanse. Back then, the scoring average settled to just a touch more than 4. Standing on the first tee is an optimist's dream. Maybe today is the day you finally break through and go low. Nobody wants that optimism crushed with an opening double bogey, so what better way to start your signature round than with a tap in birdie to get your confidence flowing on one of the Tour's easiest par 5s?
Hole 2:  Par 3 – Merion East #17
Remember all that confidence you gained on that cakewalk first hole? You're going to need every ounce of it when you squint into the distance to find the flag on this par 3. The hole can play to more than 250 yards, and you better not hit it thin because there's trouble lurking through most of them. Opting for driver off the tee is a tough pill to swallow on a par 3, but you gotta do what you gotta do. 
Hole 3:  Par 4 – Oakmont Country Club #3 "The Church Pews"
Now that you've more than likely dropped a stroke, you'll be looking for salvation on the 3rd. In this case, you're better off avoiding the Church Pews if you're hoping to be saved. If you're anything like me, you'd much rather be in the fairway on a Sunday morning than stuck in church pews, anyway. Oakmont's iconic fairway bunkers are only part of what makes this hole so tough, as a blind approach awaits you regardless of where you land your tee shot. Pray for a par and move on.