Every NHL team's best active player still searching for a Stanley Cup win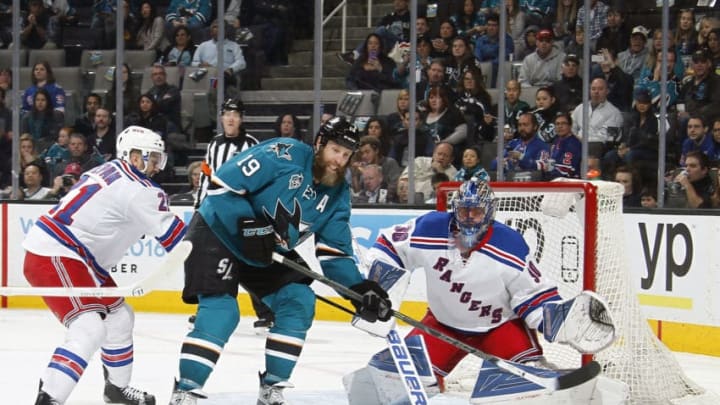 SAN JOSE, CA - MARCH 19: Joe Thornton #19 of the San Jose Sharks spots the puck in front of the net of the New York Rangers during a NHL game at the SAP Center at San Jose on March 19, 2016 in San Jose, California. (Photo by Nick Lust/NHLI via Getty Images) /
Find out which top NHL skaters from every team haven't won a Stanley Cup championship yet
Each passing NHL season not only offers a new headline for all 31 teams, but added pressures to the some of the league's brightest stars that haven't won a Stanley Cup yet.
FanSided drops the puck on every NHL team's best active player that is still searching for a Stanley Cup ring.
Anaheim Ducks
Since 1993, the Anaheim Ducks have only reached the Stanley Cup Final once, and it was back in 2006-07 when the Ducks defeated the Ottawa Senators in five games.
The hockey world witnessed Hockey Hall of Famer Teemu Selanne hoist his first ever Stanley Cup, after the Finnish native skated in 13 NHL seasons without ever reaching the Final. While there are a handful of skaters on the Ducks' roster that hasn't had the honor to kiss Lord Stanley yet, there is one particular player that's unfortunately deserving for this list.
Goaltender and 2010 Olympic standout, Ryan Miller, is the best active player on Anaheim that is still searching for a Stanley Cup championship.
The 38-year-old has collected 284 career wins in 15 NHL seasons, while dressing for the Buffalo Sabres, St. Louis Blues, Vancouver Canucks and Ducks. Miller was once labeled as one of the game's best goaltenders and particularly when the East Lansing, Michigan native stood tall between the pipes for Buffalo from 2002 until 2013.
The former fifth-round draft pick (1999) earned the Vezina Trophy as the league's best goaltender back in 2009-10. Miller has won 40 or more games in a season on two occasions (2007 & 2010), and has won at least 30 games on five other occasions.
The Ducks' backup veteran netminder is scheduled to become an unrestricted free agent (UFA) after 2019.