Every NHL team's best active player still searching for a Stanley Cup win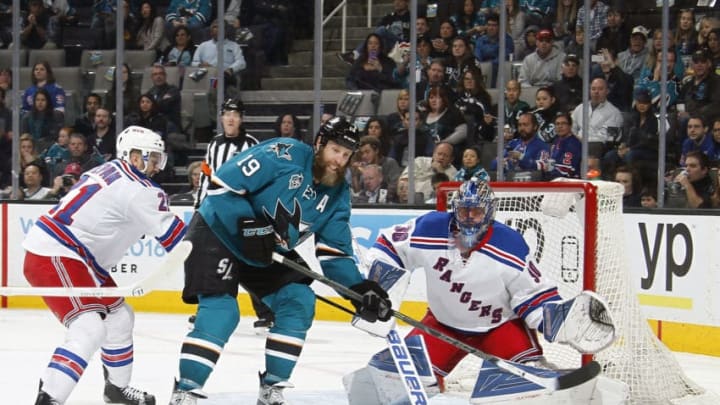 SAN JOSE, CA - MARCH 19: Joe Thornton #19 of the San Jose Sharks spots the puck in front of the net of the New York Rangers during a NHL game at the SAP Center at San Jose on March 19, 2016 in San Jose, California. (Photo by Nick Lust/NHLI via Getty Images) /
Detroit Red Wings
For the first time since 1981-1983, the Detroit Red Wings failed to make back-to-back appearances in the Stanley Cup Playoffs. It's been about three decades, or more, since the Red Wings weren't in the conversation as legitimate Stanley Cup contenders, and that won't change for at least another handful of seasons.
The Red Wings are a unique team at the moment, considering that they have a mix of veterans and rising stars such as Henrik Zetterberg and Dylan Larkin. While Zetterberg has already won two Stanley Cups and Larkin is still establishing himself as a consistent skater, Detroit's Thomas Vanek is the team's best player that's still searching for a Stanley Cup championship.
Vanek, 34, has dressed for eight teams since lacing up the skates at the NHL back in 2005-06. The former first-round draft pick (2003) spent parts of nine seasons with Buffalo before being traded to the New York Islanders in 2013-14.
After a brief stint with the Islanders in 2014, Vanek was then dealt to the Montreal Canadiens at the NHL Trade Deadline. His career then shifted over to the Minnesota Wild followed by the Detroit Red Wings, Florida Panthers, Vancouver Canucks and Columbus Blue Jackets.
In 69 career playoff games, the forward has netted 21 goals and 15 assists, and 11 of those goals came on the power play. The longtime Sabre has reached the Eastern Conference Finals on three occasions (2006, 2007 & 2014), but has never appeared in a Stanley Cup Final.
The Austria native has recorded 357 career goals and 396 assists for 753 points in 965 games.