Every NHL team's best active player still searching for a Stanley Cup win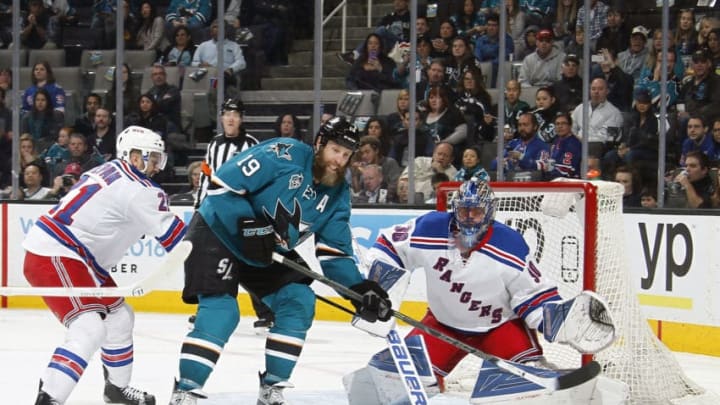 SAN JOSE, CA - MARCH 19: Joe Thornton #19 of the San Jose Sharks spots the puck in front of the net of the New York Rangers during a NHL game at the SAP Center at San Jose on March 19, 2016 in San Jose, California. (Photo by Nick Lust/NHLI via Getty Images) /
Los Angeles Kings
A majority of the Los Angeles Kings' top skaters such as Anze Kopitar, Jeff Carter, Drew Doughty, Dustin Brown, Tyler Toffoli and goaltender Jonathan Quick have all won at least one Stanley Cup with the team.
However, there's one new addition to the Kings' roster who hasn't had the privilege of lifting Lord Stanley high above his head in celebration.
Before leaving the NHL for the Kontinental Hockey League (KHL) during the 2013 offseason, forward Ilya Kovalchuk was one of the leagues top goal-scorers. Now, at the age of 36, he's made his return back to North America with the Kings to search for his first Stanley Cup championship.
The 2018 Olympic Gold Medal winner of Russia recorded 417 career goals and 399 assists for 816 points in 816 games played prior to leaving for the KHL. Kovalchuk spent parts of seven seasons with the Atlanta Thrashers (now Winnipeg Jets), where he also won the Maurice Richard Trophy in 2003-04 as the league's top goal-scorer with 41 goals.
Kovalchuk's productive career has been overshadowed by his decision to leave the New Jersey Devils in 2013 (traded to New Jersey in 2010), after he signed a mega-contract deal that was 15 years in length.
Ironically enough, Kovalchuk and the Devils lost to the Kings during the 2012 Stanley Cup Final, which was the Russian forward's only Cup appearance to date.
Kovalchuk signed a three-year deal, worth $6.25 million with the Kings back on July 1. He is currently the second highest paid skater on Los Angeles' roster.