Every NHL team's best active player still searching for a Stanley Cup win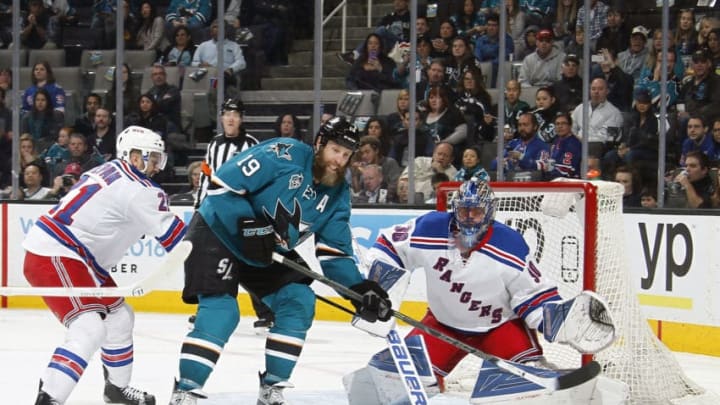 SAN JOSE, CA - MARCH 19: Joe Thornton #19 of the San Jose Sharks spots the puck in front of the net of the New York Rangers during a NHL game at the SAP Center at San Jose on March 19, 2016 in San Jose, California. (Photo by Nick Lust/NHLI via Getty Images) /
New York Islanders
It sounds like a broken record at this point in time for the New York Islanders and one of the best fan bases in all of professional sports, but with the departure of John Tavares the team's limited to a top skater that has yet to win a Stanley Cup.
Yes, 2018 rookie sensation and Calder Trophy winner, Mathew Barzal, will more than likely be the team's best player for years to come; but it wouldn't be fair to nominate him for this list considering he's only entering his sophomore season.
A former first-round draft pick goes down as the Islanders' top player that's still searching for a Stanley Cup ring. Josh Bailey, 28, has slowly but surely transformed into one of the Isles' top players, especially after his career season in 2018.
The former ninth-overall selection (2008) has respectfully recorded career-highs in 2017 and 2018. Last season, the Bowmanville, Ontario native posted 71 points (18 goals, 53 assists) and finished third on the team in scoring. Prior to 2017 (56 points), Bailey never finished a season with 50 or more points.
Still, he's been a solid two-way skater since joining the Isles back in 2008-09, and should blossom into an even greater offensive force with the departure of Tavares.
In 22 career playoff games, Bailey has notched four goals onto his belt and chipped in seven assists. Not only has his shot total increased over the past two seasons, but so has his shooting-percentage which was 11.9 percent last season.