Every NHL team's best active player still searching for a Stanley Cup win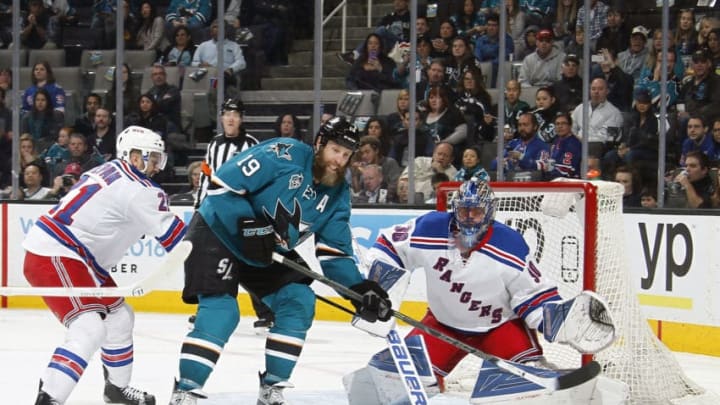 SAN JOSE, CA - MARCH 19: Joe Thornton #19 of the San Jose Sharks spots the puck in front of the net of the New York Rangers during a NHL game at the SAP Center at San Jose on March 19, 2016 in San Jose, California. (Photo by Nick Lust/NHLI via Getty Images) /
Philadelphia Flyers
There have been plenty of heartbreaking memories for the Philadelphia Flyers and their fan base since Philly last won the Stanley Cup in 1975. The City of Brotherly Love has advanced to the Stanley Cup Final a handful of times and has had a number of superstar caliber skaters don the classic Flyers' sweater.
Still, there's one player in particular that goes down as the Flyers best current player that's still searching for a Stanley Cup ring.
Captain Claude Giroux goes down as the Flyers' best player in need of his first Stanley Cup championship.
The former first-round draft pick (2006) has been lightning the map for Philadelphia since 2008, but Giroux is also fresh off of a career season when he recorded 102 points (34 goals, 68 assists) in 2018. No. 28 has been the backbone for the Flyers for nine seasons and counting, and he's third in assists (463) and fifth all-time in points (677) for Philadelphia.
There's no doubting Giroux will do down as one of the greatest Flyers, and his legacy is still being written. The Hearst, Ontario native put his mark on the City of Brotherly Love when he blossomed as a clutch performer during Philadelphia's memorable run to the 2010 Stanley Cup Final.
Giroux netted 10 goals and tallied 11 assists for 21 points in 23 games that postseason, and two of those goals were game-winners.
The forward also had notable postseasons during the 2011 and 2012 Stanley Cup Playoffs and has established himself as a playoff performer, while almost averaging a point-per-game.