DraftKings MLB Picks September 6: Zack Greinke looks cheap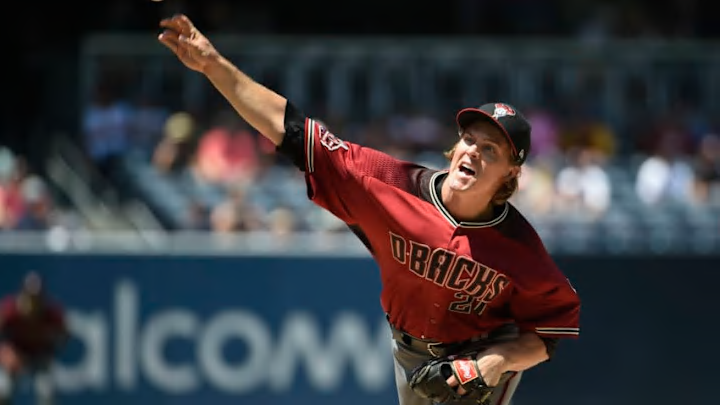 SAN DIEGO, CA - AUGUST 19: Zack Greinke #21 of the Arizona Diamondbacks pitches during the first inning of a baseball game against the San Diego Padres at PETCO Park on August 19, 2018 in San Diego, California. (Photo by Denis Poroy/Getty Images) /
DraftKings /
DraftKings MLB Picks September 6: Zack Greinke looks cheap
We have the lightest full day during the 2018 season. DraftKings made it lighter by leaving off the Reds-Padres game that starts a whopping 25 minutes before everyone else. The pitching, as with most slates this size, leaves much to be desired. I really wish that the Reds were in play so I could use Luis Castillo against the Padres!
More from DFS
The weather looks good tonight! There is a slight chance of rain in the later innings in Cincinnati, but if anything hits, it will move through quickly.
We will provide you with several options to build your lineup here. Want to spend all your money on pitchers and play bargain bats? We will highlight who is worth the money. Want to punt arms and pay up for the big boppers? We can help you with that as well, and everything in between!
These tips are based mostly on past performance. This is a nice tool for building a lineup, but should not be the only pieces of information you use. We have plenty of writers on here who give you relevant information no matter which site you play on!
For you first time players, if you would like a free shot at a million dollars, use this link for the referral bonus with your first deposit of $5 or more! You then gain entry to Fantasy Football Millionaire tournament the opening week of the NFL season!
WASHINGTON, DC – SEPTEMBER 01: Stephen Strasburg #37 of the Washington Nationals pitches in the first inning during a baseball game against the Milwaukee Brewers at Nationals Park on September 1, 2018 in Washington, DC. (Photo by Mitchell Layton/Getty Images) /
Top Tier:
Zack Greinke ($9,100): I'm a little surprised that Greinke is this cheap. The Braves are hitting just .243 with three homers and 13 runs in 152 at bats with 42 strikeouts. Those aren't quite ace like numbers, but they are on this slate. I trust Greinke a lot more than Strasburg right now. The 2.16 ERA in 14 home starts is really hard to move off of as well. Greinke is going to be highly owned, and probably 100% owned in cash games, but it's really hard to justify a fade here.
Stephen Strasburg ($8,600): The Cubs are only hitting .219 off of Strasburg in 73 at bats, but they do have three homers and seven runs to go with the 22 strikeouts. The strikeout upside is what is going to make Strasburg highly owned. He has not been his dominant self since returning from the DL, but Strasburg has looked better lately. The thing that really concerns me here is his 5.40 ERA in ten home starts. This offense has enough power to mess up his night.
Middle Tier:
Shane Bieber ($8,000): I don't understand the pricing here. Bieber has a 4.66 ERA and doesn't offer huge strikeout potential. What exactly are we paying for? This Toronto offense isn't great, but they can hit a volleyball with the best of them. If Bieber isn't on, he is going to get rocked. If he is, the ceiling is only about 20 DraftKings points. Is that worth eight grand?
Kyle Hendricks ($7,700): Honestly, there is only $1,000 separating the four pitchers, so the tier don't really apply here. Washington is hitting a decent .253 against Hendricks with three homers and six runs in 75 at bats with 17 strikeouts. On a slate where no pitcher truly stands out, these are decent numbers. That said, Hendricks has virtually no upside. If you are just looking to maintain points, he is a solid play. If you are trying to take down a GPP, you need something more.
Bargain Pitchers:
Anibal Sanchez ($7,500): The Diamondbacks are hitting just .208 in 77 at bats off of Sanchez with only one homer, five runs, and 17 strikeouts. The numbers on Sanchez are really strong across the board. He has even managed to rack up almost a strikeout per inning. Sanchez is a strong SP2 on a slate like this. I keep expecting him to get blasted, and he hasn't yet. I doubt it happens here since the Diamondbacks have struggled as a whole at home.
Sam Gaviglio ($7,000): Gavigilo has been a stud at home and a disaster on the road. He is the A.L. version of Wei-Yin Chen. Gaviglio has a 2.68 ERA in nine home starts. I see risk here against Cleveland, and he is coming off of a charley horse on his bicep. If you didn't trust him against Cleveland, that should really chase you off of this.
CHICAGO, IL – AUGUST 10: Adam Eaton #2 of the Washington Nationals bats against the Chicago Cubsat Wrigley Field on August 10, 2018 in Chicago, Illinois. The Cubs defeated the Nationals 3-2. (Photo by Jonathan Daniel/Getty Images) /
Top Tier:
Adam Eaton has smacked two homers off of Kyle Hendricks so far. Bryce Harper has the other. If you are going after Hendricks, pay up! It should be worth it.
Anthony Rizzo is only 2-13 against Strasburg, but he does have a pair of RBI and is hot right now. Can he stay that way against Strasburg?
Going after Gaviglio at home hasn't been a great idea, but this is the best offense he will be facing at home all year. Lindor and Ramirez are worth using here.
More from FanSided
Middle Tier:
I kind of want to go after Shane Bieber here. Smoak and Morales are reasonably priced. Lourdes Gurriel, Billy McKinney, and Aledmys Diaz are cheap. A Blue Jays stack could destroy your lineup or vault you up the leaderboard in a hurry. There really isn't in between here.
If you don't want to pay for Lindor and Ramirez, Michael Brantley and Yonder Alonso are worth a look on this level. You can play Edwin returning to Toronto again as well. He has knocked a few into the seats there in his time.
Bargain Shoppers:
This could be a good night to enjoy cheap Cubs. Willson Contreras, Ben Zobrist, and Tommy LaStella have the homers against Strasburg, and all are under $4,000.
Nick Markakis has a homer and six RBI against Greinke in his career. Lucas Duda has homered off of Greinke as well, but Markakis is like the way to to. The only way to go unless you want to pay for Acuna and see what happens.
Steven Souza is cheap, and he has the only Arizona homer off of Anibal Sanchez. I'm not going to go out of my way to throw Diamondbacks at Sanchez. There are better stack options.
We promised some big news in June for Fantasy CPR, right? Well here it is! We are now looking for PAID writers to join our team to write about fantasy sports. Seasonal or DFS, any sport you want – get your voice heard and get paid for talking fantasy sports. Apply today HERE!