MLB DFS Picks and Pivots – Friday, September 7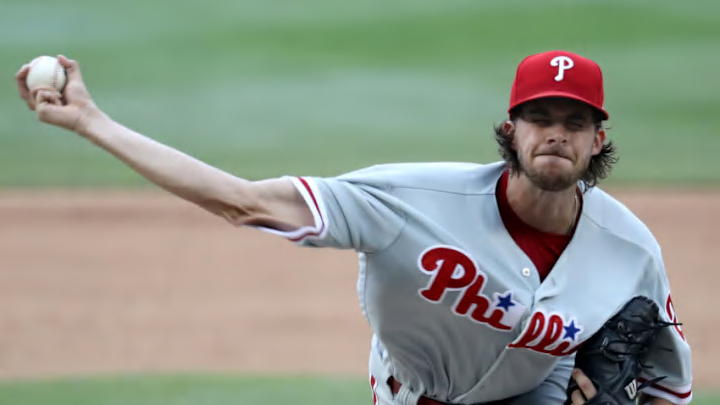 WASHINGTON, DC - JUNE 23 : Starting pitcher Aaron Nola #27 of the Philadelphia Phillies throws to a Washington Nationals batter in the fifth inning at Nationals Park on June 23, 2018 in Washington, DC. (Photo by Rob Carr/Getty Images) /
PHOENIX, AZ – SEPTEMBER 06: Kurt Suzuki #24 of the Atlanta Braves hits a two-run home run off Zack Greinke #21 of the Arizona Diamondbacks in the fourth inning of the MLB game at Chase Field on September 6, 2018 in Phoenix, Arizona. (Photo by Jennifer Stewart/Getty Images) MLB DFS /
Welcome to the Friday edition of MLB DFS Picks and Pivots, a fantasy baseball column focused on helping you find the best core lineup for this slate of DFS action!
For those of you finding us for the first time, the concept behind MLB DFS Picks and Pivots is to give you a first look at the day's MLB DFS slate, including our top picks, plays and pivots, using FantasyDraft pricing as a reference, to help you build your best line-up and win big.
Picks and Pivots is not a simple "best plays" column but rather it focuses on slate strategy and roster construction to help give you insight into how I will look to play this slate.
One of the the things I pride myself on with Picks and Pivots and have since I started it two years ago, is to be completely transparent with readers and folks on Twitter and if I am being honest – boy was I wrong about last night's MLB DFS slate. Put it this way – in the $25 FantasyDraft Home Run GPP – I finished 2nd to last. So yeah, that is how my night went.
On a short slate like we had, I thought it was important to simply plant my flag and move on – well, that flag was with the Reds offense and outside of a solo shot from Scott Schebler, they did absolutely nothing – in fact, opposing pitcher Eric Lauer was the highest scoring arm on the slate. The other thing that really set the tone was I had to make the choice in my builds between either Francisco Lindor OR Jose Ramirez – I chose Ramirez and then watched as Lindor cranked two HR's and came in as the highest scoring player on the night at insanely high ownership. As I said on short slates, you plant your flag and hope you fall on the right side of variance – last night, I was certainly on the wrong side.
We have some BIG news at Fantasy CPR as we are now looking for PAID writers to join our team to write about fantasy sports. Seasonal or DFS, any sport you want – get your voice heard and get paid for talking fantasy sports. Apply today HERE!
Picks and Pivots is not a simple "best plays" column but rather it focuses on slate strategy and roster construction to help give you insight into how I will look to play this slate. The goal of this article is to dig through the slate, highlight our top plays and help you identify the best slate strategy across your MLB DFS line-ups.
If you are looking to try out a new DFS site, head on over to FantasyDraft and enter my referral code for 10% rake back on your entries.
As always, we will look to update our final lineup thoughts throughout the day on our twitter account @FantasyCPR so make sure to give us a follow for all the late breaking lineup news.
Without further ado, let's get into today's slate!
WASHINGTON, DC – JUNE 23 : Starting pitcher Aaron Nola #27 of the Philadelphia Phillies throws to a Washington Nationals batter in the fifth inning at Nationals Park on June 23, 2018 in Washington, DC. (Photo by Rob Carr/Getty Images) /
MLB DFS – Starting Pitching Overview:
I know everyone is excited because it is Friday and we have a weekend full of College Football and NFL ahead of us but this is the kind of MLB DFS slate that you simply need to get some exposure to – we have legit everything you could ask for with a ton of ace arms on the slate and a game in Coors Field so let's dive right in.
If you like top-tier pitching then this is the slate for you as it is loaded with ace arms including Blake Snell, Aaron Nola, Carlos Carrasco, Patrick Corbin, Gerrit Cole, James Paxton, David Price, Masahiro Tanaka, Clayton Kershaw and the best pitcher in all the land – Jonathan "CY Young" Lester.
Of the arms mentioned above, a whopping SIX of them are sporting 30% or higher K rates over the last month so my perspective is – this is a slate you need to prioritize pitching, and high strikeout pitching to be more specific. With that context, I think paying up for both pitching slots on two pitchers sites may be the way to go today and find some cheaper bats to make that build work.
Blake Snell ($24K) sits at the top of the pricing pyramid today with a home match-up against the Orioles and when you consider that Snell leads the major over the last month with a whopping 38.8% K rate – a match-up with the watered down Baltimore line-up seems like the perfect spot to pay up.
Snell comes into this game with 25 or more fantasy points in each of his last five starts with his 38.8% K rate and a 19.1% swinging strike rate while facing an Orioles projected line-up with a K rate against lefties of nearly 26%. There is a reason Snell is priced this high and frankly, he is worth every penny.
Aaron Nola ($23.3K) has a 33.9% K rate over the last month, just a tick behind Snell and 4th in all of baseball over that time period. Nola gets to face a New York Mets team he has simply dominated in his previous two outings, racking up 36.75 and 38.55 fantasy points over 14 innings of work with 21 K's, 2 walks and 1 ER. Much like with Snell right above him, this looks like a massive ceiling spot for Nola – not much more needs to be said.
As much as I like the other arms on this slate like Cole, Corbin, Paxton and Kershaw – they have some really tough match-ups as they face the Red Sox, Braves, Yankees and Rockies in Coors which makes paying up for Snell and Nola seem like even better uses of our salary cap when you consider they get to face off with weak hitting, high K line-ups like the Orioles and Mets.
CHICAGO, IL – SEPTEMBER 02: Daniel Palka #18 of the Chicago White Sox is greeted by Jose Rondon #20 of the Chicago White Sox after hitting a home run against the Boston Red Sox during the fourth inning on September 2, 2018 at Guaranteed Rate Field in Chicago, Illinois. (Photo by David Banks/Getty Images) /
MLB DFS – Top Hitting Spots:
With the mindset that we are going to pay up for two high-end arms like Blake Snell and Aaron Nola on this slate, it means going after cheaper stacks as we will only have roughly $6.6K per batter to fill out the rest of our line-up on FantasyDraft but I think it is a doable roster build.
The Minnesota Twins have the second highest run total on the slate at nearly 5.2 runs which is higher than either of the teams playing in Coors Field and will take on Heath Fillmyer, a pitcher with a 5.14 SIERA, a 10% walk rate, paltry 7% swinging strike rate and a 42% HC rate, which makes this an ideal stacking spot.
Fillmyer in his short career has shown reverse splits with a .225 ISO to right-handed batters and a 52.3% hard contact rate which puts someone like Miguel Sano ($7.3K) squarely on our radar as a top play assuming he re-enters the line-up for Minnesota. Sano has a .206 ISO against RHP this season with a near 47% HC rate and when you consider that Fillmyer relies almost entirely on a low 90's fastball against RHB, it sets up perfectly for Sano who has a silly .786 ISO mark against that velocity in 2018.
Before going full on stack here, it is worth noting that the Twins, who are largely left-handed, will have to deal with some interesting "dominance" from Fillmyer against lefties in 134 PA's. In that sample size, the HC rate drops all the way down to 31% with a tiny .044 ISO mark so this may be a spot where we roll out only the righties like Sano, Logan Forsythe or Mitch Garver.
The White Sox are a great pivot stack or secondary stack, especially the left-handed batters, as they take on RHP Felix Pena and the Angels at home in Chicago. Pena on the season is giving up a .185 ISO and 40.4% HC rate to LHB with a 1.27 HR/9 rate and will pitch in Guaranteed Rate Park today which is one of, if not the best, park for left-handed power on the entire slate.
Pena is essentially a two pitch pitcher, relying on a sinker/slider combination over 80% of the time with the sinker being featured over 50% of the time against LHB in 2018. Digging into the White Sox bats, Daniel Palka ($8.4K) stands out as an elite play with a massive .536 ISO mark against the sinker from righties in 2018 but do not overlook value bats like Nicky Delmonico (.222 ISO versus sinker and .350 ISO versus slider) and Omar Navarez (.333 ISO versus sinker and .200 versus slider).
If we want high-end arms and the ability to grab a "more expensive" bat like Sano and/or Palka then we are going to need some extreme punt plays and that is where the Seattle Mariners come in. Now the match-up against Masahiro Tanaka is not one we necessarily want to go all-in on – but there are some plays here that I simply cannot over-look at their price points.
Kyle Seager ($5.5K) and Mike Zunino ($5.8K) are a dirt cheap mini-stack at the bottom of the Seattle order that have both had success against Tanaka in limited at-bats going a combined 7 for 29 with 3 HR's and a .300+ ISO mark. The one thing we know with Tanaka is that is he going to give up HR's even when he has an overall strong outing – as he has given up at least 1 HR in 16 of 23 starts this season, so there is merit to home run hunting with punt plays in the Marines line-up.
Over the last two seasons, Seager (.192 ISO) and Zunino (.236 ISO) have both had strong power against RHP, and both profile well against the primary pitch types Tanaka uses as Seager has a .180 ISO mark against the splitter while Zunino has a .200+ ISO mark against both the splitter and slider, which are what Tanaka throws nearly 65% of the time to RHB.
SEATTLE, WA – MAY 19: Kyle Seager #15 of the Seattle Mariners is congratulated by teammates in the dugout after scoring a run on a hit by Mike Zunino #3 of the Seattle Mariners off of relief pitcher Artie Lewicki #57 of the Detroit Tigers during the sixth inning of a game at Safeco Field on May 19, 2018 in Seattle, Washington. The Mariners won the game 7-2. (Photo by Stephen Brashear/Getty Images) /
MLB DFS Sample Line-Up and Slate Overview:
The line-up below is meant to be illustrative only to further back-up the logic laid out in previous slides and is not meant to be an optimal line-up or a roster you simply plug and play on your own! 
More from FanSided
SP: Blake Snell ($24K)
SP: Aaron Nola ($23.2K)
IF: Logan Forsythe ($6.8K)
IF: Kyle Seager ($5.5K)
IF: Mike Zunino ($5.8K)
OF: Nicky Delmonico ($6.3K)
OF: Miguel Sano ($7.3K)
OF: Daniel Palka ($8.2K)
UTIL: Omar Navarez ($6.3K)
UTIL: Wellington Castillo ($6.5K)
Slate Overview: It is a Jon Lester Day and the Dodgers are in Coors and here I am – not talking about either of them – I think this is what personal growth feels like. Anyways, this slate is all about pitching – building around high K arms – as there is simply way too much opportunity cost in missing at pitcher today in my opinion. By going all-in on the two most expensive arms it will mean dumpster diving for bats but the Twins/White Sox stacks are intriguing options against bad pitchers and the Mariners punt plays give you some great boom/bust potential as home run plays. Enjoy an awesome MLB DFS slate and let's build some bankroll heading into the weekend!
Best of luck in your MLB DFS contests across FantasyDraft, DraftKings and FanDuel and stay tuned to Fantasy CPR for all your DFS news and analysis across all your favorite sports.