25-under-25: OG Anunoby offers maximum flexibility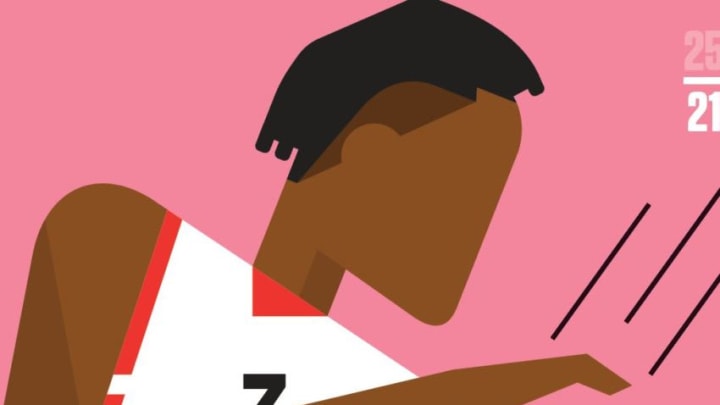 The Step Back is rolling out its 25-under-25 list over this week. Follow along with our rankings of the top 25 NBA players under the age of 25.
The key to the Raptors summer, and what inspires excitement about them next season, was their acquisition of Kawhi Leonard. Assuming Leonard is healthy and plays at the level he did in 2016-17 — when he was an MVP candidate and on the best five players in the league — Toronto has the caliber of player it was missing. No shade to the departed DeMar DeRozan or Kyle Lowry, but Leonard is class above them. Adding Danny Green doesn't hurt either.
But a component on the Leonard deal was what the Raptors gave up, or rather didn't have to. Because Leonard could walk next summer, his price wasn't too high. Losing DeRozan stings because he's an All-Star and genuinely loved Toronto in a way Leonard may never. Jakob Poeltl is fine and exciting, but replaceable. A protected first-round pick is a nice asset, but worth Leonard. But notice the name missing, a player many had assumed would be the required price for Leonard: OG Anunoby.
Art by Andrew Maahs — @BasemintDesign /
If it came down to it, maybe the Raptors would have given up Anunoby for Leonard. But it's a victory that they didn't, because the current version of Anunoby is a perfect compliment for Leonard and Lowry in 2018. On defense, particularly as Leonard gets back to playing night-to-night and in the regular season, Anunoby can defend the opposition's best player, be it a smaller, quicker wing or a bigger, bulkier scorer. It speaks volumes that, as a rookie last season, he was Toronto's best option to defend LeBron James and never looked entirely out of his depth.
Around Leonard — who had a 31.1 usage rate in his last healthy season — and Lowry — who had 21.7 usage rate last year in an altered Raptors offense — Anunoby helps. His shot profile is that of a 3-and-D wing, albeit in only one NBA season and less than five shots per game. Assuming his numbers hold up in closer to 30 minutes a game, he's the perfect complimentary piece to two ball-dominant guards.
Anunoby is the key to Nick Nurse having a variety lineup options to turn to too. If he wants to put a lot of length on the floor, having Anunoby, Leonard and Green allows him to do that. If he wants to play two bigs — say Serge Ibaka and Jonas Valanciuna — having Anunoby means he can still play two long wings at the same time. If he wants to get crazy and play Lowry with four players who can switch anything — Leonard, Anunoby, Green and Pascal Siakam, for example — he can do that. If Leonard is the player that raises the bar for Toronto, Anunoby is the player that stretches out the potential. In a conference where the Celtics — and their depth of high-level wings — pose the biggest challenge to Toronto, that stretch gives them a much better chance than if they had traded Anunoby and replaced him with a minimum contract veteran.
Anunoby helps if the Leonard experience goes wrong too. It is entirely possible that, a year from now, Leonard is a Laker and Lowry will be heading into the last year of his deal. In this scenario, which Masai Ujiri had to have had in mind this summer, Toronto has to rebuild. Anunoby may never be a superstar — it's too early to even know if he can take that leap — but he's a piece you want around. He's a 21-year-old, still getting better and still under team control for the next three seasons. Ujiri will go hunting for another star, be it through the draft or free agency, but Anunoby fits whatever comes next.
This is what makes Anunoby valuable. He may not be the best player on a team or someone who's counting stats bounce off the page in a way the resonates with casual fans. But he's flexible and malleable enough to fit any situation and any strategy his team employs. In a league that values it more than ever, having Anunoby matters even when you add Leonard.
This year's 25-under-25 illustrations are the work of Andrew Maahs of Basemint Design. You can follow on Twitter, @BasemintDesign.