NASCAR at Indianapolis results, finishing order: Brad Keselowski wins first Brickyard 400 for Team Penske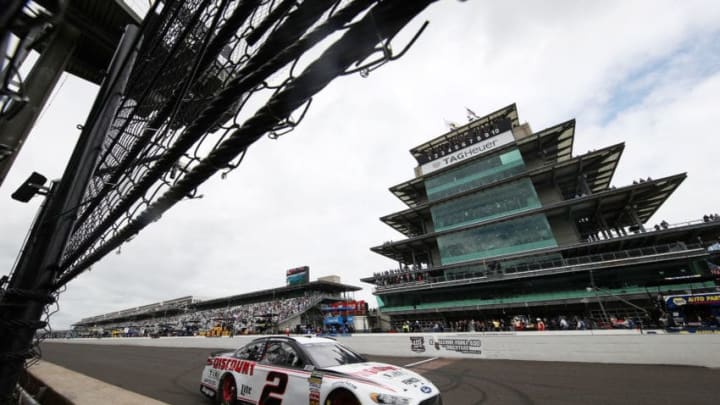 INDIANAPOLIS, IN - SEPTEMBER 10: Brad Keselowski, driver of the #2 Discount Tire Ford, races during the Monster Energy NASCAR Cup Series Big Machine Vodka 400 at the Brickyard at Indianapolis Motor Speedway on September 10, 2018 in Indianapolis, Indiana. (Photo by Chris Graythen/Getty Images) /
On a day when both speed and pit strategy turned out to be equally important, Brad Keselowski had both of those factors in his favor when it mattered most.
Team Penske knows plenty about winning at Indianapolis Motor Speedway, claiming 17 Indy 500 victories over the years. Still, The Captain and his team had never won the Brickyard 400 before this year, but Brad Keselowski made sure to rectify that on a rare Monday afternoon race on one of the world's most famous tracks.
Keselowski wasn't the fastest car most of the day, but as is so often the case at the Brickyard, he found the right combination of speed and pit road decisions in the closing laps. A week after winning his first Southern 500, he added his first Brickyard 400 victory and gave Roger Penske his first after many previous attempts.
"It feels great," Keselowski said in his post-race TV interview, noting that he was in a good position to win in 2017 but got shuffled out near the end. "Last year, I lost this race almost the exact same way, and this year, it feels really good to make up for my mess up last year."
With less than 20 laps to go, it appeared that the race for the win would be between Denny Hamlin and Clint Bowyer. Hamlin bemoaned the fact that two cars who were multiple laps down, the 00 of Landon Cassill and 96 of Jeffrey Eanrhardt, wrecked and brought out a late caution.
That proved to be critical, because even though Hamlin restarted in P1 with three laps left, he was soon under heavy pressure from Keselowski, who had pitted much later than other contenders during the race's final stage, and his fresher tires proved critical when he made his move with just two laps remaining. Erik Jones also found his way past Hamlin to finish second, while Bowyer, who won Stage 1, wound up fourth.
Kyle Busch had an uncharacteristically up and down day before coming home eighth, but his 18 team never hit upon the mix of fast car and right pit calls to factor in the race for the win. He did, however, seal up the regular season title, claiming both the new NASCAR trophy that goes with it and 15 extra playoff points.
For most of the season, Busch wouldn't have figured to need those points, but with Keselowski heating up right at the end of the regular season, they might be more important than anyone would have guessed just a few weeks ago. The playoffs await, starting next week in Las Vegas.
2018 Big Machine Vodka 400 at the Brickyard finishing order from Indianapolis Motor Speedway
Brad Keselowski
Erik Jones
Denny Hamlin
Kevin Harvick
Clint Bowyer (Stage 1 winner)
Kurt Busch
Jamie McMurray
Kyle Busch
Paul Menard
Ryan Newman
Ryan Blaney
Matt Kenseth (Stage 2 winner)
Joey Logano
Kyle Larson
Chase Elliott
Jimmie Johnson
Michael McDowell
Daniel Suarez
William Byron
Regan Smith
Ty Dillon
Austin Dillon
Aric Almirola
David Ragan
Chris Buescher
Ross Chastain
Corey LaJoie
Reed Sorensen
JJ Yeley
BJ McLeod
Landon Cassill
Jeffrey Earnhardt
Alex Bowman
Ricky Stenhouse Jr.
Timmy Hill
Matt DiBenedetto
AJ Allmendinger
Bubba Wallace
David Starr
Martin Truex Jr.