Northwestern coach Pat Fitzgerald may have a point about RPOs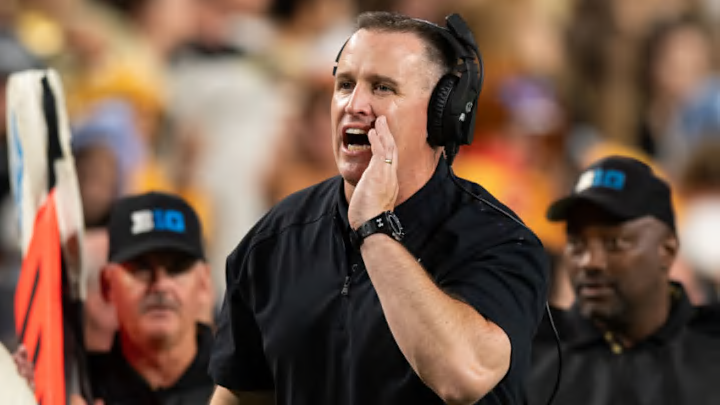 WEST LAFAYETTE, IN - AUGUST 30: Northwestern Wildcats head coach Pat Fitzgerald on the sidelines during the college football game between the Purdue Boilermakers and Northwestern Wildcats on August 30, 2018, at Ross-Ade Stadium in West Lafayette, IN. (Photo by Zach Bolinger/Icon Sportswire via Getty Images) /
He could have chosen one particular word better, even in jest, but Northwestern coach Pat Fitzgerald may have a point about RPOs.
As a College Football Hall of Fame linebacker at Northwestern and now in his 13th season as head coach at the school, Pat Fitzgerald would fit an outward perception of old-school. So he'd bring that quality to any comments about something new in the game, and perhaps dismiss it as a passing fad.
On the offensive side, RPOs (run-pass options) are that new toy coordinators are using. They keep defenses on their heels, perhaps even more than pushing pace does, and having a quarterback who can run is not necessarily a prerequisite.
Fitzgerald's playing and coaching roots are on the defensive side of the ball, and he's seen Urban Meyer most specifically bring more modern offensive concepts into the Big Ten in recent years. So it stands to reason he'd have something to say about RPOs.
During his Tuesday press conference, heading into Saturday's game against Akron, Fitzgerald came through.
"It's communism," he said. "RPO is the purest form of communism."
Fitzgerald was definitely joking, and he went beyond the quote that writes its own headline.
"I don't understand how offensive linemen can be downfield. It used to be when [an offensive lineman] tripped and fell down, it was illegal man downfield. Now if it's just an uncovered lineman and you go 2.3 yards downfield, it's not a penalty. But if you go three yards it is and nobody can see it until after the ball is thrown," he said."It's the rules. You can complain all you want. If I want to get it fixed I guess I can beg to get on the rules committee. It's the most en vogue change, I think, in football. If you're a purist of football, it's not the game. It's not. People downfield blocking and the ball being thrown should be illegal."
Fitzgerald has a point about RPOs pushing the bounds of lineman being called for illegally being downfield, and it being hard for officials to determine as that line is toed.
Northwestern has not exactly been an offensive juggernaut, finishing in the top-50 nationally in scoring once in the last decade. So maybe Fitzgerald should embrace innovation a little and encourage its use. But his overall narrative about RPOs has a big grain of truth to it.