Do the U.S. Men's National Team require a creative playmaker to be successful?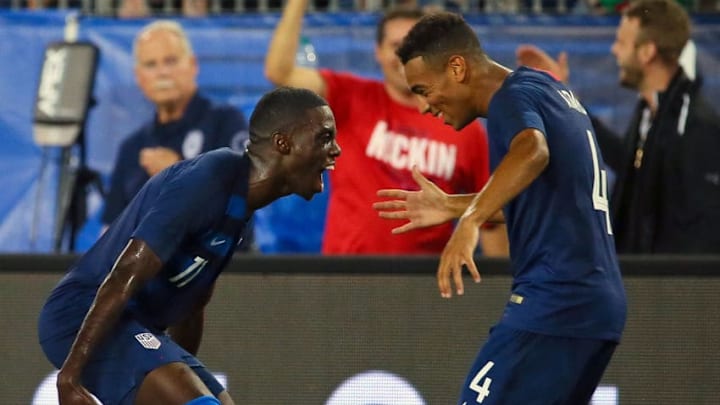 NASHVILLE, TN - SEPTEMBER 11: Tim Weah #11 of the USA congratulates teammate Tyler Adams #4 on scoring a goal against Mexico during the second half of a friendly match at Nissan Stadium on September 11, 2018 in Nashville, Tennessee. (Photo by Frederick Breedon/Getty Images) /
The USMNT won 1-0 against Mexico on Tuesday, but their performance raised the question: How good can they be without a creative playmaker?
A young USMNT showed some promising signs in a 1-0 victory against Mexico on Tuesday, but none of those signs was the development of a traditional attacking playmaker, especially without Christian Pulisic. The question now is whether this team can overcome the absence of that kind of player.
The short answer is yes. The long answer is slightly more complicated.
Historically, the best versions of the USMNT have succeeded despite the lack of a top creative player in the traditional sense. To varying degrees of success, American soccer has always favored speed, athleticism and discipline over traits traditionally associated with the more creative midfield maestros — sublime skill, fancy footwork and superior vision.
The reality is world-class creative players have had a difficult time at the national team level of late, despite the fabulous individual performances of Luka Modric, Eden Hazard and Kevin De Bruyne this past summer. Gone are the days of the midfield maestro, who was afforded both enough freedom on the field from his own manager and precious extra seconds of time (the result of a slower pace of play) to be able to survey the field and break down opponents with surgical precision.
At club as well as international level, players have increasingly become cogs in well-oiled machines, rather than field generals granted the decision-making power to pull the strings and call the shots. This is the reality of the game, and unfortunately for the nostalgics among us, this trend doesn't bode well as far as the flourishing of future number 10s in the traditional mold.
The game has evolved to favor players able to make quick decisions at breakneck speed. From a developmental perspective, when in doubt, the clear tendency is to choose speed over other factors that had come to define creativity such as finesse, technique and vision. What separates the more creative players from the merely good ones is an ability to improvise, an ingenuity to come up with quick and unexpected solutions when facing up against same-level athletes on the field.
From that perspective, U.S. fans should feel good about the team's prospects. Over the last five days, we've seen a number of players south of 20 years old who have showcased many of the tools required to perform on the world stage, regardless of their level of creativity in the traditional sense of the word.
Players like Tyler Adams, Weston McKinnie and Timothy Weah have all shown the comfort on the ball and ability to make quick decisions that has been quite rare of American players in recent years. Perhaps this is a more relevant factor to a player's success in today's game.
This comfort conferred them a willingness to take risks, to come up with a more direct way of breaking down an opponent. As this young group develops and grows in confidence, we should expect them to become more comfortable taking players on and creating chances — or in other words, to allow their technique, speed and vision to translate into creativity.
Adams, McKinnie and Weah are very much works in progress, but the fact that even at such an early age and stage in their careers none of them appear to be hampered by the lack of attributes required of a modern-day creative type (speed, vision, mental agility and the willingness to take appropriate risks) should make U.S. fans feel very good about the prospects for the future.
Players like Zinedine Zidane, Xavi and Ronaldinho aren't walking into the USMNT locker room (or any other locker room) any time soon. Given the rigors of the modern game, this may not be a reason for concern after all. Neither of the last two World Cup winners have featured a traditional creative fulcrum required to do the heavy-lifting in terms of chance creation.
Both France this summer and Germany in 2014 benefitted from a number of exceptional players with superior vision, speed and technique who were playing within a system that maximized their ability and potential. Didier Deschamps, in particular, was willing to favor less talented (and less traditionally creative) players in favor of those who fit his system better. This is what the U.S. should aspire to, as opposed to trying to develop the next Maradona.