Fantasy Football 2018: 5 Wide Receivers that need to be owned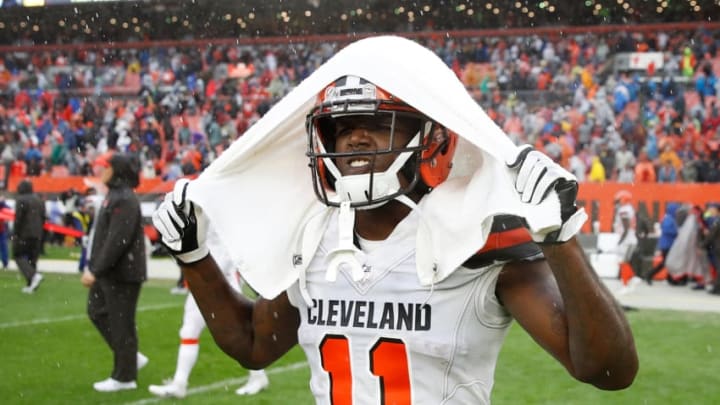 CLEVELAND, OH - SEPTEMBER 09: Antonio Callaway #11 of the Cleveland Browns walks off the field after a 21-21 tie against the Pittsburgh Steelers at FirstEnergy Stadium on September 9, 2018 in Cleveland, Ohio. (Photo by Joe Robbins/Getty Images) /
With two weeks in the books for the fantasy football season, these five wide receivers proved that they need to be owned in more leagues.
The wide receiver position is a roller coaster when it comes to finding players to add off the waiver wire. Most of the consistent options are already on a team. The ones left over are players who may see a big boom in scoring one week and become invisible the next. But after two weeks, these five wide receivers have carved out a role for themselves and belong on more fantasy football teams.
Most of the receivers listed are available in over 60 percent of ESPN leagues. Their quarterbacks are targeting them often to make the roster spot worth it or something else happened (like in Cleveland) and an opportunity for more targets opened up.
I'm not saying these players should be in your starting lineup but with bye weeks just around the corner, it's important to fill your bench with players you would be comfortable starting in those situations.
The Ravens offense, despite the team being 1-1, looks good. They have a good one-two punch at running back and Joe Flacco has some talent at wide receiver. Michael Crabtree is the No. 1 guy on the depth chart but Brown is the most valuable.
More from FanSided
It's been a while since he's been fantasy relevant. Brown has seven catches for 136 yards and two touchdowns. As long as he stays healthy, Brown will be a consistent target for Flacco.
At 24.1 percent ownership in leagues, Brown deserves more love.
The trade of Josh Gordon opened up the depth chart. Jarvis Landry is the new No. 1 on the depth chart. Callaway, after the big play he had in Week 2, will likely be the No. 2 receiver.
While I don't expect a lopsided line of 3-81-1 every game, he will see more targets as the Browns are likely to be behind often this season.
Callaway and the Browns play the Jets in Week 3. He is owned in just 3.8 percent of leagues.
Allison likely has more value if Aaron Rodgers doesn't play but he is still the No. 3 target in the Packers offense. The emergence of Jimmy Graham in Green Bay may hold down his value in some games.
Allison is third in receptions and yards. He averages 51.5 snaps and seven targets per game so far. The return of Aaron Jones will open up the running game but this offense still runs through Rodgers' arm.
The Packers have a good chance to put up a lot of points and Allison will luck into a few touchdowns this season. He's available in 74 percent of leagues.
It hasn't officially happened but Ridley seems to have taken over the Falcons No. 2 wide receiver job. He has scored 16 PPR points compared to Mohamed Sanu's eight and Ridley was scoreless in the first game of the season.
With the Falcons likely getting into some shootouts throughout the season, Ridley is someone who will benefit. He's owned in 37.0 percent of leagues.
I included both Jaguars wide receivers because of how close their production has been this season.
Westbrook has 10 catches for 170 yards and a score while Cole has nine receptions for 134 yards and a touchdown.
Blake Bortles is spreading the ball around as five pass catchers have a touchdown. But Westbrook and Cole are the top two in receptions.
Cole is owned in close to 50 percent of leagues while Westbrook is at 10 percent. The Jaguars defense is really good so the offense may not need to score a lot of points. However, when they do, Cole and Westbrook are likely to get them into scoring range.
The fantasy football season just began but the season is short. Cut those bench players that aren't scoring points and bolster your bench with more productive players. In PPR leagues, even the No. 4 receiver has some value.