Thursday Night Football Week 3: Browns vs. Jets Preview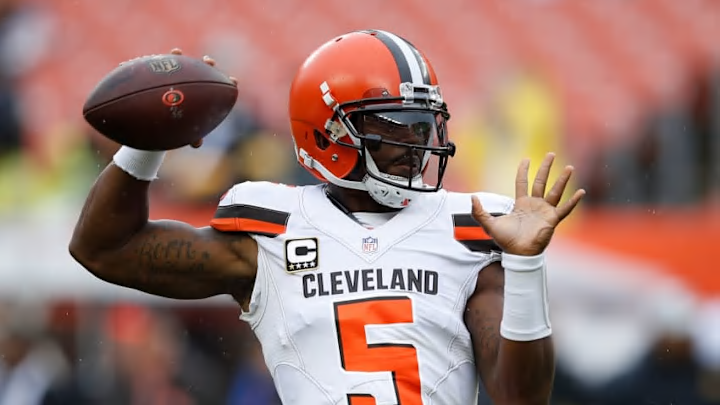 CLEVELAND, OH - SEPTEMBER 09: Tyrod Taylor #5 of the Cleveland Browns warms up prior to the game against the Pittsburgh Steelers at FirstEnergy Stadium on September 9, 2018 in Cleveland, Ohio. (Photo by Joe Robbins/Getty Images) /
EAST RUTHERFORD, NJ – SEPTEMBER 16: Quarterback Sam Darnold #14 of the New York Jets looks to pass during warmups before the game against the Miami Dolphins at MetLife Stadium on September 16, 2018 in East Rutherford, New Jersey. (Photo by Michael Owens/Getty Images) Thursday Night Football /
On Thursday, September 20th at 8:20 PM EST, The New York Jets (1-1) fly to Cleveland to face the 0-1-1 Browns for a Week 3 Thursday Night Football showdown. Days after the Josh Gordon trade, the Browns look to move past an era filled with disappointment and frustration with possibly their first win in 635 days. The Jets and rookie Sam Darnold will look to recreate the magic from their opening night on Monday Night Football vs. the Lions  
Jets @ Browns: Thursday Night Football Preview
When: Thursday, September 20th at 8:20 PM EST
Where: FirstEnergy Stadium in Cleveland, OH
How: NFL Network
The Cleveland Browns acquired a 5th round pick from the New England Patriots earlier this week as they finally ended their relationship with Josh Gordon. Gordon allegedly injured himself during a promotional shoot at FirstEnergy stadium and arrived late to practice leading into Week 2's match up vs. the Saints. The camel's back was finally broken and the Browns decided to end their six-year partnership with the talented wide-out. Gordon was an ultimate example of the idiom, 'what could have been?'. He will now relocate to Foxboro in an experiment that could spell the end of his days in the NFL or rejuvenate a former pro-bowler.
The Browns will now wash their hands of their troubled past and try to move on with their retooled roster. Despite starting 0-1-1, the Browns have looked pretty good so far. They have only allowed 21 points in each of their games thus far to two of the most high-powered offenses in the league (Steelers and Chiefs) and their defense leads the league in takeaways. If it wasn't for two wretched performances by kicker Zane Gonzalez, the Browns could quite possibly be 2-0.
Over two games, the Browns have accumulated 270 rushing yards with 3 TDs over 65 attempts. Tyrod Taylor and Carlos Hyde are performing well thus far in the running game and they still have Nick Chubb and Duke Johnson in the wings. In the passing game, Jarvis Landry and David Njoku are really the only two who are seeing legitimate target share thru two weeks. Without the presence of Josh Gordon, I expect Rashard Higgins and Antonio Callaway to step up and create options for Taylor.
For the Jets, things are much more complicated. Unlike the consistency of the Browns performances through two weeks, the Jets have scored 48 and 12 in consecutive outings. After embarrassing the Detroit Lions at home on Monday Night Football in Week 1, the Jets were flushed out by the Dolphins in a 20-12 victory at MetLife. On the bright side, they had 105 more total yards than the Dolphins, had a higher time of possession and dominated the Dolphins defensively in the second half after trailing 20-0 in the first. Sam Darnold had 2 INTs to go with his 1 TD but surpassed the 300-yard mark for the first time in his career with 334 vs. the Dolphins. he is finding continuity with his running backs having confidence in them in the rushing game as well as catching balls out of the backfield. It is always important for a young QB to have a safety blanket around him at all times.
In the passing game, Quincy Enunwa continues to shine after returning from his neck injury in 2017. It was also nice to see Darnold getting Terrell Pryor involved last weekend who has shown flashes of brilliance in past seasons. Robby Anderson is without a doubt the most talented receiver on this roster. After a tumultuous off-season, Anderson has yet to breakout for a big performance thus far.
GAME NOTES
The Jets have won the last five meetings between these two teams dating back to 2010 including a 17-14 victory in Cleveland last October.
This will be Tyrod Taylor's 4th battle with the New York Jets on Thursday Night Football since 2015. In the previous three as a member of the Buffalo Bills, Taylor has gone 1-2 with 6 TDs, 1 INT adding a rushing TD.
Rookie quarterbacks have been historically bad on Thursday Night Football since it was officially introduced in 2006. Since that time, rookies are 10-20 overall with a 19/24 TD-to-INT ratio. They only have averaged 172.6 yards per game with an average completion percentage of 55.3% and a 69.7 passer rating. There has been only 2 performances of 2 TDs or more (Robert Griffin and Jameis Winston) in a TNF game for a rookie. In those 30 games, 15 QBs were held without a passing TD.
TOP DRAFTKINGS VALUE
Sam Darnold

Terrell Pryor

Jarvis Landry

Carlos Hyde

Antonio Callaway
On DraftKings, they are hosting a $1M Thursday Night Showdown with just the players from this game available with $250k going to first place. You have the opportunity to select a 'captain' who will receive 1.5x the fantasy points. For Thursday's game, I like the Jets offense to have a bit of a spark after the scrutiny received in Week 2 where the offense looked bleak. Averaging 31 passes per game so far, I expect Sam Darnold to be ramping that up in week 3. After slowly building a rapport with his WRs, I think the OC will slowly take advantage of Darnold's arm and craft the offense around the 21-year-old.
More from FanSided
Bilal Powell has been stagnant in the rush game thus far but is clearly a heavy target when the Jets are trailing, having seen 6 targets in week 2 vs. the Dolphins. I do like Isaiah Crowell in short yardage situation (red zone) but I think Powell is much more likely to have a strong performance.
As a pivot from the likely chalk (Enunwa and Anderson), I actually like Terrell Pryor and Jermaine Kearse for this situation. Pryor took advantage of his 8 targets last week, catching 4 of them for 84 yards. Pryor can be a burner at times and has freakish size. He likely will be 2nd or 3rd in targets tonight but has a lot of upside with what he does with those targets. Jermaine Kearse was very consistent with Josh McCown as well as a favorite of Russell Wilson during his time with the Seahawks. Kearse is very cheap tonight and should be forced into the playbook after returning from injury last weekend.
Jarvis Landry is unavoidable in this situation. He sees WAY too many targets from Taylor who has young, unreliable options outside of Hyde and Landry. I don't think a repeat performance of 15 targets is out of the question tonight. Carlos Hyde should see the ball a lot tonight as the Browns will try to control the pace and run the ball down the Jets throats. The Jets secondary is better than it has been in past years and the stout defensive line has diminished.
I love what I saw out of Antonio Callaway in week 2 who is clearly taking advantage of his extra reps with the subtraction of Josh Gordon. He has high upside to snag a TD in tonight's match up and I love him as a pivot off of other WR options.
BETTING PICKS
Current Odds:
Cleveland Browns (-3)

Over/Under 41

New York jets (+145)

Cleveland Browns (-165)
My Picks:
An over/under of 41, which has climbed since it opened at 39.5, is just a cruel number to consider in a Jets/Browns match up. In your head based on the recent history of these teams, you wouldn't be surprised by a 5-3 final or a 10-9 showdown. However, both teams have acquired competent QBs, have relatively good defenses and seem to be trending upwards. I hate to say it, but I am kind of excited for a Jets/Browns match up for the first time in my life? This is the first time in the Hue Jackson era that the Browns have been favorites, ever.
Browns fans have waited 635 days for this moment as they dash towards their local bars in hopes of the Bud Light Victory Fridges becoming unchained around midnight tonight in celebration of the Browns first victory. I expect them to have to wait at least one more week however as I think the Jets will be taking tonight's match up in what will likely be crushing fashion again for Browns faithful.  Darnold is the real deal and I think they have enough on offense to get the job done.
Prediction – Jets 27 Browns 23