MLB DFS Picks and Pivots – Friday September 28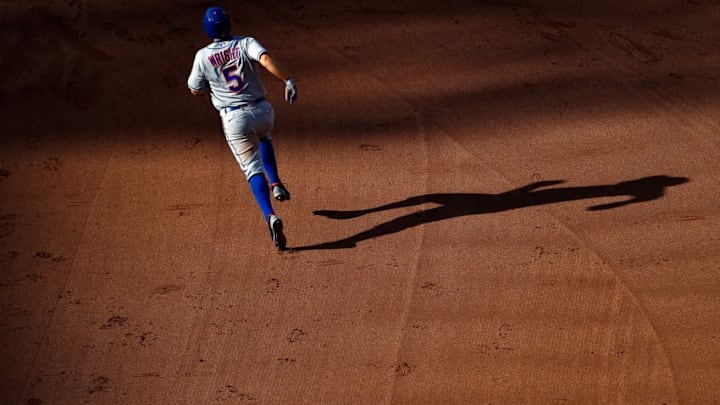 KANSAS CITY, MISSOURI - APRIL 05: David Wright #5 of the New York Mets sprints toward second base during the 7th inning of the game against the Kansas City Royals at Kauffman Stadium on April 5, 2016 in Kansas City, Missouri. (Photo by Jamie Squire/Getty Images) /
NEW YORK, NY – SEPTEMBER 26: David Wright #5 of the New York Mets waves to fans after a game against the Pittsburgh Pirates at Citi Field on September 26, 2012 in the Flushing neighborhood of the Queens borough of New York City. (Photo by Alex Trautwig/Getty Images) /
Welcome to the Friday edition of MLB DFS Picks and Pivots, a fantasy baseball column focused on helping you find the best core lineup for this slate of DFS action!
Well, we made it. Today will be the final MLB DFS Picks and Pivots for the 2018 season and after writing an article for every baseball slate since the beginning of April – part of me is ready for the break and part of me cannot believe how fast this baseball season has gone.
Before Picks and Pivots converts to a daily NBA DFS column, I wanted to take a moment to THANK YOU – each and every one of you who take the time out of your days to read this article. When I started writing Picks and Pivots and came on to Fantasy CPR, I never imagined that people would actually care what I thought and it still amazes me on days where real life gets busy and maybe I cannot get an article out that people will Tweet to me and ask "Where is Picks and Pivots?"
I truly love writing this article and enjoy the interaction with the readers across social media – that interaction has led to a handful of people who have come on board with Fantasy CPR as paid writers – something I never imagined was possible when I started down this path. Seeing applications come across to join the site and saying they started reading Picks and Pivots and now wanted to write for the site has been incredibly humbling. I am certainly no "DFS tout" or whatever the kids call it these days – I simply love the research and analytics that comes with DFS and have been blessed to be able to share those thoughts with you each day.
Hopefully you learned something, made some money and enjoyed Jon Lester day every five days – I know I did.
I know this is a fantasy sports column, but as this is the last Picks and Pivots for baseball – we are also just days away from the final game David Wright will play for my New York Mets. Like many of you – my passion for DFS came from my love and passion for the sports themselves – long before we could build fantasy teams with our favorite players – we rooted simply for the team we loved instead of a random guy in a game we weren't watching to hit an HR so you could vault over the cash line!
As a Mets fan born in the early 80's, the 1986 World Series winning Mets team is something I look back on after the fact (ya know, since I was 5 when it happened) and although I love Mike Piazza and what he meant to this team in the late 90's/early 2000's – for any Met fan in my generation – David Wright was OUR guy. He was the home-grown kid, the lifelong Mets fan growing up near the Minor League affiliate who spent his entire career bleeding Orange and Blue.
He was our hope – the young power hitting, slick fielding third baseman who along side Jose Reyes would deliver a dynasty to this city. I remember sitting in the stands at Shea Stadium during the NLCS after they seemingly coasted to an NL East Title and was "waiting" for them to finish off the Cardinals and stake their claim to the World Series. Well, that was right before Adam Wainwright broke a curve-ball 12-6 in front of Carlos Beltran and crushed my soul.
Even after that – it felt like – no big deal – this team with Wright and Reyes will be back year in and year out – except that is not how it unfolded. The injuries, the collapses, a whole lot of bad ensued and that frankly was what made the Mets World Series run with Wright as their Captain in 2015 feel so special.
I will always remember his fist pump after sliding into home against the Nationals that year, that HR in his first at-bat back from injury in Philadelphia and his home run in the World Series at Citi Field. This was OUR CAPTAIN – OUR GUY.
Growing up in New York/New Jersey – surrounded by Yankee fans and the love for their Captain – #5 was our #2.
On Saturday, I will be taking my kids to see David Wright's final game as a Met and I really hope his send-off is as memorable as #2's was in the Bronx. As much as The Captain is coming back to play one last game in front of his kids – I am thrilled my kids get to see him live one last time. David Wright has been everything you could possibly want from a franchise player and this comeback from injury shows the love and passion that we as fans want to see/hear from our favorite players.
Sometimes in the daily grind that is DFS we forget a bit why we came to love the game so much as we get inundated in Fangraphs pages, weather reports and Vegas totals – so I am glad that on this day, I will be able to just sit back with my kids and watch my favorite player take the field one more time before his #5 makes its way to the heights of Citi Field along #31 and #41.
Oh, also, I am stacking the Mets on Saturday – because – well, sometimes we can't fade the narrative.
ST. LOUIS, MO – SEPTEMBER 25: Christian Yelich #22 of the Milwaukee Brewers celebrates after hitting a three-run home run against the St. Louis Cardinals in the ninth inning at Busch Stadium on September 25, 2018 in St. Louis, Missouri. (Photo by Dilip Vishwanat/Getty Images) /
MLB DFS – Main Slate Overview:
As we head into the final weekend in Major League Baseball, we have five teams fighting for three playoff spots as the Dodgers, Cubs, Brewers and Cardinals are all grouped together fighting for the NL Central, West and two NL Wild Card spots. With the Cubs/Cardinals playing an afternoon game at Wrigley, they are off the Main Slate which means the Brewers, Rockies and Dodgers are key three teams I think we should focus our player pool around.
The Brewers and Rockies both have 5+ projected run totals which means this could be a slate where we prioritize offense over pitching. Milwaukee will be at home against Jordan Zimmermann, a fly-ball pitcher, giving up a .220+ ISO and a 38.5% HC rate this season. Seriously, this Brewers stack should go absolutely bonkers tonight.
Milwaukee has four batters with massive ISO marks against RHP this season as Christian Yelich, Jesus Aguilar, Travis Shaw and Mike Moustakas all have .235 or higher ISO marks in 2018 while each and every batter mentioned has a 41% or higher HC rate. These bats are the priority for me tonight as over his last 10 starts, Zimmermann has allowed 14 HR's with a 41% HC rate and in Miller Park – this is setting up for an all-in kind of stack night.
One of the reasons it may make sense to "double stack" bats tonight and go with a 4-3 roster build on FantasyDraft is that the Rockies are at home in Coors Field against Joe Ross, a low strikeout arm who has given up over a .200 ISO mark over the last two seasons as a fly-ball pitcher – a recipe that is sure to find tough sledding in Coors Field.
Just as the Brewers core is easy to isolate – so is the Rockies – as Charlie Blackmon, David Dahl and Nolan Arenado all have .200+ ISO marks against RHP since the start of the 2017 season with Dahl and his .280 mark in 2018 leading the entire Rockies squad.
If you want to go with a Brewers/Rockies top-tier stack, it is going to mean dumpster diving at SP but honestly on this slate, I think it's a viable route. I am not overly interested in paying up for arms like Gerrit Cole and Patrick Corbin with nothing on the line – I would rather search for good point per dollar plays that allow me to stack the offenses that NEED to win.
Thomas Pannone ($12.9K) is an interesting option pitching on the road in Tampa Bay against a Rays team he just faced in his last start and went 6.2 innings, striking out 5 on his way to 19.6 fantasy points. In fact over his last three starts – Pannone has gone 6+ innings in each outing with an average of 19.3 fantasy points against the Rays, Yankees and Indians. The key here is Pannone had strong minor league K numbers with a 26% K rate at AAA this year so the upside is certainly there and his last three games with a 10% swinging strike rate, tell me there is some K upside to go with his solid run prevention ability, allowing only a 25% HC rate in those three outings.
Zach Davies ($10.4K) certainly is not a high upside K arm, but what you have here is a solid -220 home favorite against a Tigers team with one of the lowest totals on the board. Davies has been underwhelming in four starts off the DL – going 4-5 innings per start, no more than 88 pitches, and giving up 1-2 ER per game. Now he did have a 20 fantasy point outing in his first game off the DL against the Cubs where he struck out 7 and two of his other three outings have been against a low K Pirates team so there is something to be said about the match-ups when looking at the game logs.
The Tigers are a team with a low ISO mark against RHP and a projected line-up with a 23% K rate so there is the potential this outcome could be more like the Cubs start than his single digit fantasy totals against the Pirates. If you opt to go this route, you are simply hoping the Brewers stack goes off, allows Davies to pitch with a lead and coast to a win and if you can get 15 or so fantasy points, then you will likely be thrilled as a cheap SP2.
MESA, AZ – FEBRUARY 20: Jon Lester #34 of the Chicago Cubs poses during Chicago Cubs Photo Day on February 20, 2018 in Mesa, Arizona. (Photo by Gregory Shamus/Getty Images) /
MLB DFS Sample Line-Up and Slate Overview:
The line-up below is meant to be illustrative only to further back-up the logic laid out in previous slides and is not meant to be an optimal line-up or a roster you simply plug and play on your own! 
More from FanSided
SP: Thomas Pannone ($12.9K)
SP: Zach Davies ($10.4K)
IF: Travis Shaw ($9.4K)
IF: Jesus Aguilar ($9.1K)
IF: Mike Moustakas ($8.4K)
OF: Christian Yelich ($11.2K)
OF: David Dahl ($10.8K)
OF: Charlie Blackmon ($10.6K)
UTIL: Nolan Arenado ($9.8K)
UTIL: Shohei Ohtani ($7.4K)
Slate Overview: With very few teams having something to play for and the two offenses, Milwaukee and Colorado, with everything to play for in smash spots – I simply think you ignore the noise and work to get as many bats as you can from those two teams in your line-up. Now it means taking some shots on cheap SP options but with the upside available in your bats, I think it is a risk worth taking.
Well – that is it kids. One final time – thank you again for reading all season long – from myself, the others at Fantasy CPR and Jon Lester – best of luck tonight and I truly hope you will follow along with Picks and Pivots as we enter the NBA season in a few weeks.
Stay tuned to Fantasy CPR for all the latest DFS news and fantasy analysis across FantasyDraft, FanDuel and DraftKings all season long!