PGA DFS Golf: 2018 Safeway Open DRAFT Rankings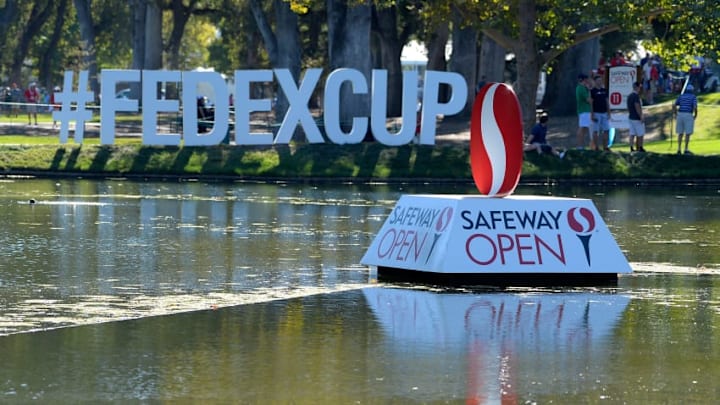 NAPA, CA - OCTOBER 06: A general view of the 11th hole during the second round of the Safeway Open at the North Course of the Silverado Resort and Spa on October 6, 2017 in Napa, California. (Photo by Robert Laberge/Getty Images) /
NAPA, CA – OCTOBER 07: A general view of the first hole during the third round of the Safeway Open at the North Course of the Silverado Resort and Spa on October 7, 2017 in Napa, California. (Photo by Robert Laberge/Getty Images) /
Why do you need another PGA DFS site? Because DRAFT combines the excitement of a season-long draft into one set of games! Get your DFS PGA Golf rankings with FantasyCPR
Welcome to this edition of PGA DFS Golf rankings for DRAFT.com from FantasyCPR, covering the 2018 Safeway Open. The DRAFT app can be downloaded to your mobile device through your app store, or you can access their desktop site here.   
I play quite a bit on DRAFT, and have always been a big fan of the snake draft format. On DRAFT, for PGA, you simply roster five golfers. They offer head-to-head, 3-man, 6-man and 8-man drafts that start upon filling. In the DRAFT lobby, you will find me in the six-man and eight-man contests, which payout to the top two spots.
The Event:
Before we get to the targets, let's talk a little bit about the Safeway Open and where it takes place, as well as who will and will not be competing in this first FedEx Cup event of the 2018-2019 season. The Safeway Open takes place at Silverado Country Club's north course in Napa, California. This event was previoulsy known as the Frys.com Open, and held in Arizona, until Safeway secured the sponser through the 2020 season, and moved it to beautlful Northern California. For two seasons now, the Safeway Open has been played at this par 72, 7,166 yard course, and both times, Brendan Steele was your champion. He will be back again, looking for the three-peat.
The Field:
Of course with the Ryder Cup wrapping up on Sunday, this field does not feature the big names in golf. California natives Patrick Cantlay and Phil Mickelson pretty much highlight the field. It isn't like there is not anything at stake here however. The Safeway Open does mark the start of the 2019 FedEx Cup season, and 500 points is up for grabs to the champion. Also in line for this weeks champion, is a berth to the Sentry Tournament of Champions at Kapalua in January, which is a winners only invitational. Ryan Moore and Brandt Snedeker also highlight the list of the top names in the field, along with a long time favorite of this article, Joaquin Niemann. With that brief overview, let's move along to this weeks targets!
NEWTOWN SQUARE, PA – SEPTEMBER 07: Brendan Steele of the United States plays a shot from a bunker on the 12th hole during the second round of the BMW Championship at Aronimink Golf Club on September 7, 2018 in Newtown Square, Pennsylvania. (Photo by Gregory Shamus/Getty Images) /
PGA DFS Golf High Projected Targets: (Players with DRAFT Projections of 60-75)
Brendan Steele – (62.3)
Steele's end of the season was one to forget. After making cuts consistently only to end up in the middle of the pack over and over, he struggled though August missing four straight cuts. To find a top-25 finish, you have to go all the way back to March. Steele is still a good golfer, and as I touched on briefly in the intro, he has won here at Silverado two consecutive years.
With the few drafts I have done up to this point, I have him ranked higher than most. He is ranked second for me this week, and I have drafted him as late as sixth overall. He seems to play better this time of year, as his win here last year sparked a solid run of five consecutive top 30's. Hopefully he is well rested and ready to continue this trend.
Chez Reavie – (61.0)
Our other top projected target, is the always hit or miss Chez Reavie. Reavie had a pretty solid season, highlighted by back-to-back second place finishes in February, at the Waste Management Phoenix Open, and at Pebble Beach. He came up just short of making the FedEx Cup Playoff finishing 34th in the standings, so he should also be rested. Like Steele, he hit a rough stretch towards the end of the season, missing five straight cuts. He did come back a bit over the last few events, making three of four cuts, with two top-20's.
Reavie also as had some success here in Napa at Silverado Resort and Spa. Last season, He was able to grab a top-15, and in 2016 he finished -10 for a top-25. I have him ranked ninth overall in this field, slotting him in as a late first / early second round pick. In my completed drafts, I have seen him go as high as three overall, and as late as mid second round. I am going big on course history here this week, making Steele and Reavie two of my top targets.
***Also Consider: Patrick Cantlay, Emiliano Grillo, Luke List***
NORTON, MA – AUGUST 31: Ryan Moore of the United States plays his shot from the first tee during the first round of the Dell Technologies Championship at TPC Boston on August 31, 2018 in Norton, Massachusetts. (Photo by Andrew Redington/Getty Images) /
PGA DFS Golf Mid Projected Targets: (Players with DRAFT Projections of 50-60)
Ryan Moore – (58.3)
One of the more consistent golfers in this field, Moore is probably slightly under projected here. He had his most recent success at the Wyndam Championships where he tied for sixth, but followed that with a missed cut at the Northern Trust. He did however, only miss five cuts all last season, and finished the year with a five top-10's. Moore has a pretty solid all around game, with his putter being his question mark. If he can get hot with it here, he has a great chance to contend in this field.
Moore played great here at Silverado last year, going -4, -2, -1, Even to finish T-17, and notch his first of 10 top-25's of the season. Despite the low projection, it seems most are still on him. He is being drafted pretty consistently at the end of the first round up to this point. I wouldn't wait too long if you want him this week.
Harold Varner – (53.0)
This one here is turning out to be one of my favorites of the week, as I am 100% on him so far. Varner has fallen to me in the third round of every draft I have done up to this point, and I haven't passed once because I am not sure how far he will make it after that. When you look at this weaker type field, you need to find the players that have been playing well, and have played this course well. Varner checks off both categories.
Varner ended the season making five straight cuts, and qualifying for the FedEx Playoff Cup. He did not make it past the Northern Trust however, where he ended up T-40. It was back in July when Varner caught fire, notching two top-10's and shooting 15 out of 16 rounds under par in the month. He regressed to the mean a little, but was still making cuts.
In his two trips to Silverado, Varner has been excellent for the most part, with just one hiccup. Last year going into the final round, Varner was among the leaders, but had a disastrous Sunday shooting a +9, and finishing even for the tournament. In 2016 here, Varner shot -12, earning a T-15 finish. I think we have a near lock to make the cut here, and a possible top-25 seems imminent.
***Also Consider: Kevin Tway, Ollie Schneiderjans, Chris Kirk***
POTOMAC, MD – JUNE 30: Joaquin Niemann of Chile hits off the fourth tee during the third round of the Quicken Loans National at TPC Potomac on June 30, 2018 in Potomac, Maryland. (Photo by Sam Greenwood/Getty Images) /
PGA DFS Golf Low Projected Targets: (Players with DRAFT Projections of 20-50)
Joaquin Niemann – (37.6)
Our first low projected target for this week, is the young Chilean product Niemann, who was featured plenty in this article over the course of the last season. If his projection stays down here, don't be surprised if I write him up every week. It is just too easy. Niemann made nine of 13 cuts last season, and notched four top-10's as a 19-year-old rookie.
His impressive campaign earned him his tour card, so we will be seeing a lot more of him this season. Of course I should let new readers know he is no secret, and I have seen some of the most experienced players on DRAFT taking him as high as four overall. That is right where he drops in my rankings, and I have no problem drafting him there as well.
Beau Hossler – (37.9)
Much like Niemann here, we have a very low projected second year player, who showed us that he is ready to compete at this level. Hossler was actually incredible at making cuts, going 24-for-28 last season. He came close to tasting victory twice, finishing second at the Houston Open in March, and again at the Travelers Championship in June. Also like Niemann, this will be Hossler first Safeway Open.
Hossler is not sneaking by anybody either. I currently have him ranked eighth, and have seen him get drafted right around there in every draft to this point. I think he cracks the top-10 here this week, and if you can get him any later because of his projection, lucky you!
***Also Consider: Chesson Hadley, Andrew Landry, Curtis Luck***
NAPA, CA – OCTOBER 08: Phil Mickelson plays his shot out of the bunker on the 17th hole during the final round of the Safeway Open at the North Course of the Silverado Resort and Spa on October 8, 2017 in Napa, California. (Photo by Robert Laberge/Getty Images) /
PGA DFS Golf DRAFT Rankings: Top 40
My rankings are pretty easy to follow. I have ranked the top 40 overall. Following each golfer is their DRAFT fantasy point projection in parenthesis.
1. Patrick Cantlay – (73.7)
2. Brendan Steele – (62.3)
3. Phil Mickelson – (70.5)
4. Joaquin Niemann – (37.6)
5. Emiliano Grillo – (61.9)
6. Brandt Snedeker – (65.5)
7. Ryan Moore – (58.3)
8. Beau Hossler – (37.9)
9. Chez Reavie – (61.0)
10. Luke List – (60.7)
11. Adam Hadwin – (60.8)
12. Harold Varner – (53)
13. Chris Kirk – (55.7)
14. Jamie Lovemark – (61.4)
15. Chesson Hadley – (36.8)
16. Ollie Schniederjans – (26.8)
17. Martin Laird – (56.2)
18. JB Holmes – (59.2)
19. Russell Henley – (63)
20. Kevin Tway – (59.3)
21. Bud Cauley – (53.6)
22. Jason Dufner – (60.7)
23. Kevin Streelman – (57.1)
24. Russell Knox – (54.5)
25. Andrew Landry – (34.2)
26. Curtis Luck – (47.9)
27. Wesley Bryan – (51.9)
28. Anirban Lahiri – (56.4)
29. Johnson Wagner – (45.9)
30. Lucas Glover – (60.7)
31. Vaughn Taylor – (55)
32. Hudson Swafford – (54.4)
33. Brandon Harkins – (35.3)
34. Denny McCarthy – (33.3)
35. Peter Uihlein – (35.2)
36. Bill Haas – (54.8)
37. Nick Watney – (53.7)
38. Tyler Duncan – (32)
39. Mackenzie Hughes – (50.8)
40. Corey Conners – (35.1)
That is all for this weeks PGA DFS Golf DRAFT rankings for the 2018 Safeway Open. If you have any questions, give me a follow on Twitter at @JuanBondDFS. You can also leave a question right here in the comments, and I will do my best to respond before lock Thursday morning. Good luck this weekend, enjoy your golf, and happy drafting on DRAFT!