NFL: 5 anomalies from the 2018 season, 5 Week 5 picks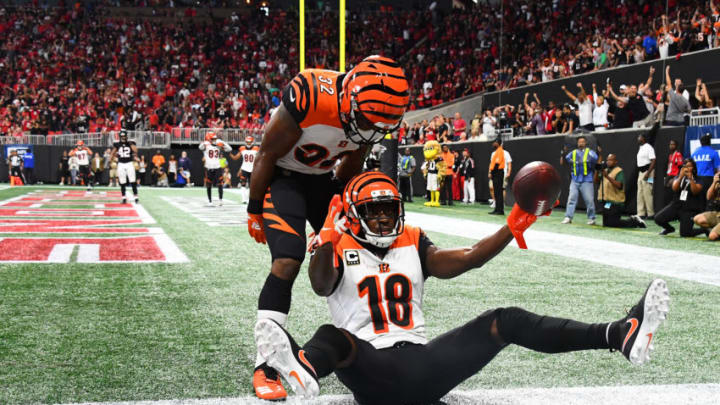 ATLANTA, GA - SEPTEMBER 30: A.J. Green #18 of the Cincinnati Bengals celebrates the game winning touchdown during the fourth quarter against the Cincinnati Bengals at Mercedes-Benz Stadium on September 30, 2018 in Atlanta, Georgia. (Photo by Scott Cunningham/Getty Images) /
Five stats we've seen so far this NFL season and five picks from the Week 5 slate of games.
Four weeks of picks, four weeks of 3-2 results, bringing my season record to 12-8. No one's getting rich, but considering how random and nonsensical things have been through the early part of this season, I'm just happy to be out of the red so far.
The first two or three weeks of the season are always dicey. A couple of surprise teams always come flying out of the gates while a few go the other direction and sleepwalk through most of September. With seven first-year head coaches and a slew of rule-changes, there were bound to be a couple of curveballs early on this season. But instead of "a few surprises", 2018 has been Game of Thrones meets Inception in terms of unpredictability and utter confusion.
The Browns won a game. Last year's Super Bowl teams are 4-4 combined. There have already been tie games. It's pretty clear, even on the surface, that there are some bizarre things happening this season. Look into some of the trends and numbers we've seen so far and where they fit in historical context and it's even more baffling.
Five previously unimaginable things we've seen in 2018
1. "Goes far, flies near, to the stars away from here. Well, you don't know what we can find.
Why don't you come with me Tampa Bay, on a Fitzmagic carpet ride." –Steppenwolf
Led by Ryan Fitzpatrick, a 14-year vet who's played for seven different teams, the Bucs started the season 2-0 for the first time since 2010 and looked like the reincarnation of the Greatest Show on Turf on offense. Two weeks later, Fitzpatrick was replaced by Jameis Winston and it was announced that Winston would be the team's Week 5 starter. So the Bucs' backup quarterback this week is the NFL leader in yards/pass attempt, is second in touchdown passes and fourth in passing yards and quarterback rating. This is the first time a quarterback in the top five in multiple passing categories has ever been benched without injury or disciplinary issues being involved.
2. The Bills from Week 1 to Week 3
The Bills' 47-3 loss to Baltimore was the most lopsided Week 1 loss since 1991 when the Redskins (who went on to win the Super Bowl) beat the Lions 45-0. Two weeks later, as 17-point underdogs on the road, the Bills demolished the Vikings 27-6. According to Vegas oddsmakers, it was the biggest upset since 1995 when the 17.5-point underdog Redskins beat the Cowboys. The game was in Washington and the Redskins only won by seven. There have been two other instances of 17-point underdogs winning. The (Baltimore) Colts also did it in 1978 as did the Jets in 1992.
Another bright spot for Buffalo, Bills' rookie quarterback Josh Allen currently leads all NFL quarterbacks in LBH (linebackers hurdled).
3. Tennessee's quarterback situation
Blaine Gabbert replaced Marcus Mariota who was injured in the Titans' Week 1 game against Miami. Two weeks later, Gabbert suffered a concussion in the first quarter against the Jaguars. Without a third quarterback on the roster, Marcus Mariota, who was still visibly injured, was forced into the game to replace the guy who had replaced him.
The Titans have gotten no more than 117 yards from their starting quarterbacks in three of four games but are still 3-1 in spite of the fact. Gabbert has put up a pair of 117-yard games and Mariota, who looked 50 percent at best, threw for only 100 yards against Jacksonville but it was enough to help lock up a 9-6 win.
4. Cleveland
The Browns picked up their first win since December of 2016 in Week 3. This could either be interpreted as either impressive or depressing depending on your allegiances, but the Browns have either held a lead or been tied with under two minutes left in all four games.
5. Record passing numbers
There have been a record 228 touchdown passes thrown through four weeks. The second highest total by this point in a season was 205 in 2013. Last season, the number through four games was 187.
Onto five picks for Week 5…