NFL: 5 anomalies from the 2018 season, 5 Week 5 picks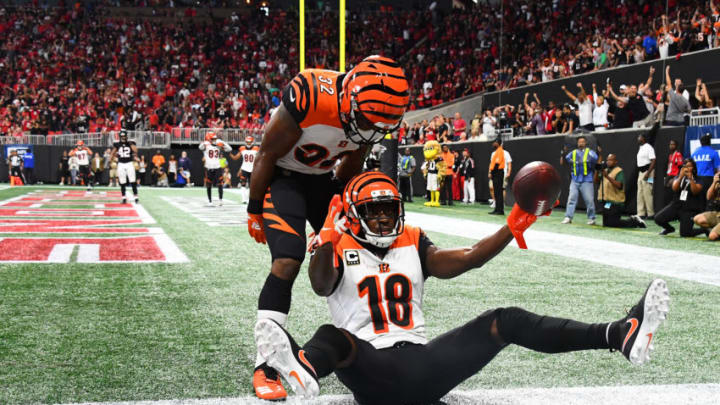 ATLANTA, GA - SEPTEMBER 30: A.J. Green #18 of the Cincinnati Bengals celebrates the game winning touchdown during the fourth quarter against the Cincinnati Bengals at Mercedes-Benz Stadium on September 30, 2018 in Atlanta, Georgia. (Photo by Scott Cunningham/Getty Images) /
Patrick Mahomes (15) of the Kansas City Chiefs talks with head coach Andy Reid on the sidelines during the third quarter against the Denver Broncos on Monday, October 1, 2018. (Photo by Aaron Ontiveroz/The Denver Post via Getty Images) /
Jaguars (+3) vs. Chiefs | Over/Under: 48.5
Sunday, 1:00 pm EST / Arrowhead Stadium – Kansas City, MO
PICKS: CHIEFS (-3) and UNDER
This is one of the most intriguing games of the week if not all season — two potential AFC Championship contenders, the NFL's best offense vs. its best defense.
Jacksonville is 3-1 both straight up and against the spread. So far their defense has been every bit as good as advertised. The Jags are allowing the fewest yards (259) and points (14) per game of any team in the NFL.
They've been prolific on the offensive side of the ball too… twice, against the Patriots and Jets. In their other two games, against the Giants and Titans, the offense has looked out of sync and unable to string drives together. Blake Bortles' passing totals have been 176, 376, 155 and 388. Leonard Fournette, who led the Jags in rushing in 2017, is the most dynamic player on offense but he's been limited to only 20 carries with a hamstring injury and is expected to miss a third straight game Week 5.
The Chiefs are 4-0 and have covered the spread in all four wins. Pat Mahomes has thrown for 1,200 yards and an NFL record 14 touchdowns in his four starts under center this season. He's looked like a created player on Madden with 99's across the board and he's made every defense he's seen look like the Bucs on rookie difficulty. The Chiefs' defense has also looked like the Bucs on rookie. With the exception of the Broncos for three quarters on Monday night, no one has been able to even slow them down on offense so far so it hasn't mattered.
The forecast in Kansas City is calling for thunderstorms from Saturday through Monday with a 90 percent chance of rain on Sunday afternoon. Mahomes can obviously walk on water but having to play in water/rain may be a little more difficult, or could at least mean he's handing the ball off more often than he's dropping back or scrambling, throwing darts all over the field.
I'm counting on a combination of the weather forcing more conservative play calling, the Jaguars' D being fired up for their shot at Mahomes and Blake Bortles for the under. I have no affiliation with the anti-Bortles caucus. I think he's developed into a decent quarterback over the last two years and Bortles stock is probably close to an all-time high at the moment but he's a completely different player on the road vs. playing at home. Just looking at his history on the road, the numbers over his last 20 starts pretty much speak for themselves.
Blake Bortles regular season games from Week 1 of 2017 through Week 4 of 2018 (compiled and created by author) /