All the Real Housewives of Atlanta housewives, ranked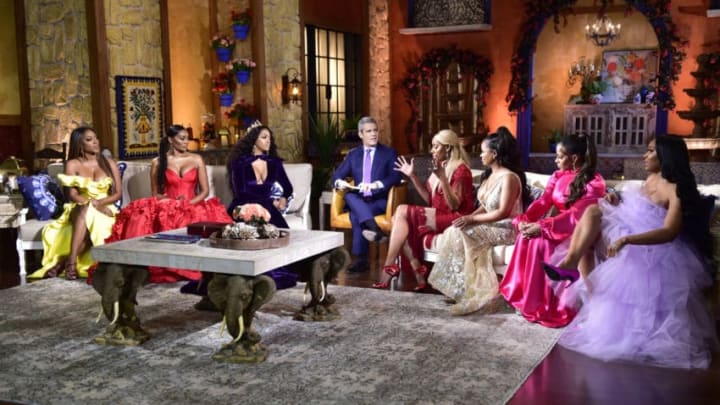 THE REAL HOUSEWIVES OF ATLANTA -- "Reunion" -- Pictured: (l-r) Kenya Moore, Cynthia Bailey, Porsha Williams, Andy Cohen, NeNe Leakes, Kandi Burruss, Sheree Whitfield, Marlo Hampton -- (Photo by: Moses Robinson/Bravo/NBCU Photo Bank via Getty Images) /
ATLANTA, GA – JUNE 07: TV personality Porsha Williams attends Columbia Pictures "Superfly" Atlanta special screening on June 7, 2018 at SCADShow in Atlanta, Georgia. (Photo by Paras Griffin/Getty Images for Sony Pictures Entertainment ) /
6. Porsha Williams
It was all pretty obvious that Porsha Williams was only on the show because she was married to Kordell Stewart, so when they split up and she went off the handle we all kinda scored. It's like there are two totally different women and I can't decide who I like better.
The first few seasons, let's call them pre-divorce, she was the epitome of the perfect housewife, totally and wholly devoted to her husband and came off dumb as a doornail.
The last few seasons, post-Kordell, she turned into a fumbling mess, a ball of anger (she actually assaulted more than one castmate) and an overnight actress.
I'd like to put Williams a little lower on the list but her assault on Kenya Moore at the reunion has to earn her a prominent place on the list.
Williams appeared on seasons 5 and 6, and again on seasons 8 through 11. She still appeared in a few episodes in season seven, but as a guest.
7. Kandi Burruss
In my opinion, Kandi Burruss and her storylines are BOR-ING, but I do enjoy her on the show because she shows that there are some women in Atlanta with real talent and can act as a voice of reason.
She's the mastermind behind many hip-hop songs and even met her now husband while on the show (he was on the crew), but other than that she's kinda forgettable.
Somehow Burruss had lasted from season 2 through 11, I have no idea how.
8. Cynthia Bailey
When Cynthia Bailey was introduced on the show, we all thought her life was perfect. She was a successful model, had a fiancee who was an incredible businessman and she had a not-normal-but-totally-enviable relationship with her daughter's dad, but as the years rolled on we started to see cracks in her life.
Her successful husband ended up being kind of a horrible business owner (and even lost a bunch of Bailey's money), her family didn't want her to be married and even went so far as hiding the marriage certificate on the day of the nuptials, but in the end everything worked out and Bailey married (but later divorced) her fiancee, opened her own modeling agency and came out with a line of sunglasses that appeared to do pretty well.
But that doesn't really make for great TV. For the most part, Bailey avoided the drama, and though she is an extremely likable housewife, she doesn't really add much to the show.
Bailey appeared on seasons 3 through 11.
WATCH WHAT HAPPENS LIVE WITH ANDY COHEN — Pictured: Eva Marcille — (Photo by: Charles Sykes/Bravo/NBCU Photo Bank via Getty Images) /
9. Eva Marcille
Former America's Next Top Model contestant, Eva Marcille, only officially joined the show as a full-time cast member for season 11, so we haven't seen too much about her yet. She did appear as a guest on season 10 giving us a slight introduction to her life, but it's hard to see how she'll affect the show too much, but if her over-the-top attitude on ANTM is any indication, I think she might be the next Kenya Moore.
I'm placing her in the middle of the rankings because even though she's new-ish I still think she's way better than some of these other ladies.
10. Claudia Jordan
Claudia Jordan was only a full-time cast member for one season and was pretty much brought on just to feud with NeNe Leakes, which was fun for a few episodes then it got old really quick. Jordan and Leakes argued so much about … I honestly don't even remember. I tuned her out pretty early on and until I was putting this list together, forgot she was even on the show.
Jordan appeared on season 7 as a full-time cast member and season 8 as a guest.
11. Lisa Wu
Lisa Wu is another one of the original Real Housewives of Atlanta cast members. She is a former dancer, rapper, and actress and was married to Keith Sweat. When she joined the show she was married to Ed Hartwell, an NFL linebacker. Though she was one of the OG's and deserves respect for that, she was also incredibly serious and brought the energy of the show way down.
She was practical and a little conceited, but she was also kind of a Debbie Downer. Her major storyline was focused on the death of her brother, which was pretty depressing for reality TV.
Wu appeared on the show from seasons 1 through 2 and appeared as a guest on season 3.