Better Call Saul season 4 finale live stream: Watch online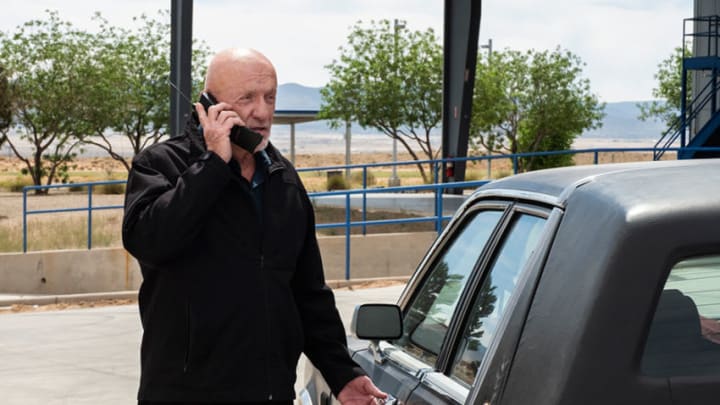 Mike Ehrmantraut (Jonathan Banks) in Episode 10 of Better Call Saul - Photo Credit: Nicole Wilder/AMC/Sony Pictures Television /
Here's how you can watch AMC's Better Call Saul season 4 finale online or the old-fashioned way right on your television.
Better Call Saul's season 4 finale episode "Winner" airs tonight on AMC at 9:00 p.m. ET. You can catch the episode online at AMC's official live stream or with a free seven-day trial from FuboTV.
Werner Ziegler went rogue on the last episode of Better Call Saul, escaping the facility utilizing his red laser tool to temporarily snare all the cameras' lenses in spot. Ziegler leaves behind not only the project and its relatively undisciplined young crew at a difficult spot by breaking protocol, but puts the pressure squarely back at Mike. Gus is not a man to be trifled with, especially when it comes to matters of business. Meanwhile, Gus has a potential new problem of his own springing up in the form of Lalo Salamanca. It seems even with Hector seemingly out of commission due to lack of proper rehab care, the Salamancas will always cause unrest for Gus.
Jimmy went from flying high to bottom of the dirt in "Wiedersehen" barely moments removed from gaining Kim's love back. The man was denied his law license being reinstated due to one member questioning his sincerity and heard from Kim, "You're always down Jimmy," on the same day. Where does Jimmy go from here on out if appealing the decision does not prove to be a success? Will he attempt to work out something with Howard Hamlin?
"Winner" episode description and sneak peek trailer:
"Jimmy turns the page on his reputation; Lalo tracks a loose end in Gus' operation; Mike is forced to make a difficult decision."
In the sneak peek for tonight's episode Mike is trying to protect head German engineer Werner Ziegler, believing he truly did leave to see wife for four days. Gus however, appears unconvinced and is dismayed by the sight of Ziegler's letter. Nevertheless, even if it is all true and Ziegler isn't snitching somehow, there will undoubtedly be consequences by Gus for causing an inconvenience.
Date: Monday, Oct. 8
Start Time: 9:00 p.m. ET / 8:00 p.m. Central
Episode: "Winner"
TV Channel: AMC
Live Stream: Watch live on Fubo TV. Sign up now for a free seven-day trial. You can also watch on AMC's official live stream
Catch up on prior season 4 episodes of Better Call Saul over at AMC.com.