Pac-12 power rankings, Week 7: Stanford struggles; Washington, Oregon set for showdown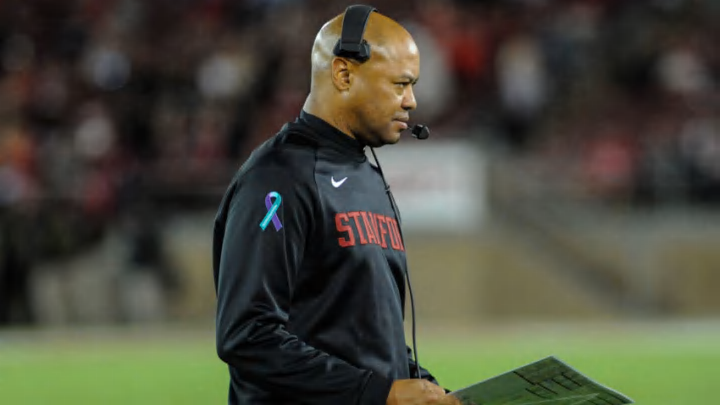 PALO ALTO, CA - OCTOBER 06: Stanford Cardinal head coach David Shaw during the football game between the Utah Utes and the Stanford Cardinal on October 6, 2018, at Stanford Stadium in Palo Alto, CA. (Photo by Samuel Stringer/Icon Sportswire via Getty Images) /
Washington and Oregon are headed for a collision course that could decide the Pac-12 North after Stanford lost again.
The Pac-12 looked to have some of their best teams on upset alert this weekend, as the UCLA Bruins gave the Washington Huskies all they could handle on Saturday night. Colorado stayed perfect with a solid win over Arizona State, though Stanford saw their playoff hopes dashed with a blowout loss at the hands of Utah.
Here are the latest Pac-12 power rankings entering Week 7.
Looking for their first win of the 2018 college football season, the UCLA Bruins played host to one of the best teams in the country on Saturday night. Unfortunately for new head coach Chip Kelly and the rest of the Bruins, the Washington Huskies are just too good right now, and despite a valiant effort, they saw their record fall to 0-5 on the season.
UCLA continues to get a good effort from their freshman quarterback, Dorian Thompson-Robinson, who threw for two touchdowns against a very good Huskies defense. He was aided by the Bruins finally get some kind of rushing attack, as Joshua Kelley rushed for 125 yards on only 20 carries, finding the end zone once.
The Bruins fought to the very end, scoring twice in the fourth quarter, but in the end, it just was not enough to upset the No. 10 team in the country. You have to think that win No. 1 is on the horizon, and they will look to get there on the road next weekend, as they head to California to take on a solid Golden Bears team in Week 7.
The Oregon State Beavers took on one of the best offenses in college football on Saturday, and unfortunately for the Beavers, they did not have enough firepower to match them score-for-score in this one. The Cougars got another monster effort from quarterback Garnder Minshew, and despite their freshman running back going nuts once again, Washington State was able to come away with a pretty convincing victory.
That freshman is Jermar Jefferson, who has been slashing his way through Pac-12 defenses with ease in his first season as the Beavers featured back. Jefferson rushed for over 100 yards for the fourth time in the last five games, two of which he rushed for over 200 yards, and found the end zone four times, running his season total to 12.
Heading into the fourth quarter, the Beavers were definitely still in the game, as they trailed only 35-30, and seemed to be gaining momentum. However, they were outscored 21-7 in the final frame, turning what was a competitive game into a blowout judging by the final score. They have the week off before hosting Cal on October 20.