College Football Results Against The Spread Week 6 2018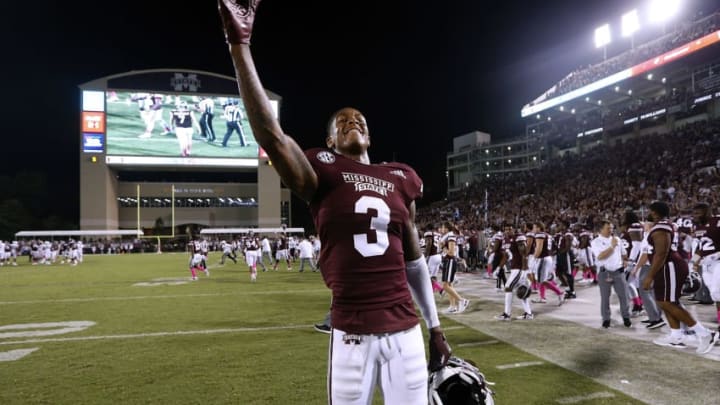 STARKVILLE, MS - OCTOBER 06: Cameron Dantzler #3 of the Mississippi State Bulldogs celebrates a win over the Auburn Tigers at Davis Wade Stadium on October 6, 2018 in Starkville, Mississippi. The Mississippi State Bulldogs won 23-9. (Photo by Jonathan Bachman/Getty Images) /
LOUISVILLE, KY – OCTOBER 05: Qua Searcy #1 of the Georgia Tech Yellow Jackets celebrates after a touchdown run by Jordan Mason #24 in the first quarter of the game against the Louisville Cardinals at Cardinal Stadium on October 05, 2018 in Louisville, Kentucky. (Photo by Joe Robbins/Getty Images) /
College Football Results Against The Spread Week 6 2018
There were some really good college football games in week 6, and a few upsets along the way. Eight ranked teams took a dive, and only three were to other ranked teams. So at first glance, I may have had a miserable week. I hope not, but……
More from College Football Odds
I had my worst week ever in ESPN College Pick Em with just 17 points. I've been playing that game since they started it over a decade ago and have been playing the confidence version since its inception in 2011. My 17 points was by far the worst I have ever done, and what makes that especially pathetic is that I hit my ten pointer! This isn't looking good…..
Here we will recap my picks against the spread. The winner against the spread will be in BOLD. My result will follow. Let's get to it!
In case you want to follow along:
Thursday-Friday
Picks for week 5
Let's kick this off with the Thursday and Friday games!
Georgia State at Troy(-15.5): HIT! This was close as far as the spread goes, but the game was never really in question. Penny Hart is a pretty good receiver though.
 Tulsa at Houston(-17.5): HIT! I'm off to a good start! Tulsa lost their first games of the season by more than two touchdowns, but still didn't get covered.
Georgia Tech(-4.5) at Louisville: MISS! In other news, this game should have been played at Churchill Downs because Georgia Tech looked like a bunch of thoroughbreds out there. Louisville had no chance. Tech racked up 542 yards rushing, and even had a 95 yard interception return for a touchdown on defense.
Middle Tennessee State at Marshall(-6.5): MISS! I forgot to get back in and change my bet with Green being out. I still would have picked Marshall though.
Utah State at BYU(-2.5): MISS! World, meet Jordan Love. Jordan Love, world.

PISCATAWAY, NJ – SEPTEMBER 22: Tyree Jackson #3 of the Buffalo Bulls escapes a pass rush from the Rutgers Scarlet Knights defense during the first quarter at HighPoint.com Stadium on September 22, 2018 in Piscataway, New Jersey. (Photo by Corey Perrine/Getty Images) /
Alabama(-35.5) at Arkansas: MISS! Damn those dirty Hogs and that touchdown with 13 seconds left!
Texas vs. Oklahoma(-7.5) at Dallas: HIT! I changed this up about a half hour before kickoff upon realizing that the last four meetings have been decided by one score or less. I still thought Oklahoma would win. That was just horrible run defense. I can go on about that for the rest of this article, but I think Oklahoma said all they (or I) needed to say when they fired Mike Stoops.
Kansas at West Virginia(-27.5): MISS! That ballhawking Kansas defense allowed large chunks of yards, but picked off Will Grier a few times in what certainly would have resulted in Mountaineer touchdowns. Kansas is no longer cover bait. That may translate to wins at some point. Jayhawk fans do have something to be excited about.
Maryland at Michigan(-17.5): HIT! I still don't trust that Michigan offense, but that defense is dominant.
Northwestern at Michigan State(-10.5): HIT! I'll take easy money where I can get it. It doesn't get much easier than taking a solid defense against that bumbling Michigan State offense.
Tulane at Cincinnati(-7.5): HIT! This Bearcat defense is better than most think, and Desmond Ridder has done a pretty good job of running that offense.
Buffalo(-7.5) at Central Michigan: HIT! I'm surprised it was this close. Tyree Jackson may have had his worst game at the Buffalo quarterback, but the rest of the team stepped up. Specifically Kevin Marks and his 167 rushing yards on just 18 carries.
Eastern Michigan at Western Michigan(-4.5): HIT! The Eagles didn't win straight up, but I'll take a win where I can get it. Something tells me I'm going to need it.
Temple(-10.5): MISS! I'm just going to go ahead and say every Temple bet is one point from here on out. Then again, now that they are riding Ryquell Armstead, maybe we should jump back on.
Missouri(-1.5) at South Carolina: MISS! Is Jake Bentley's job in trouble? It probably should be…..
Illinois(-4.5) at Rutgers: HIT! I should have come back and raised the bet on here because I actually did bet this one. I almost feel bad for Rutgers. Their status as the worst Power Five team is pretty secure. Sorry, Oregon State.
Syracuse(-3.5) at Pittsburgh: MISS! Yep. Syracuse was as hungover as I was after my 30th birthday.
Boston College at North Carolina State(-5.5): MISS! That stupid half! Actually, that stupid NC State defense. They allowed 13 fourth quarter points while the offense got blanked in the final stanza.
Northern Illinois(-2.5) at Ball State: MISS! Neal got his yards, but the Huskies defense kept Ball State out of the end zone until the fourth quarter.
BATON ROUGE, LA – SEPTEMBER 07: Les Miles, head coach of the LSU Tigers, reacts to a play during a game against the UAB Blazers at Tiger Stadium on September 7, 2013 in Baton Rouge, Louisiana. (Photo by Stacy Revere/Getty Images) /
Clemson(-20.5) at Wake Forest: MISS! Wake Forest's defense stinks worse than a feedlot after a spring soaker.
LSU(-2.5) at Florida: MISS! Dammit you guys! I wanted to see Steve Spurrier eat grass!
Florida State at Miami(FL)(-13.5): MISS!  Leave it to Florida State to still find a way to lose a game that they dominated for three quarters.
Iowa State at Oklahoma State(-9.5): HIT! If you would have told me that Iowa State would leave their true freshman in all game, I would have went Oklahoma State. Here is something I never thought I would see: a QB controversy at Iowa State.
Ohio(-12.5) at Kent State: MISS! Well, that's why I lowered the bet.
Navy(-3.5) at Air Force: MISS! This was the worst I've seen Navy lose in quite a while. Air Force just dominated this game.
Bowling Green at Toledo(-21.5):MISS! This should count as a loss for Toledo.
South Alabama at Georgia Southern(-12.5): HIT! I underestimated just how bad the Jags have been away from Mobile. Who would have thought this was the easy money?
San Diego State at Boise State(-13.5): MISS! Brett Rypien regressed to last season. He made some poor decisions in this game. The Aztecs were in his grill the whole game. In other news, I'm shooting like Iverson from three this week…..
South Florida(-14.5) at Massachusetts: HIT! Marteny for three…..YESSSSS. Finally! Of course, it's hard to cover when your running back goes for 305 yards. And USF still did it. UMass's D is still stuck in FCS.
Kansas State at Baylor(-4.5): MISS! Baylor would have won by double digits if their kicker hadn't missed three out of four field goals…..
Florida State(-6.5) at Louisville: MISS! That was pretty good for a freshman's first start. In other news, I've seen moss covered sloughs full of mosquitoes less stagnant than the Florida State offense.
Iowa(-6.5) at Minnesota: HIT! Minnesota is going to have a hard time winning a game with their secondary as beaten up as it is. The offense scoring 31 points on a solid Iowa defense is a step in the right direction though.
Indiana at Ohio State(-27.5): HIT! It was closer to 20 than 30, but I had to sweat it thanks to the Indiana defense. Haskins was an absolute monster in this one.
Arizona State at Colorado(-2.5): HIT! This was a very entertaining game even if it wasn't nearly as high scoring as we thought. I guarantee you that if Laviska Shenault played for a SEC school that they would be engraving the Biletnikoff already.
Louisiana-Monroe at Mississippi(-22.5): HIT! Ho hum, the Rebs drop 70 on ULM and make me look like a chicken *CENSORED* with my one point bet.
New Mexico at UNLV(-9.5): HIT! That is the correct way to rebound from a game that the Lobos feel like they shouldn't have lost. That was the largest margin of victory for the Lobos since October 22nd of 2016 when they clobbered Louisiana-Monroe by 42 points. I really don't mean to pile it on the Warhawks. It just worked out that way.
Old Dominion at Florida Atlantic(-13.5): HIT! Singletary ran for 168 yards and two more touchdowns to become the all time leading rusher in FAU history. Congratulations! It's been fun watching you, Mr. Singletary!
SAN DIEGO, CA – NOVEMBER 05: John Ursua #45 of the Hawaii Rainbows cannot control possesion in the second half as Damontae Kazee #23 of the San Diego State Aztecs prepares to intercept the ball in Qualcomm Stadium on November 5, 2016 in San Diego, California. (Photo by Kent Horner/Getty Images) /
SMU at Central Florida(-23.5): HIT! This was closer than I thought. Milton actually looked sloppy during parts of this game.
Kentucky at Texas A&M(-5.5): MISS! Why did you boneheads have to move backwards and miss a field goal in overtime? This was a great game, but it really shouldn't have made it to overtime. A&M outplayed Kentucky by a pretty big margin in this game though the score doesn't show it.
UAB at Louisiana Tech(-9.5): HIT! I was wrong on one part. It wasn't a one score game…..
UTSA at Rice(EVEN): MISS! I knew better. I was clouded by Texas State keeping up with the Roadrunners in a rivalry game.
Louisiana(-3.5) at Texas State: HIT! In all fairness, I doubt the Bobcats would have won this game even with Jones under center. Tyler Vitt threw for 296 yards and three touchdowns with no interceptions and ran for 92 more, and the Bobcats still lost by 15.
Connecticut at Memphis(-33.5): HIT! The easiest money on any slate has to be whoever is playing UConn.
Vanderbilt at Georgia(-25.5): MISS! This just in: Jake Fromm can still throw if he needs to.
Auburn(-3.5) at Mississippi State: MISS! This was just a horrid offensive effort from Auburn. The Mississippi State defense is solid, but they shouldn't have been able to dominate a top ten team like that. Nick Fitzgerald ran a staggering 28 times for 195 yards. Who needs running backs? Bunch of overpaid crybabies!
Washington(-21.5) at UCLA: MISS! The Huskies were lucky to not lose this game. UCLA is getting close to stealing one. They will sometime soon, even thought they fell to 0-5 for the first time since 1942.
Nebraska at Wisconsin(-17.5): HIT! Taylor runs for 200. Check. Wisconsin doesn't cover. Check. By that half. Check! I should take extra points for this! In other news, the Nebraska offense, particularly JD Speilman, looked really good against a solid Wisconsin D. The Huskers are 0-5 for the first time since 1945 and have never started 0-6. You can bet that is being bashed into their heads this week. Like UCLA, Nebraska is going to steal one sometime soon.
North Texas(-27.5) at UTEP: MISS! It's one thing to miss on a four touchdown spread. It's entirely another to not even score four touchdowns against one of the worst defenses in the country this year. Have defenses, no matter how poor they are, figured out Mason Fine? Keep in mind that the  Mean Green beat Arkansas three weeks ago!
Notre Dame(-6.5) at Virginia Tech: HIT! This game was really close until halftime. Then the Irish turned on the Jets, aka Dexter Williams.
Liberty(-3.5) at New Mexico State: MISS! I don't get how a team that had only scored 82 points in five games puts up 49 on a team that dominated a team that not only beat the Aggies by 17, but also destroyed a pretty good UNLV team. Not to mention that Liberty hammered an Old Dominion team, also on the road, that beat a ranked Virginia Tech team. I'm just flabbergasted.
Washington State(-16.5) at Oregon State: HIT! I'm surprised that the Beavers kept it this close. I guess this is where I thank Wazzu for not letting off the gas in the fourth quarter.
California(-2.5) at Arizona: MISS! Whoops. I thought I picked Arizona.
Utah at Stanford(-3.5): MISS! I underestimated just how much being without Love would affect Stanford. On top of that, I definitely gave the Stanford defense too much credit.
Fresno State(-14.5) at Nevada: HIT! I'm surprised that Fresno only scored 21, but for the second straight week, the Bulldogs defense put on an absolute clinic.
Colorado State(-2.5) at San Jose State: HIT! You can't blame me for being apprehensive about this one.
Wyoming at Hawaii(-2.5): HIT! Hawaii wasn't even close to the same without Cole McDonald. Freshman Chevan Cordiero did pull it out for the Warriors though.
SYDNEY, AUSTRALIA – OCTOBER 07: Kings coach Andrew Gaze looks dejected after defeat in the round one NBL match between the Sydney Kings and the Adelaide 36ers at Qudos Bank Arena on October 7, 2017 in Sydney, Australia. (Photo by Mark Metcalfe/Getty Images) /
I held serve with a 28-28 week. That puts me at 157-153 on the season. Not bad for the first third of the season. If I keep it up through the rest of the year, I'll be very close to that 55% goal. Right now I am sitting at 51%. Still ahead of Vegas. That's what really matters.
Even though I finished above .500, I'm still pretty sure i lost points thanks to a lot of things not going as planned. If my two pointers were fives, I would be much better off this week.
This week's totals follow the number. The season totals are in parentheses.
1. 5-1 (29-23) = 6
2. 13-7 (63-61) = 4
3. 6-11 (41-38) = 9
4. 2-8 (16-24) = -32
5. 2-1 (8-7) = 5
My terrible fours led to me losing 18 points this week. That puts me at 8 points down on the season, but I still have 24 points over the nearly three and a half years I've kept track of points. My largest real life bets last weekend were on LSU and Liberty. I didn't have much left, and those two busted my freeplay. Oh well, until next year. I'll still make my point bets though!
Make sure to come back for this week's picks against the spread, our ESPN College Pick Em Picks, and our DFS picks for the NFL, MLB, PGA tour, and of course, college football! We have all of your needs covered!