Celtics grab an Opening Night win with second-half surge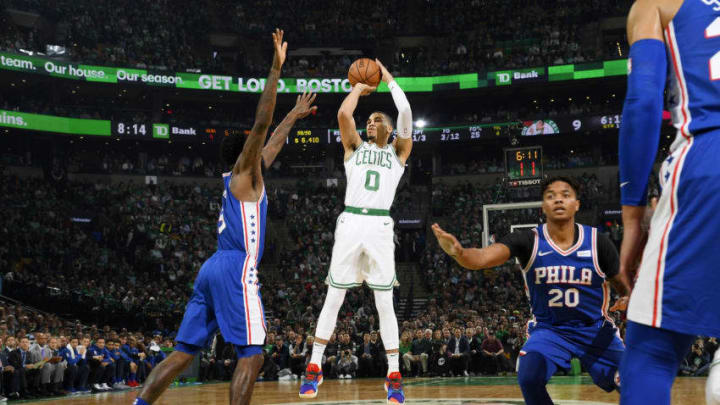 BOSTON, MA - OCTOBER 16: Jayson Tatum #0 of the Boston Celtics shoots the ball against the Philadelphia 76ers on October 16, 2018 at the TD Garden in Boston, Massachusetts. NOTE TO USER: User expressly acknowledges and agrees that, by downloading and or using this photograph, User is consenting to the terms and conditions of the Getty Images License Agreement. Mandatory Copyright Notice: Copyright 2018 NBAE (Photo by Brian Babineau/NBAE via Getty Images) /
The Boston Celtics looked shaky at times, but in the end, they showed the 76ers, and the basketball world, that they are for real.
The Philadelphia 76ers walked into the 2018-19 NBA season ready to send a message — that they were ready to be taken seriously as contenders. Their opening night opponent, the Boston Celtics, had other ideas.
The Celtics, who, themselves, are looking to regain the Eastern Conference crown, put on a 2018 version of the "Boston Beatdown," as they took a close game at halftime and ran away with the game in the second half. The Celtics finished with an 18-point victory, 105-87, led by Jayson Tatum's 23 points.
While this is just game number one of an 82-game schedule, one can make some early assumptions of where these two teams will go as the marathon rolls on. As we look ahead to a long regular season, here's what we learned on Opening Night.
Takeaways
The Celtics are for real: Early on, it looked like the Celtics really didn't have any continuity in their offense. There were some inclinations that head coach Brad Stevens may have a bit of a time early in the season to try to mesh all of this star power together, but I didn't know that he would do it at halftime? The Celtics looked like a different team in the second half. If there was any speckle of doubt in these Celtics, that washed away tonight.
Embiid, meet Jaylen: We have our first highlight of the young NBA season, and it comes courtesy from Jaylen Brown:
To add injury to insult, Brown did the "stare down," which, I think, will light a fire in Embiid so bright, that the next time these two titans meet up, we may see the second-ever ejection of a player just for dunking the ball. While Jaylen certainly had the last laugh tonight, you can put your money where your mouth is that Embiid will get his revenge.
Continue to "Trust the Process:" Yes, the Sixers took a beating at the hand of their arch-rivals, but, as I mentioned earlier, this is an 82-game season, and anyone discounting Philly after one game needs to be put in a straight jacket. Ben Simmons just missed a triple-double with 19 points, 15 rebounds, 8 assists, 4 steals and a pair of blocks. Joel Embiid struggled with turnovers but still finished with 23 points and 10 rebounds. The 76ers still have all the talent in the world and there's every reason to think they could still be there at the end.