5 reasons the Red Sox can win the World Series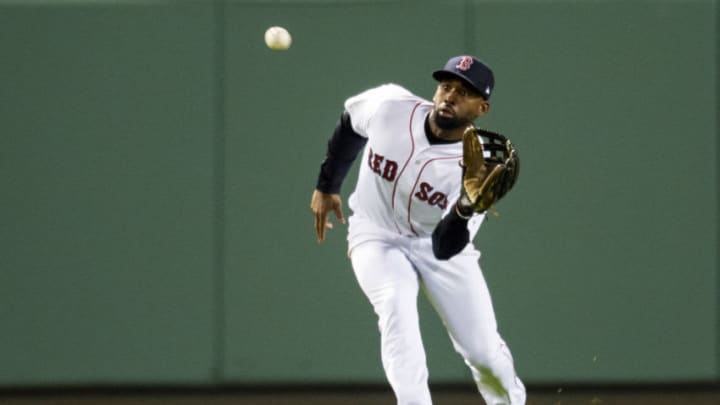 BOSTON, MA - OCTOBER 14: Jackie Bradley Jr. #19 of the Boston Red Sox catches a fly ball during the seventh inning of game two of the American League Championship Series against the Houston Astros on October 14, 2018 at Fenway Park in Boston, Massachusetts. (Photo by Billie Weiss/Boston Red Sox/Getty Images) /
The 2018 World Series is about to get underway, and the 108-win Boston Red Sox should be the favorite to win it.
Welcome to the 2018 World Series, ladies and gentlemen.
We're getting a classic matchup on baseball's biggest stage this year with the Boston Red Sox facing the Los Angeles Dodgers. It's a showdown between two of Major League Baseball's most historic franchises, one representing the American League on the east coast and the other representing the National League on the west coast, and the games will be split between the ever-iconic Fenway Park and Dodger Stadium.
It really couldn't get much better than this. Matchups like this in the World Series are what October baseball is all about. So with all of that being said, it's time to get it on.
Here are five reasons the Red Sox can prevail over the Dodgers and win their ninth World Series title in franchise history…
5. A few extra rest days
The Red Sox, in stunning fashion, wrapped up the American League Championship Series against the Houston Astros in just five quick games. They dropped Game 1 at Fenway Park, but bounced back with four straight statement wins, including the final three at Minute Maid Park (if you're keeping track, the Red Sox are 5-0 on the road in this postseason).
Because they made fairly quick work of the defending world champion Astros, the Red Sox have been off since Thursday. Meanwhile, the Dodgers were pushed all the way to seven games in the National League Championship Series, finally wrapping it up with a 5-1 win over the Milwaukee Brewers in Game 7 on Saturday. Los Angeles will only have had two days of rest before Game 1 of the World Series, while Boston will have had four days.
This is something that should most likely benefit the Red Sox. All of their pitchers will be fully rested for the World Series, and any minor injuries suffered by any players should be plenty healed before Game 1. But there have also been times in the past where longer rest can negatively affect a team. Having not played baseball in several days, they may have lost any momentum and rhythm that they previously had, while the Dodgers could still be feeling good after their Game 7 win.
More times than not, extra rest is a good thing for a team. But we'll find out for sure in Game 1 on Tuesday night.