This Week in Dumb Nonsense: Phil Neville started the fire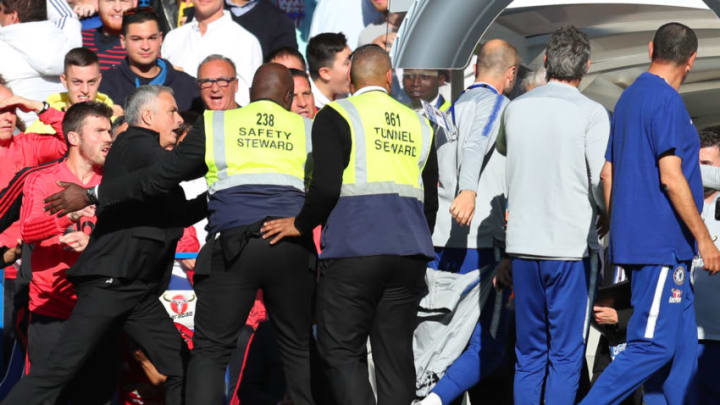 LONDON, ENGLAND - OCTOBER 20: Stewards hold back Jose Mourinho, Manager of Manchester United Chelsea assistant Marco Ianni makes his way towards the tunnel during the Premier League match between Chelsea FC and Manchester United at Stamford Bridge on October 20, 2018 in London, United Kingdom. (Photo by Catherine Ivill/Getty Images) /
The soccer world is dumb, and full of nonsense. "This Week in Dumb Nonsense" is one writer's attempt to come to terms with the, um, nonsense.
Given he was reportedly fired two weeks ago, Jose Mourinho is proving to be a remarkably busy Manchester United manager. His latest feat was masterminding a rousing almost-comeback against Chelsea, and then chasing one of their assistant coaches down the Stamford Bridge tunnel, at the entrance to which he was held back by a gaggle of high-viz-jacketed security officials.
The incident — which has variously been described as a "fracas," a "melee," a "row," a "fight," a "spat" and a merely "chaotic scene" — has dominated (or at least lightly influenced) headlines for 72 whole hours now, and has become in the process an excellent case study in the way dumb nonsense feeds on its own stupidity. What better way to kick off a column dedicated to celebrating (and/or wallowing in) just this sort of silliness, then, than by examining the contours of this "controversy" as thoroughly as the limits of human sanity will allow?
1. In the beginning, there was the fracas, which began when Ross Barkley scored against Manchester United for Chelsea in the 96th minute of their Premier League match at Stamford Bridge on Saturday, leveling the score at 2-2 and denying Mourinho his second comeback win in as many matches. Chelsea assistant coach Marco Ianni was so revved up by the goal he took it upon himself to celebrate in Mourinho's general direction not once, not twi– no, actually it was twice, but on the second occasion he did so so aggressively the Special One had no choice but to pretend to want to fight him, lest his honor be irrevocably besmirched. Such are the hazards of elite management.
2. In a normal world, that might very well have been the end of that. In this world, Phil Neville gets paid to talk about sports on television, and, forced into the uncomfortable position of having to venture an opinion on the melee in real time, came up with this frankly extraordinary torrent of outrage:
"Whoever that staff member is of Chelsea has just been an absolute disgrace. No class, no humility. … He's gone straight into the face of Jose Mourinho, Michael Carrick and the Manchester United bench and just celebrated in their face. Absolutely disgraceful. … He's the innocent one in all this. The guy on the Chelsea bench has run straight past him, celebrated in his face. … Sarri celebrates. Then it's this guy here who goes in front of Jose Mourinho. The first one he clenches his fist, and then as he goes back he celebrates again right in front of him. Disgraceful. … If I was Maurizio Sarri I'd send that guy in and sack him from the club."
Mr. Neville has never seemed like the sharpest linguistic tool in the booth — he's not even the Nevillest Neville on television — but even for him this was something else. Whatever claim to meaning the word "disgraceful" once had has long since left the building, along with the Marco Ianni of Chelsea manager Phil Neville's dreams.
3. This all would have been plenty dumb on its own, but it got plenty dumber as websites around the internet started reporting Neville's comments as news. "Phil Neville says Chelsea should sack Marco Ianni," was the Daily Mail headline. "Chelsea's Marco Ianni should go after sparking Man Utd melee, says Phil Neville," was how Sky Sports put it. "Marco Ianni deserves Chelsea sack after sparking Jose Mourinho row, says Manchester United hero Phil Neville," was the Evening Standard's effort, which, well, whatever claim to meaning the word "hero" once had, etc., etc.
4. The incident also gave rise to a booming side industry of "Who is Marco Ianni?" articles, none featuring an opening line more compelling than this gem from The Sun: "Not much is known about Marco Ianni, but he was born in 1982." Born in 1982, and now responsible for the dumbest sentence of the season. Bravo.
5. On Monday, the Football Association, never one to stand by idly in the face of a bona fide touchline row, doled out justice in its typically sterile way, charging Ianni with improper conduct, whatever that means, and "formally reminding Mourinho of his responsibilities." Ed Woodward's been trying to do that all season. Don't hold your breath, sweet FA.
6. As if to tie a bow on this festival of stupidity, Mourinho was then asked, during his press conference ahead of United's Champions League match against Juventus on Tuesday, whether Ianni should be fired — further evidence, if any was needed, that taking the comments of former players seriously, however stupid or incoherent they may be, has real-world consequences. Mourinho, who in a bizarre twist of fate may be the only person to have emerged from this ordeal with any credit, dismissed the idea out of hand.
Later on in the same press conference, in answer to an unrelated question, Mourinho produced, for my money, one of his greatest ever quotes. "I don't like this press conference," he said. None of us do, Jose, and yet here we are. Here we are.