ESPN College Pick Em Picks Week 9 2018: Ride Clemson to max points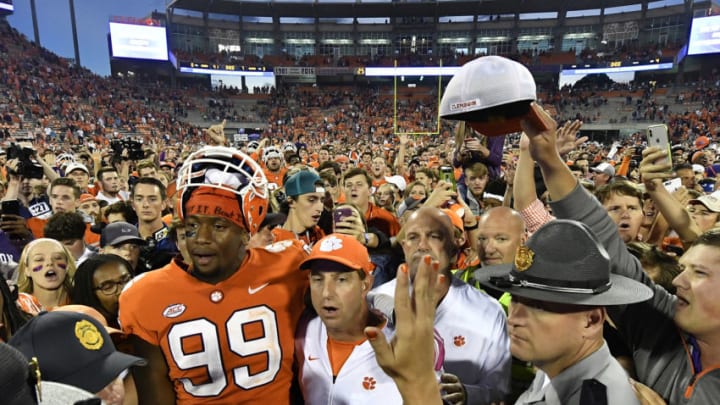 CLEMSON, SC - OCTOBER 20: Defensive end Clelin Ferrell #99 and head coach Dabo Swinney of the Clemson Tigers embrace at midfield while surrounded by fans singing the Clemson Alma Mater during the football game at Clemson Memorial Stadium on October 20, 2018 in Clemson, South Carolina. (Photo by Mike Comer/Getty Images) /
ESPN College Pick Em /
ESPN College Pick Em Picks Week 9 2018: Ride Clemson to max points
This week was much better in ESPN College Pick Em. Nine entries in the Fantasy CPR reader's group had 50 or more points, including myself. Both mdaallen and pitpenguins66 got a perfect 55 points. Kev Shep! and pitt2534 both only missed one point.
If you would like to get in on the fun, join this group and compete head to head with the writers at Fantasy CPR and with fans like yourself! It's not too late to join!
More from College Football Odds
Jay_da_gr8_1 managed to keep the group lead despite not hitting 50 points, but the gap is closing Brian Prete gained a few on him again, and is now within five points of first place. mdaallen is the only other entry over 300 points at 301, five points behind Brian.
It tightens up a lot after the top three. BKNoleGirl sits in fourth place with 299 points. Kev Shep! is two points behind that in fifth. Ernie is two points behind that in sixth place. earleyca and Protege21242 are just one point behind Ernie at 294. pitpenguins66 jumped into ninth place with his perfect week. I am one point behind that in 10th place with 292 points. Protege 21242's second entry is just one point out of the top ten.
Again, there were no clean sweeps, but 23 out of 25 of us took Oklahoma and Penn State.
These picks will be for the confidence version of the game, where you assign a point value from 1-10 based on how confident you are in each pick. I will publish mine here each week. If I make a change, I will just amend the original article. The least team picked was Washington State with ten of us, so most had the same picks. It was the point values that set us apart.
This looks like another tough week. How will the group do this time around?
PULLMAN, WA – SEPTEMBER 29: Fans for the Washington State Cougars spell it out during the game against the Utah Utes at Martin Stadium on September 29, 2018 in Pullman, Washington. Washington State defeated Utah 28-24. (Photo by William Mancebo/Getty Images) /
(1) Northwestern over Wisconsin:

Okay, so Northwestern looked about a half step above God-awful in Piscataway last weekend. Wisconsin wasn't really that much better. This is a road game for the Badgers, and Northwestern's run defense is pretty good. Rutgers was able to pass on them……kind of. Wisconsin wont even be able to do that. Hornibrook continues to show why "game manager" may be too much credit. I have the least confidence in this one either way, so this isn't some sage upset pick. I just don't have faith in either team, so am going with the home team.
(2) Georgia over Florida:

The world's largest outdoor drunk fest usually produces a highly entertaining game. If I hadn't paid for Disney admission already, I would make the trek up to Jacksonville because this truly is a bucket list item whether you like one of the teams or not. This is going to be very close, and this game will likely turn on one big play. I could see Florida's defense making it, but I have no faith on that offense. Unless they really are going to ride Lamical Perine. I have Georgia, but this could go either way.
(3) Houston over South Florida:

USF beat a really bad UConn team by just eight points. Their ranking is a byproduct of a soft schedule. At least Houston has stepped up and played some people. Good luck stopping Ed Oliver, USF. The buck…….er……Bulls……stop here.
(4) Iowa over Penn State:

Lost in the pretty soft schedule is just how good the Iowa defense is. Nate Stanley is torching secondaries like William Sherman did to cotton fields on his March to the Sea. Penn State has given up chunk passing plays all year long. They will stop Iowa's run game, but Iowa really isn't a run first team this year. They have quietly morphed into an efficient passing offense since they finally have a quarterback that can throw the ball. That is where Penn State has struggled, so that spells trouble for the boys in white.
(5) Washington State over Stanford:

Hangover from the Duck barbecue and GameDay in Pullman finally could be a real thing. I still don't know if Stanford can beat them. K.J. Costello doesn't look like a guy that can win the game by himself, and Stanford's defense really hasn't been all that great this year. Last week was a prove it game of sorts, but this is the real test from the Leaches: hanging on to the top spot.
PASADENA, CA – SEPTEMBER 15: Marcus McMaryion #6 of the Fresno State Bulldogsat passes during the first quarter against the UCLA Bruins Rose Bowl on September 15, 2018 in Pasadena, California. (Photo by Harry How/Getty Images) /
(6) Iowa State over Texas Tech:

The return of Allen Bowman went swimmingly against a pretty weak Kansas secondary. Iowa State doesn't have that problem. All teams are having trouble in Ames this year. If the Cyclones can throttle a West Virginia team that did the same thing to Texas Tech in Lubbock, well, there's a good chance that the Red Raiders are going to meet an unsavory fate in Ames as well.
(7) Purdue over Michigan State:

Michigan State had their lowest offensive output since the invention of color television last weekend. Purdue's D isn't going to shut them down like that, but an offense that bad isn't going to get to the Boilermaker D either. Purdue is coming off one of their biggest wins of this century on the road, but this Michigan State offense is terrible. I really don't see them winning this game with their decimated WR corps.
(8) Texas over Oklahoma State:

I don't have supreme faith in Texas, but Sam Ehlinger should be fine, and the Texas defense is strong against the run. I'm not convinced that Oklahoma State has a strong enough passing game to come back from behind to win, especially against a much improved Texas defense.
(9) Fresno State over Hawaii:

Hawaii's offense is good, but Fresno's is at least as good. Hawaii's defense is as bad as their offense is good. Fresno's defense is the best in the Mountain West. This gets ugly.
(10) Clemson over Florida State:

Rivalries only count when the two teams are within 50 spots of each other in the rankings. Only then can you call it a toss up. Clemson is a top three team. Florida State is not in the top 50, and might not be in the top 75.
We have everything you need here at Fantasy CPR! Do you need fantasy football advice? Covered! How about NBA DFS advice? Check. We also have all of the college football games picked against the spread, and all of the College Football DFS picks! If that isn't enough, we have PGA picks and NFL DFS as well!