NHL DFS FanDuel Power Plays: October 23rd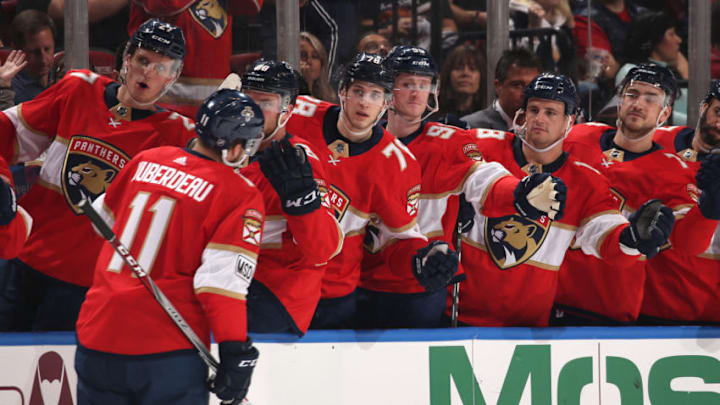 NHL DFS: SUNRISE, FL - MARCH 10: Jonathan Huberdeau #11 of the Florida Panthers is congratulated by teammates after scoring a first period goal against the New York Rangers at the BB&T Center on March 10, 2018 in Sunrise, Florida. (Photo by Joel Auerbach/Getty Images) /
NHL DFS: WASHINGTON, DC – OCTOBER 03: John Carlson #74 of the Washington Capitals celebrates with teammates after scoring against the Boston Bruins during the second period at Capital One Arena on October 3, 2018 in Washington, DC. (Photo by Will Newton/Getty Images) /
Welcome to NHL DFS FanDuel Power Plays. We're a fantasy hockey column focused on the top FanDuel NHL players for your lineups each day. This is the Tuesday, October 23rd 2018 edition.
With a mild Sunday night NHL DFS FanDuel slate, I completely took the day off from lineup building. Yesterday, I didn't have time to write about my lineup thoughts, but I still played several Cash and GPP options.
Most of my lineups landed above 170 points, thanks mostly to several key picks. The Flyers have struggled on defense lately, and I knew the Avalanche are playing great hockey right now. So I immediately stacked the Avs, locking Varly in at goalie giving me 37.6 points, and Mikko Rantanen and Landeskog gave me another 60 points.
McKinnon's 10.1 points was honestly disappointing, considering his price. But still, with my Avs stack I already had over 100 points with just four lineup spots. Another guy I continue to plug into my lineup each time he's on the ice is John Carlson, and he gave me another 30.6 points thanks to two power play assists and a goal.
Finally, for some reason Micheal Ferland ($4,800) continues to be super cheap but also keeps giving up points. With a power play goal last night, Ferland gave us another 20.5 points. But, I whiffed on Jodan Staal at center and my Brett Connolly value pick at winger. That's how some other GPP players beat me at the top of the payout list.
With eight games for the bigger Tuesday night main slate, we have tons of options to pick through for our Cash and GPP plays. That will lower ownership, but we're going to use what we've learned so far this season to zero in on the top plays fairly quickly.
Before we get there, a reminder to never take a NHL DFS optimal lineup as 'bible' for your personal lineup each day. Use the suggestions as guidance. Also, make sure you follow final lineup thoughts throughout the day on our twitter account @FantasyCPR or me @MattyMcMatt17 look for late breaking lineup news.
Here's a look at the NHL schedule for the Main slate on Tuesday, October 23rd 2018:
Panthers at Rangers 7pm ET
Coyotes at Blue Jackets 7pm ET
Flames at Canadiens 7:30pm ET
Bruins at Senators 7:30pm ET
Sharks at Predators 8pm ET NBC Sports Network
Ducks at Blackhawks 8:30pm ET
Kings at Stars 8:30pm ET
Penguins at Oilers 9pm ET ESPN+
The Panthers scoring has heated up a bit lately and they may seem appealing against the Rangers, in New York. Still, it's a tricky call because the Rangers are playing better hockey lately. What is appealing is the goalie match up. The Rangers are putting Alexandar Georgiev between the pipes, and he's giving up seven goals in his only start this season.
The Senators continue to play great hockey in Ottawa, but can they stay hot against a tough Bruins team? That's hard to say. The Predators are hosting a good Sharks squad, but they've struggled in Nashville lately.
I love how the Blackhawks offense has played so far this season, but they could be facing one of the better net-minders so far this year. I'm more inclined to use the Stars on home ice against a reeling Kings team. And of course, there are tons of great skaters on the ice in Edmonton, with the Penguins and Oilers facing off there.
So, let's start building our NHL DFS optimal lineup by looking at the top centers for this slate…
NHL DFS: TORONTO, ON – OCTOBER 6: Chris Tierney #71 of the Ottawa Senators gets set for a faceoff against the Toronto Maple Leafs during an NHL game at Scotiabank Arena on October 6, 2018 in Toronto, Ontario, Canada. The Senators defeated the Maple Leafs 5-3.(Photo by Claus Andersen/Getty Images) /
NHL DFS FanDuel Power Plays: Top Centers
I'm going to be blunt right away. Picking top picks in the center and winger positions is difficult tonight. There are just so many great options along with several great value plays, it's difficult to pinpoint the right combinations. Several different combinations will likely win money tonight, it's just a matter of which one is the best.
Instead of trying to find the best combination, we're going to find picks we feel are most solid, play a few combinations with those picks, and hope one of them is the best. If we put all our chips in one lineup tonight, there's just too much risk of bombing.
It's sort of like spreading your chips on the craps table, or diversifying your investment portfolio, let's get a piece of all of the winning plays and be happy with a solid cash return.
If you're a big hockey fan, you're likely immediately trying to find way to play Connor McDavid ($9,100) and/or Evgeni Malkin ($8,700) with Sidney Crosby ($8,200). We're, arguably, going to see three of the best NHL centers in hockey on the ice around the same time together in Edmonton.
I might have a lineup combination with Malkin and/or Crosby in it tonight, given the better match up versus Cam Talbot. Connor is always a great NHL DFS play when he's on the ice, but I'm worried about Murray appearing to get hot again, which could really limit McDavid's offensive production tonight.
With the obvious juicy match up out of the way, I prefer to fade McDavid, Malkin, and Crosby and go with either Patrice Bergeron ($8,000) against the Senators in Ottawa or Tyler Seguin ($7,900) hosting the Kings in Dallas.
Both Bergeron and Seguin play on some of the NHL's best one-lines and have been highly productive this season. Bergeron already has three goals and one assist in just one game against the Senators. And Seguin has three goals and seven assists in just five home games this season.
If Bergeron or Seguin are a tad too expensive, I have no problem grabbing Aleksander Barkov ($7,300) from the Panthers top line in a great match up against the Rangers. Yes, the Rangers look like a better hockey team and are on home ice, but their goaltending is questionable tonight. In fact, even if I don't grab Barkov, I'm likely stacking the Panthers tonight.
Before we get to the value plays, I'm not inclined to grab anyone else below Barkov's salary except for maybe Ryan Johansen ($6,000) on home ice against the Sharks. In their last three home games, Johansen has a goal and four assists.
Speaking of the Sharks, they use to have a young center named Chris Tierney ($4,600) in their lineup. This season, Tierney is manning the Senators second line and has been fairly productive so far.
In fact, Chris has a point in every game this season, two goals and seven assists in seven games. Even against the Bruins, this is a solid value play on home ice tonight and this value anchor allows me to grab any of the other top plays at this position we like.
NHL DFS: SUNRISE, FL – MARCH 10: Jonathan Huberdeau #11 of the Florida Panthers is congratulated by teammates after scoring a first period goal against the New York Rangers at the BB&T Center on March 10, 2018 in Sunrise, Florida. (Photo by Joel Auerbach/Getty Images) /
NHL DFS FanDuel Power Plays: Top Wingers
At the winger position, one way to get a piece of Bergeron without having to pay up for him at the center spot is grabbing either David Pastrnak ($8,200) or Brad Marchand ($7,900). However, neither really helps you from a salary perspective.
A better value play linked to one of the top centers we mentioned would be Ryan Nugent-Hopkins ($6,400) playing with McDavid on the Oilers top line. The chemistry with Connor is clearly developing, and he's getting many shots on goal with so much ice time this season. It's a solid play at the winger position regardless of the Murray match-up risk.
I'm probably not paying up to stack the Penguins at the winger position, but remember how we like the Panthers stack against the Rangers likely struggles between the pipes tonight? Well, there are three mid-salary ranged guys I love.
Evgeni Dadonov ($6,500) plays on the top line with Barkov, Jonathan Huberdeau ($6,200) spends a lot of time with Vinny Trocheck, and Mike Hoffman ($5,400) is unfortunately on the Panthers third line this season (for some reason) but still very productive on the ice. If the Panthers have a big offensive night, all three of these guys will likely be involved, and the combo could put up between 60 and 80 points for us.
I could go with a value play along with the Panthers somewhat expensive stack at the winter spot, but I can't avoid Alex DeBrincat ($6,400) yet this season. He finally had his point streak broken, after seven straight games of goals or assists, but it was against the Lightning and one of the best goaltenders in hockey right now.
The likely match up against John Gibson isn't ideal, but it's better than the Bolts goalie match up against Vas, and the Blackhawks are still on home ice tonight. Alex is playing incredible hockey lately and even had a solid scoring chance against Vas, so I'm going to pay up for his offensive production again Tuesday night.
Alright, let's look at a few top picks on defense…
NHL DFS: NEW YORK, NY – OCTOBER 06: Mattias Ekholm #14 of the Nashville Predators (r) celebrates his goal at 16:46 of the first period against the New York Islanders and is joined by P.K. Subban #76 (l) at the Barclays Center on October 06, 2018 in the Brooklyn borough of New York City. (Photo by Bruce Bennett/Getty Images) /
NHL DFS FanDuel Power Plays: Top Defenders
Of the group of top defenders for NHL DFS on Tuesday night, my favorite play is John Klingberg ($6,400), again. Until recently, the shots, blocks, and points consistently racked up around 20 points per game.
Klingberg cooled off in the last two games against the Devils and Wild, but each of those match ups were difficult. The Stars have a juicy home ice situation tonight, and we should see John land somewhere around 20 points again.
Although, Klingberg's salary makes it difficult to stack the Panthers, with at least three of them in the winger spot, or a fourth in the center position. If we still have one Panthers stack pick left, four max, I'm going to go with Keith Yandle ($5,300).
In just six games, Yandle is averaging over 17 NHL DFS points-per-game, never had less than 9.6 points in a game, and has a goal and six assists this season. Keith should pile up several shots on goal tonight and can always add points with blocked shots as well.
Another subtle value pick I like tonight is Predators second line defensive man Mattias Ekholm ($4,500). Likely overshadowed by P.K. Subban ($6,000) in the NHL DFS world, or hockey world for that matter, Ekholm has consistently delivered double-digit points in six of eight outings.
Not surprisingly, those points are coming form blocked shots, shots on goal, and assists, but he also has two goals this season. Ekholm or Yandle with Kingberg, or a Yandle/Ekholm combination at the defense position, gives us a solid shot at 20 to 40 points from these two spots Tuesday night.
NHL DFS: NEW YORK, NY – OCTOBER 06: Juuse Saros #74 of the Nashville Predators makes the third period save against Anders Lee #27 of the New York Islanders at the Barclays Center on October 06, 2018 in the Brooklyn borough of New York City. (Photo by Bruce Bennett/Getty Images) /
NHL DFS FanDuel Power Plays: Top Goalies
I know John Gibson ($9,000) is having a great start to the season and has been one of the most consistently solid goalies this year. But, Gibson has now lost three of his last four starts, and gave up four goals to the Stars in Dallas recently. Also, the Blackhawks are playing better than many expected.
I'm not yet sold on Sergei Bobrovsky's ($8,900) recovery and the match up Martin Jones ($8,600) has in Nashville isn't ideal. We also talked about how, while Matt Murray ($8,500) is hot right now, he struggled to start the season and is facing one of the best players in the NHL on his home ice tonight.
With those thoughts in mind, Ben Bishop ($8,700) is an obvious, but likely chalky, great play at the goalie position on Tuesday night. Bishop has been somewhat inconsistent this year, but he has at least 30 or more saves in three of his five starts, and he's had around 18+ points in three of five starts as well.
Also, the Kings are really struggling to find their identity right now, and the Stars are generally playing better hockey on this home ice in Dallas. But, again, there's some risk with this play even though I think many will take the bait.
My favorite net-minder tonight is actually the Predators' Juuse Saros ($8,100). Before Pekka Rinne went down with an injury, Saros already looked like an incredible back-up option for the Preds.
Now stepping up for his team as the primary goalie for the time being, Saros hasn't even given up a goal in the last two games play, with 40 saves in 40 shots. In fact, Juuse is now 4-0-0 with 86 saves on 91 shots.
The Sharks can be a tough team to play, but on home ice the Predators are in great shape with a red-hot Saros in goal, and we're getting some salary back thanks to the Sharks match up.
NHL DFS: SUNRISE, FL – OCTOBER 20: Mike Hoffman #68 is congratulated by Keith Yandle #3 and Vincent Trocheck #21 of the Florida Panthers after scoring a goal to tie the game against the Detroit Red Wings in the third period at the BB&T Center on October 20, 2018 in Sunrise, Florida. The Red Wings defeated the Panthers 4-3 in overtime. (Photo by Joel Auerbach/Getty Images) /
FanDuel Power Plays: October 23rd 2018 Summary
There is an overwhelming number of great player combinations to consider tonight. While we're presenting only one example lineup, I recommend you use multiple lineups in both GPP and Cash to spread your chips around and get a better return on your investment.
At the center position, we may pay up for McDavid, Crosby, or Malkin, but I'm more likely to use Bergeron or Seguin. At the winger position, I love the idea of stacking two to three Panthers, maybe with Barkov in the center spot, or one of the more expensive guys if we use Tierney for value at center.
I can't help myself, I want to keep riding DeBrincat's hot streak even though he cooled off a bit lately. I can fortunately afford all of this with a Yandle/Ekholm combination at defense, but I may find a way to pay up for Klingberg.
For net-minders, Ben Bishop probably has the best match up tonight, but he'll likely be chalky. I Saros may have a tougher match up, but he's also set up for success Tuesday night, and he could get more saves with more shots on net.
With that summary in mind, here's a look at a sample lineup for the NHL DFS FanDuel Main slate on Tuesday, October 23rd 2018:
C       Patrice Bergeron ($8,000)
C       Chris Tierney ($4,600)
W     Evgeni Dadonov ($6,500)
W     Alex DeBrincat ($6,400)
W     Jonathan Huberdeau ($6,200)
W     Mike Hoffman ($5,400)
D      Keith Yandle ($5,300)
D      Mattias Ekholm ($4,500)
G      Juuse Saros ($8,100)
Remaining Salary: $0
Note: This is a recommended lineup after discussing our top options for the slate. You should use this as a guide, and provide your own input when building NHL DFS FanDuel lineups.  We are not telling you, or selling you, to use this lineup.
Best of luck in your NHL DFS FanDuel contests and stay tuned to Fantasy CPR for all your DFS news and analysis across College Football, NFL, NBA, NHL, MLB, EPL, PGA, and NASCAR this fall!