College Football Results Against The Spread Week 8 2018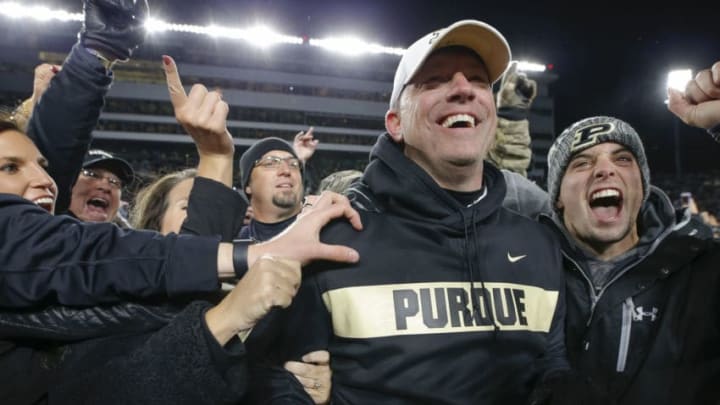 WEST LAFAYETTE, IN - OCTOBER 20: Head coach Jeff Brohm of the Purdue Boilermakers is mobbed by fans after the upset win over the Ohio State Buckeyes at Ross-Ade Stadium on October 20, 2018 in West Lafayette, Indiana. (Photo by Michael Hickey/Getty Images) /
TUSCALOOSA, AL – SEPTEMBER 08: Justice Hansen #15 of the Arkansas State Red Wolves looks to pass against the Alabama Crimson Tide at Bryant-Denny Stadium on September 8, 2018 in Tuscaloosa, Alabama. (Photo by Kevin C. Cox/Getty Images) /
College Football Results Against The Spread Week 8 2018
There were some really good college football games in week 8, and even more upsets. It wasn't as wild as the last two weeks, but three top 25 teams still took a dive, including the number two team losing for the second straight week. I know I got that one right. How many of the rest did I get?
More from College Football Odds
I was back on track in Pick Em last week, hitting 50 points. Did my success carry over to the spread picks as well?
Here we will recap my picks against the spread. The winner against the spread will be in BOLD. My result will follow. Let's get to it!
In case you want to follow along:
Thursday-Friday
Picks for week 6
Let's kick this off with the Thursday and Friday games!
Georgia State at Arkansas State(-14.5): HIT! It looked like the Red Wolves were going to cover easily, taking a 34-7 lead into halftime. In typical Arkansas State fashion though, they made it interesting.
Stanford(-2.5) at Arizona State: HIT! Wilkins threw for 353 yards, but Stanford still held him out of the end zone. This may have been the best game that Arizona State has played defensively, but was it more a product of the offense they were facing?
Colorado State at Boise State(-23.5): MISS! Imagine my surprise when I realized that I picked the Rams. I should know better by now…..
Air Force(-10.5) at UNLV: MISS! Hammond didn't play, and I didn't win.
PISCATAWAY, NJ – SEPTEMBER 22: Tyree Jackson #3 of the Buffalo Bulls looks to pass against the Rutgers Scarlet Knights during the second quarter at HighPoint.com Stadium on September 22, 2018 in Piscataway, New Jersey. (Photo by Corey Perrine/Getty Images) /
Michigan(-7.5) at Michigan State: HIT! What's worse than losing to your rival at home? How about just 94 yards of total offense, the worse since the invention of color TV. It somehow looks worse in color, doesn't it Sparty? To add insult to injury, Michigan threw their first passing touchdown against Michigan State since 2011.
Oklahoma(-7.5) at TCU: HIT! I'm not going to get too excited about the defense against TCU, but they did look better. Of course, it doesn't take much to look better than they did against Texas.
Maryland at Iowa(-10.5): HIT! I knew this one was quite a bit too low. Iowa is pretty dangerous now that they have an offense to go with that defense.
Cincinnati at Temple(-3.5): MISS! I was right about this being a great game. I was wrong about Temple winning by a field goal. It was a touchdown instead.
Illinois at Wisconsin(-24.5) HIT! I'll quit ragging on the Illinois defense. It's nothing I haven't said already.
Buffalo(-1.5) at Toledo: HIT! Tyree Jackson went for 326 yards and two more touchdowns. He's the real cash Bull!
Tulsa at Arkansas(-6.5): MISS! The Arkansas defense has at least started to come around. To say the offense is a work in progress is a bit of an insult to actual works in progress.
Auburn(-3.5) at Mississippi: MISS! Mississippi's defense is so bad that they can make the Auburn offense look good. Okay, maybe not good, but at least respectable. Of course, having JaTarvious Whitlow emerge as the lead back helped the Tigers a lot.
Northwestern(-20.5) at Rutgers: MISS! The joke was on me. Northwestern didn't even score 20. Against one of the worst scoring defenses in the country and the worst in the conference. Even Kansas blew out Rutgers. This was ugliness at its worst on the gridiron.
Miami(OH) at Army(-7.5): MISS! What a game this was! Miami went for two for the win in the second overtime. In typical Army fashion, they stood strong. This was a huge game for Gus Ragland and the Redhawks.
North Carolina at Syracuse(-10.5): MISS! Tommy DeVito came off the bench for the Orange and provided the spark that kept Carolina from their first road win of the season. Otherwise the Orange would have lost this outright.
Virginia at Duke(-7.5): HIT! More easy money in the early games!
Bowling Green at Ohio(-16.5): HIT! I underestimated just how bad this Bowling Green defense is.
Utah State(-14.5) at Wyoming: MISS! The Wyoming defense is still pretty good, aside from Frenso pushing them around.
Florida Atlantic(-2.5) at Marshall: MISS! The Owls are helpless if people can shut down Singletary.
Charlotte at Middle Tennessee State(-16.5) HIT! Is this enough to make me believe in Charlotte? Maybe. Benny LeMay can only help.
Eastern Michigan(-3.5) at Ball State: MISS! Meet Tyler Wiegers, the heir apparent to Brogan Roback. He looks like he's going to lead the Eagles to another bowl game.
Western Michigan(-4.5) at Central Michigan(-2.5): MISS! Want to add insult to injury against a rival? Just run it 55 times for 305 yards. Easy, right? Oh, and don't forget to run the quarterback for three touchdowns. It's somehow worse coming from them.
STILLWATER, OK – SEPTEMBER 22: Quarterback Alan Bowman #10 of the Texas Tech Red Raiders launches a pass against the Oklahoma State Cowboys in the first quarter on September 22, 2018 at Boone Pickens Stadium in Stillwater, Oklahoma. The Red Raiders won 41-17. (Photo by Brian Bahr/Getty Images) /
Alabama(-28.5) at Tennessee: HIT! Who didn't see this coming? Anyone?
North Carolina State at Clemson(-16.5): MISS! I at least expected a fight from the Wolfpack. They didn't even score until the fourth quarter.
Colorado at Washington(-17.5): HIT! Colorado even held it within this without their best player, if that tells you anything.
Penn State(-14.5) at Indiana: MISS! I knew better. The Penn State offense hasn't looked good for a while now.
Coastal Carolina at Massachusetts(-3.5): HIT! I should have had more confidence in the ineptitude of the UMass defense. This week will test that theory.
Houston(-11.5) at Navy: HIT! It took a while, but the Houston offense is finally starting to get going. At 6-1, they could still crash the New Year's Six party.
SMU at Tulane(-7.5): MISS! Keeping with the recent trend between these two teams, it was close and it was wild.
Akron(-4.5) at Kent State: MISS! The Wagon Wheel came down to a two point conversion in overtime. I was losing this either way, so I just got to enjoy another crazy finish in the MAC. Coming soon to a Tuesday or Wednesday night near you!
Louisiana at Appalachian State(-25.5): HIT! The game really was never in question, but the Mountaineers didn't bury them either. Something to remember for the Thursday slate on DraftKings this week.
UTEP at Louisiana Tech(-23.5) MISS! I should have followed the trend. UTEP isn't good, but they aren't getting covered either.
Wake Forest at Florida State(-9.5): MISS! Yes, this was surprising. Or not after we saw the Florida State defense put the screws on Miami. On the bright side, Wake did score their first touchdown in Tallahassee since 2006.
Minnesota at Nebraska(-5.5): MISS! I really thought about getting on my phone and changing this pick while at the game. Something felt different here. Then Nebraska comes out and just dominated a Minnesota team that hung with Ohio State. It really shouldn't have happened. There really is no way to explain it. It just is.
Kansas at Texas Tech(-17.5): MISS! If I would have got the news about Alan Bowman in time, I would have changed this pick because he changes the Tech offense.
New Mexico at Colorado State(EVEN): HIT! This was a very close, and very ugly, game. How these teams have a combined six wins is beyond me.
Memphis at Missouri(-9.5): HIT! Is anyone even surprised when Missouri is involved in a triple digit scoring game anymore?
California(-7.5) at Oregon State: MISS! Cal, reinventing the quarterback wheel since 2018.
New Mexico at UNLV(-9.5): HIT! That is the correct way to rebound from a game that the Lobos feel like they shouldn't have lost. That was the largest margin of victory for the Lobos since October 22nd of 2016 when they clobbered Louisiana-Monroe by 42 points. I really don't mean to pile it on the Warhawks. It just worked out that way.
Georgia Southern(-10.5) at New Mexico State: MISS! Josh Adkins did his best to stay in this, but he couldn't teach the defense how to tackle.
BATON ROUGE, LA – OCTOBER 20: Blake Furguson #48 of the LSU Tigers reacts during the second half against the Mississippi State Bulldogs at Tiger Stadium on October 20, 2018 in Baton Rouge, Louisiana. (Photo by Jonathan Bachman/Getty Images) /
Mississippi State at LSU(-6.5): HIT! That LSU defense is just dominant. I want to see them play Michigan in a bowl game. That is my wish for Bowl season. Unless, of course, the Tigers knock off Bama.
Central Florida(-21.5) at East Carolina: HIT! There was a reason this was a one point bet. It really didn't surprise me that the Knight struggled for more than a half of this game.
Connecticut at South Florida(-32.5): MISS! I got too caught up in the numbers, and should have stayed with the original thought that USF was just going to run until they passed out.
UTSA at Southern Mississippi(-16.5) MISS! I should have known something was amiss when I actually felt okay taking the Eagles.
Texas State at Louisiana-Monroe(-10.5): MISS! I don't even really know what to say since I missed this one too.
Ohio State(-12.5) at Purdue: HIT! I should have said Purdue was going to win! I would look like a genius right now! Of course, I would need it because this week isn't looking good.
Oregon at Washington State(-2.5): HIT! Something has clicked for the Cougars. Does this mean they can win the Pac 12? It's time to believe, Cougar fans.
Vanderbilt at Kentucky(-12.5): HIT! This may not be the charge of the light brigade, but it feels like it. I will salvage this week or die trying! Not literally, but you get the point.
Fresno State(-13.5) at New Mexico: HIT! Big win by Fresno? Check! ONWARD!
Rice at Florida International(-23.5): MISS! In all fairness, almost no one bet this game anyway. I sure wouldn't have.
North Texas at UAB(-1.5): HIT! How cool would it be to see UAB in a bowl game? I can't be the only one that wants to see that. This was a big win for the Blazers, and guess what? They are bowl eligible!
Old Dominion at Western Kentucky(-4.5): MISS! Congrats on another win, Monarchs. Of course, it couldn't have been one of the last three weeks when I actually picked you!
USC at Utah(-6.5): HIT! The Utah defense carried them to a double digit win. USC started off well, and they are starting to put things together. It's a process though, and not one that is made easier playing a team like Utah.
Arizona at UCLA(-9.5): MISS! That's what a get for conveniently forgetting how bad the UCLA defense really is.
San Jose State  at San Diego State(-27.5): HIT! I should have upped the bet. I knew this line was way off. The two teams only combined for 29 points!
Nevada at Hawaii(-3.5): MISS! That's what I get for being a smart ass…
JACKSONVILLE, FL – OCTOBER 21: A Jacksonville Jaguars fan dressed up as Spider-Man looks on in disappointment following the Jaguars 20-7 loss to the Houston Texans at TIAA Bank Field on October 21, 2018 in Jacksonville, Florida. (Photo by Scott Halleran/Getty Images) /
A good Pick Em week didn't mean a lot here. I finished at 25-29, my first week under .500 since week 3. I am still a bit above water at 210-208 on the season. With a poor week like that, I probably lost a lot of points, right?
Maybe not. My fours and fives were finally pretty good, but the 3's were a wreck. Just how bad was it? I'm as curious as you are.
This week's totals follow the number. The season totals are in parentheses.
1. 5-6 (40-31) = 9
2. 10-12 (85-84) = 2
3. 4-9 (53-53) = 0
4. 3-0 (21-27) = -24
5. 3-2 (11-13) = -10
My five point picks are still severely lacking, as are the fours. Still, even with all that yuckery up there, I only lost three points on the week. That leaves me 23 betting points down on the season, so now I have to crawl up from under my horrible 2016 season in which I lost 166 betting points. I am down only 36 points overall though thanks to a strong 2017.
Make sure to come back for this week's picks against the spread, our ESPN College Pick Em Picks, and our DFS picks for the NFL, MLB, PGA tour, and of course, college football! We have all of your needs covered!