NHL DFS DraftKings Snipes – Wednesday October 24th, 2018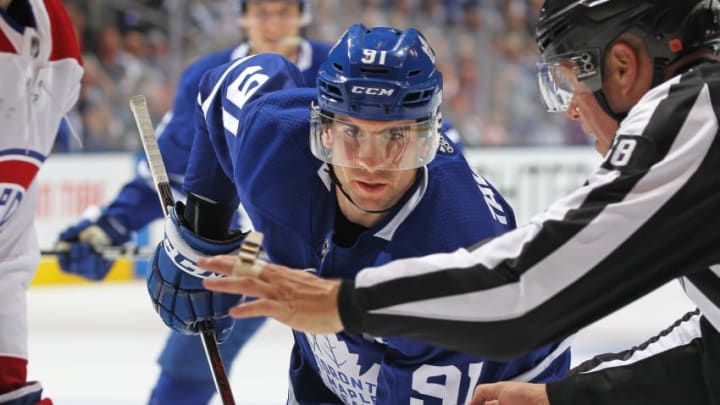 TORONTO, ON - OCTOBER 3: John Tavares #91 of the Toronto Maple Leafs gets set for a faceoff against the Montreal Canadiens during an NHL game at Scotiabank Arena on October 3, 2018 in Toronto, Ontario, Canada. The Maple Leafs defeated the Canadiens 3-2 in overtime. (Photo by Claus Andersen/Getty Images) /
TORONTO, ON – OCTOBER 3: John Tavares #91 of the Toronto Maple Leafs gets set for a faceoff against the Montreal Canadiens during an NHL game at Scotiabank Arena on October 3, 2018 in Toronto, Ontario, Canada. The Maple Leafs defeated the Canadiens 3-2 in overtime. (Photo by Claus Andersen/Getty Images) /
NHL DFS DraftKings Snipes – Wednesday October 24th, 2018
We are back with another NHL DFS DraftKings Snipes for you daily fantasy players. We at FantasyCPR will have you covered with some snipes for Wednesday Rivalry Night.
Each post will provide a quick recap of players discussed in previous articles. Success is the clear goal, but it is important to understand our misses as well. See if we can find those trends that work, and areas we can improve.
Crosby reigns supreme as he and the Pens took down Connor McDavid and the Oilers in overtime. Although McDavid had a goal and an assist. The Blackhawks pulled a 180 after giving up 55 shots to the Lightning the other night. They took down the Ducks 3-1, out-shooting them 37-25. Brandon Saad looks to be getting back into form with two goals. The Z's in New York woke up as Zibanejad and Zuccarello each contributed two goals in a 5-2 win over the Panthers. Montreal found their extinguishers and cooled off the Flames with goals from Jonathan Drouin, Brendan Gallagher, and Jeff Petry. Tuukka Rask stood tall in Ottawa with a win and 38 saves. The Sharks won on the road in Nashville in a high scoring affair led by Brent Burns goal and two assists. Tyler Pitlick and his move to the Stars top line was a success as he scored a power play goal in a 4-2 win at home against the Kings.
Below is a recap of Sunday's DraftKings Snipes action that we talked about.
Sidney Crosby – Sid had 2 goals on 5 shots and won 16 of his 20 face-offs. He played 20:33 time on ice.
Mika Zibanejad – 2 goals and 2 assists, 5 shots on goal, 4 hits and 1 blocked shot.
Clayton Keller – Not a good night for Keller, but the team won 4-1. 2 shots on goal in just over 16 minutes of ice time.
Jesper Fast – 1 assist in 17:27 time on ice. 2 shots on goal and 2 hits.
Rickard Rakell – 1 goal on 3 shots. 1 hit and 1 blocked shot. 18:45 time on ice.
Chris Kreider – 1 assist and 2 shots on goal. 2 hits in 17:27 time on ice.
Hampus Lindholm – 1 hit, and 22:27 time on ice. Fairly invisible night for Lindholm.
David Rittich -37 saves and 3 goals against.
Sergei Bobrovsky – Bobrovsky having a very down year so far, and tonight was not any better. 4 goals against on 26 shots. A .846 SV% just won't cut it. as they lost 4-1 to the Coyotes.
LAS VEGAS, NV – MAY 16: Mark Scheifele #55 of the Winnipeg Jets celebrates his third-period goal against the Vegas Golden Knights in Game Three of the Western Conference Finals during the 2018 NHL Stanley Cup Playoffs at T-Mobile Arena on May 16, 2018 in Las Vegas, Nevada. (Photo by Isaac Brekken/Getty Images) /
NHL DFS DraftKings Snipes – Centers
Mark Scheifele Jets ($6,700)
On a night that Auston Matthews and Nathan MacKinnon are available, it allows other players to go unnoticed. Scheifele is one of those guys tonight. He is fresh off a four point night with 25 minutes of ice time. 57.5% of his shifts starting in the offensive zone. Scheifele gets to center the first power play unit as well.
Brock Nelson Islanders ($4,300)
Nelson plays on the Islanders top line with Anders Lee and Josh Bailey, however we're still unsure of Bailey's status for tonight. There could be some shifting of lines and I look forward to seeing who Barry Trotz pairs together. Normally, Nelson gets a look on the second power play unit with Andrew Ladd and Cal Clutterbuck, but that could change due to injuries. He has two goals and an assist on the season, and had the teams lone goal against San Jose last Saturday.
John Tavares Leafs ($6,500)
Tavares is still an elite play tonight and comes in $1,200 cheaper than Auston Matthews. He has been held to just one assist in his last four games and has not tallied a goal in five games. The Leafs have been struggling lately, but have had the opportunity to rest and have not seen game action since Saturday. This is still one of the most dangerous teams in the NHL and I don't expect them to stay cool for long. It could be a shootout on national television as Tavares will look to add to his six goals and five assists.
NEW YORK, NEW YORK – OCTOBER 08: Anders Lee #27 of the New York Islanders scores a powerplay goal at 14:34 of the second period against the San Jose Sharks at the Barclays Center on October 08, 2018 in the Brooklyn borough of New York City. (Photo by Bruce Bennett/Getty Images) /
NHL DFS DraftKings Snipes – Wingers
Blake Wheeler Jets ($6,300)
With Patrik Laine earning more of the headlines, he may get more exposure in this top line. That is reason enough to pivot over to the other side and save $200 on Wheeler. He has two more points on the season and only one less goal than Laine. Wheeler plays on that top power play unit with Scheifele and Laine and is earning a ton of ice time. He is averaging just north of 20 minutes of ice time per game and has four power play assists.
Anders Lee Islanders ($5,300)
Lee is in a contract year, showing his worth to either stick around in New York, or get a larger contract elsewhere. The Islanders are a cheap stack option tonight and may be underutilized with the Leafs and Avalanche on the slate. Lee has two goals and two assists on the season and gets a run on the first power play unit.
Jordan Eberle Islanders ($4,100)
Eberle is also playing in a contract year and looking to fill the stat sheet. He currently only has two points on the season but remains one of coach Barry Trotz favorite play makers on the team. With right-winger Josh Bailey DTD and out of practice on Tuesday, there could be some shifting of lines for the Isles. A stack looks nice tonight against a Panthers team that is struggling to stop the puck, no matter who is in net.
PHILADELPHIA, PA – OCTOBER 13: Marc-Andre Fleury #29 of the Vegas Golden Knights stretches to make a save as Dale Weise #22 of the Philadelphia Flyers looks on at the Wells Fargo Center on October 13, 2018 in Philadelphia, Pennsylvania. (Photo by Drew Hallowell/Getty Images) /
NHL DFS DraftKings Snipes – Defense and Goalies
Josh Morrissey Jets ($5,100)
Yesterday we played Dustin Byfuglien, and tonight we'll go to Morrissey. On the season, Morrissey has been the hotter of the two with a goal and six assists. He's averaging 3.5 FPPG while getting 22+ minutes of ice time in every game except for one earlier in the season. We can afford to pay the extra $300 over Big Buf if we're going with a cheaper Islanders stack. RotoGrinders is projecting this game to be high scoring with a total of 6.5 goals. Morrissey has three power play points on the season with a goal and two assists, and will look to keep the pressure on against a Maple Leafs team that ranks 29th against opposing defenders.
More from FanSided
Morgan Rielly Leafs ($6,200)
Even if you don't go big on Auston Matthews or John Tavares, you can still get a piece of the Leafs with their top defenseman. Rielly is averaging 6.1 FPPG and has four goals and 10 assists on the season. He has certainly cooled off a bit since the start of the season, as has the Leafs as a whole. But they are too powerful of an offense to avoid. Rielly is a main piece of their power play unit as he had six power play points in the first five games of the year. The possession metrics are still there for him as well with a CF% of 52.8 and a FF% of 54.3.
Marc-Andre Fleury Golden Knights ($8,400)
The match ups tonight in a short slate make it challenging to find value at the goalie position. That is why I'll be locking in the most overwhelming favorites with VegasInsider placing the Knights at -235 over the Canucks. At goalie, we are really chasing that win, and this seems to be the best chance at one. Goalies have not yet been confirmed, however it looks as though Fleury is projected to get the start. If there is a change between now and lock time, I'll be sure to update on Twitter in which case we can make the switch to Malcolm Subban.
Stay tuned to Fantasy CPR for all the latest NHL DFS news and analysis each and every day.