NHL DFS DraftKings Snipes – Thursday October 25th, 2018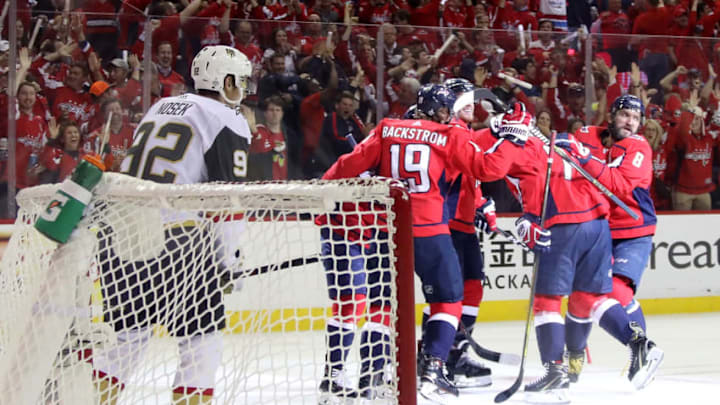 WASHINGTON, DC - JUNE 04: T.J. Oshie #77 of the Washington Capitals is congratulated by his teammates after scoring a first-period goal as Tomas Nosek #92 of the Vegas Golden Knights reacts in Game Four of the 2018 NHL Stanley Cup Final at Capital One Arena on June 4, 2018 in Washington, DC. (Photo by Bruce Bennett/Getty Images) /
NHL DFS DraftKings Snipes – Thursday October 25th, 2018
We are back with another NHL DFS DraftKings Snipes for you daily fantasy players. We at FantasyCPR will have you covered with some snipes for tonight's slate.
Each post will provide a quick recap of players discussed in previous articles. Success is the clear goal, but it is important to understand our misses as well. See if we can find those trends that work, and areas we can improve.
Wednesday Rivalry Night did not disappoint last night. The Leafs proved to remain a powerhouse after a few rough performances beating the Jets in Winnipeg 4-2 with goals from NOT Auston Matthews. Andrei Vasilevskiy and the Lightning shut the door on the smoking hot Colorado Avs with 22 save shut out. The most heavily favored match up was meant to be tilted towards the Vegas Knights but did not go as planned as the Canucks dropped them in a shoot out. Bo Horvat stayed hot scoring his sixth and seventh goal of the season. The Panthers took down the Islanders in overtime as well with goals from Mike Hoffman, Evgeni Dadonov and Frank Vatrano.
Below is a recap of Snipes we discussed in the last article.
Oct. 24
Mark Scheifele – 1 goal on 4 shots on goal. 4 blocked shots.
John Tavares – 1 goal on 5 shots. 1 hit and 3 blocked shots.
Brock Nelson – 1 goal on his only shot. 17:59  time on ice.
Blake Wheeler – 2 assists and 4 shots on goal. Also had 5 hits.
Anders Lee – 1 assist and 3 shots on goal. 2 blocked shots and 17:56 time on ice.
Jordan Eberle -1 goal on his lone shot. 1 blocked shot and 15:21 time on ice.
Josh Morrissey – Quiet night numbers wise. Took 1 shot on goal and had 1 hit and 1 blocked shot. 22:21 time on the ice.
Morgan Rielly – A +1 on the night, but no goals or assists. 4 shots on goal and 2 blocked shots. 23:07 time on ice.
Marc-Andre Fleury – 2 goals against and 24 saves. Lost game in a shootout.
NHL DFS DraftKings Snipes – Centers
Nicklas Backstrom Capitals ($6,500)
Going with the cheaper end of a Capitals stack here with Backstrom and Oshie opposed to Ovechkin and Kuznetsov. Don't get me wrong, Ovi and Kuz are the more formidable duo, but tonight is a huge slate. I'd prefer value here with all of the other great options available. Plus, Backstrom is still a huge part of the Capitals success with his play making ability and time on the first power play unit.  He has two goals and 11 assists on the season and averaging over 20 minutes of ice time per game. Both of his goals came on the power play, along with six of his assists.
Tyler Seguin Stars ($7,600)
If you want to spend up a little at center, look no further than Tyler Seguin who is still a cheaper option than Patrice Bergeron and McDavid. The Ducks have been struggling lately with three consecutive losses giving up three or more goals in each. Seguin may not be putting up the numbers on the score sheet yet, but he is second in the NHL in shots on net with 46. It is just a matter of time before they start hitting the back of the net.
Sidney Crosby Penguins ($6,700)
Once again it feels like Crosby is under priced as the 8th option at center. We all saw highlights of the move he pulled off in overtime. If you didn't, make sure to check it out, The Kid has still got it. Crosby had not scored a goal until his last game against Connor McDavid and the Oilers, yet is still averaging a point per game. He has two goals and seven assists. Anytime you get a chance to play Crosby as a value, you jump at it! Puck control has never been an issue for Crosby either as his CF% is 56.7 and FF% is 54.1.
NHL DFS DraftKings Snipes – Wingers
Brandon Saad Blackhawks ($4,800)
Saad looks to finally be back on track. When the Hawks traded Artemi Panarin to bring him back, they thought they were getting back a hard-nosed player that gets to the dirty areas and cleans up around the net. However, things had not gone as planned as he suffered a down year with only 35 points following two 53-point seasons in Columbus.
The last few games gives us hope that Saad is getting back to normal. He was the lone bright spot in the Tampa loss, and scored his first and second goals of the season on Tuesday. He looked fast and confident, which is what Blackhawks fans came to enjoy about his style of play earlier in his career. Against Anaheim on Tuesday he had 7 shots on net, scoring on two of them (one was an empty netter). The possession numbers are there with a CF% of 53.0 and a FF% of 50.9.
T.J. Oshie Capitals ($6,200)
Oshie has five goals and four assists on the season. If we are sticking with the strategy of value stacking the Capitals, Oshie is the cheaper option compared to Ovechkin. He has scored all five of his goals at even strength but also plays on the first power play line. It is one of the most dangerous power plays in the NHL with Oshie, Ovi, Kuznetsov, Backstrom and John Carlson.
Tyler Pitlick Stars ($4,000)
Sought out by Seguin and Jamie Benn, Pitlick has joined the top line for the Stars. He produced in his first action on the line with a goal in 15:24 of ice time. He also joins the first power play unit which is big news for a guy priced this low.
Matthew Tkachuk Flames ($5,800)
The Tkachuk brothers are really taking the league by storm. Matthew came first, which is how it works when you're the older brother #Life. According to RotoGrinders, the Flames are projected to have the highest goal total at 3.33 with the O/U on the game set at 6.5. Tkachuk has three goals and nine assists and plays with the first power play unit. The possession metrics are still outstanding at just a tick below 60% in CF% and FF%. The Pens rank 27th in the NHL against opposing left wingers.
NHL DFS DraftKings Snipes – Defense and Goalies
John Carlson Capitals ($6,800)
If you saved money in other spots, you should feel comfortable slotting in the top defense man on the slate. That price does not necessarily break the bank, and he offers you numbers many offensive players have yet to put up. Carlson has five goals and eight assists. In his last three games, he has three goals and four assists. Now he gets a match up against an Edmonton team that ranks 20th against opposing defenders. He is the lone defender on the first power play unit with four other superstars.
More from FanSided
Vince Dunn Blues ($4,600)
If you need a cheaper option on D, Dunn may be your guy. He was a healthy scratch earlier in the year. So the ice time has not been as high as you would like for a DFS pick. But in six games, he now has three goals and an assist. Dunn has earned time with the first power play unit, and could be facing Sergei Bobrovsky, who has struggled to keep the puck out of the net this season.
Erik Gustafsson Blackhawks ($4,500)
An even cheaper option that you could go with tonight is Erik Gustafsson. He led the Hawks in ice time last game at 23:04 and was a big part of the offensive rush. He had a nice assist to Patrick Kane in his last game, and will look to continue attacking on the offensive end. He generally plays on the second power play unit with Captain Jonathan Toews and sniper Alex DeBrincat.
Corey Crawford Blackhawks ($8,400)
Crawford is back and looks to be at the top of his game. In three games this season, he boasts a .946 SV% and 1.69 GAA. The defense in front of him looked to clean up a little bit around the net as well to help him secure the win against the Ducks. Crow doesn't give up a lot of rebounds, which allows him to take on more shots and still conserve energy. The Hawks have played better on the road than at home this season but could turn that around tonight in front of their home crowd at the Madhouse on Madison.
Ben Bishop Stars ($8,200)
The Stars are struggling to score goals of late and are only projected 2.43 tonight which is tied for the second lowest of the slate. Bishop may only be 3-3, but he is still only allowing 2.38 goals per game while averaging 5.5 FPPG. If Anaheim's inability to score goals continues, this could be an easy win for Bishop.
Stay tuned to Fantasy CPR for all the latest DFS news analysis across all your favorite sports and sites!