College Football Playoff predictions: LSU in over Michigan; UCF in mid-teens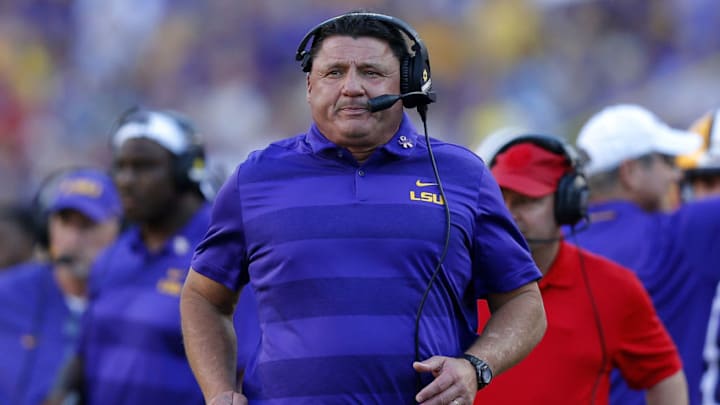 BATON ROUGE, LA - OCTOBER 13: Head coach Ed Orgeron of the LSU Tigers reacts during a game against the Georgia Bulldogs at Tiger Stadium on October 13, 2018 in Baton Rouge, Louisiana. (Photo by Jonathan Bachman/Getty Images) /
The College Football Playoff rankings have been released so let the debate begin about the top four teams in the nation and whether the committee got it right.
After nine weeks, we've finally arrived at the first release of the College Football Playoff rankings. Some seasons provide a little more drama than others, naturally, but entering this initial release, there really wasn't much in the way of suspense. Instead of having ESPN use an hour of primetime television space to speak at length about one hypothetical question after another, this really could have just been a SportsCenter update with the top four revealed, because there was no drama.
The only real drama was who would be the fourth team in with undefeated Alabama, Clemson and Notre Dame, who are all undefeated. There was some manufactured drama surrounding Alabama's claims for the No. 1 seed because their best win is against Texas A&M, but they're winning every game by about eleven million points, so there was no debate. Clemson and Notre Dame figured to be 2 and 3 or 3 and 2, respectively.
So that left the biggest question to which one-loss team would get the No. 4 seed from a group that includes LSU, Michigan and Oklahoma. I didn't really think there was much of a debate and thought LSU should get the No. 4 seed with Michigan and Oklahoma the first two teams out.
Here's how I would rank the Top 25 teams
1. Alabama
2. Clemson
3. Notre Dame
4. LSU
5. Michigan
6. Oklahoma
7. Georgia
8. Washington State
9. Kentucky
10. Ohio State
11. Florida
12. West Virginia
13. Utah
14. Texas
15. UCF
16. Penn State
17. Iowa
18. Mississippi State
19. Texas A&M
20. Syracuse
21. Virginia
22. Boston College
23. Houston
24. Fresno State
25. Northwestern
Now before we get all hot and bothered about my ranking or tonight's rankings, let's remember, we have five more weeks of games to let this thing all play out. The teams will decide things on the field, beginning this weekend with Alabama-LSU, Georgia-Kentucky and Michigan-Penn State among the games on Statement Saturday.
So if the team you root for isn't in the top 4 today, there's still plenty to play for, unless you're UCF who I don't think will ever be taken seriously as a playoff-caliber team because they're not in a power five conference. I thought UCF was better last year than they are this year, and while they are undefeated and own the nation's longest winning streak at 20 games, they haven't beat a team with a winning record this year.
Unless you're Alabama or Ohio State, I don't think that type of resume will ever be good enough to garner serious consideration. It's not fair. It wasn't meant to be fair though with a four-team playoff in a sport with five major college conference championships.
There is always going to be a team or teams who have a compelling resume but are left out for any number of reasons. Until the playoff expands to eight teams, which I think will happen in the future when the current TV deal expires, teams like UCF, Houston, Fresno State and any other team from the Group of Five will be dismissed.
The College Football Playoff Top 25 rankings will be revealed on ESPN at 7 p.m. ET