DraftKings EuroLeague Basketball Picks November 30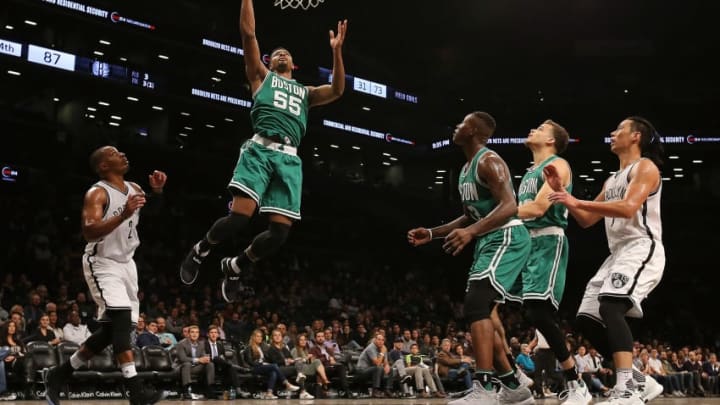 NEW YORK, NY - OCTOBER 13: Jordan Mickey #55 of the Boston Celtics puts up a layup in the second half of preseason game against the Brooklyn Nets at Barclays Center on October 13, 2016 in New York City. NOTE TO USER: User expressly acknowledges and agrees that, by downloading and or using this photograph, User is consenting to the terms and conditions of the Getty Images License Agreement. (Photo by Michael Reaves/Getty Images) /
ATHENS, GREECE – MAY 04: A general view during the EuroLeague Final Four Semi Final match between CSKA Moscow and Unicaja at the Oaka Arena on May 4, 2007 in Athens, Greece. (Photo by Julian Finney/GettyImages DraftKings EuroLeague /
DraftKings EuroLeague Basketball Picks November 30
We are back to the normal rotations for DraftKings EuroLeague with four games on Thursday and four on Friday. Friday is the beginning of a month long free for all in the EuroLeague. Alexey Shved has fractured his pinkie, and will be out about a month. I have never made picks without the best player available, so who will take his place?
More from Fantasy
The rotations can be frustrating sometimes as more players see the court than in your average NBA game. The games themselves are also shorter, playing four ten minute quarters as opposed to 12 minutes in the NBA. The court is smaller, the lane is bigger, and the three point line is closer, but the action is still what you would expect from world class basketball!
If you would like to try DraftKings for the first time, use this link for the referral bonus! It is good for $10 in DraftKings entry tickets issued upon your first deposit.
TREVISO, ITALY – JUNE 09: Vasilije 'Vasa' Micic in action during adidas Eurocamp day three at La Ghirada sports center on June 9, 2014 in Treviso, Italy. (Photo by Roberto Serra/Iguana Press/Getty Images) /
Guards:
Nick Calathes would be the obvious place to go with Shved out, especially since he plays Shved's team. Khimki's great guard defense is going to take a big hit here, but you have to be willing to overlook Shved's awful game against Baskonia and his 3-17 from the floor over the last two rounds.
Vasilije Micic is my favorite pivot because of his consistency and what on paper is a good matchup against Baskonia. Let's ask Calathes how that goes. At any rate, this Efes backcourt situation is a tough one. Only Micic has had consistent production. Rodrigue Beaubois and Krunoslav Simon have been mostly off and on. Micic is the consistent one, Beaubois has the most upside, and Simon is somewhere in the middle. Shane Larkin is the place to go for consistent value.
I want some of this Olympiacos backcourt against Podgorica. Nigel Williams-Goss looks to be the best place to get in with Spanoulis being more risky and Janis Strelnieks as a decent value play. I am pulling up short of a full stack. If I stack guards today, it's going to be from Efes.
Matt Janning has been the most consistent Baskonia guard, but I still don't know that I trust him enough to use him. I would rather move down to Nemanja Gordic, who has 57.25 DraftKings points over the last two games.
Dee Bost stands to see the most usage boost with Shved out, but he hasn't been much of a factor lately. Bost had a great start to the season, but has slowed. It might be a better idea to chase the frontcourt for value or move on to Stefan Markovic and Curtis Jenkins. Markovic is my favorite pick with Jenkins posing as a pretty good value play.
Ali Muhammed stands to see a few more minutes with Mahmutgolu out of the picture this round. Muhammed was one of my favorite value picks anyway. This puts him up there with Jenkins and Strelnieks.
BELGRADE, SERBIA – JULY 08: Jan Vesely (C) of Czech Republic jump for the ball against Stefan Jovic (L) and Miroslav Raduljica (R) of Serbia during the 2016 FIBA World Olympic Qualifying basketball Semi Final match between Serbia and Czech Republic at Kombank Arena on July 08, 2016 in Belgrade, Serbia. (Photo by Srdjan Stevanovic/Getty Images) /
Forwards:
Jan Vesely is probably the best of the high priced forwards tonight. There's just one little thing: I don't trust him. Never have, really. It would seem to be a better use of our money to go to Tornike Shengelia with a great matchup with Efes. He took it to Olympiacos last round, and seems to be over the little round 7 hiccup.
More from FanSided
I don't really like the matchup for Jordan Mickey, but with Shved gone, he is one of the favorites to pick up some of the scoring slack. Mickey's price is a tough sell against Olympiacos, but we saw Shengelia tear them apart last week. It can be done.
Earl Clark continues to be a strong play in the Podgorica frontcourt, but he doesn't seem to have the upside of the other forwards in his price bracket. Vincent Poirier and Kyle Kuric look like stronger plays this round based on upside.
Joffrey Lauvergne has at least 20 DraftKings points in three of the last four rounds, and has a nice matchup against Barcelona here. Nikola Kalinic looks like a decent value play, but I think I'm off of Datome and Melli until they start playing better again.
This is a smash spot for the Athens frontcourt against Khimki. My favorite play in their front is James Gist, especially if Papapetrou is out. Stephane Lasme also makes a great value pick here.
Kevin Seraphin and Darrun Hilliard both have nice runs of double digit DraftKings points going. If you don't want to play roulette in the lower tier, I would suggest one or both of them. Adam Hanga also looks far too cheap.
If you insist on going lower, Shavon Shields is one of the better plays, but Ilimane Diop and Johannes Voigtmann are stealing some minutes. Going with Jaka Blazic may be the best option if you have the cash. Honestly, I would rather find the cash for Seraphin.
Be sure to check back all week for all of your NFL picks, DFS and otherwise. We also have your daily NBA picks covered along with the college football DFS picks and against the spread picks.