College Football Playoff rankings predictions: Final Top 4 – Oklahoma or Ohio State?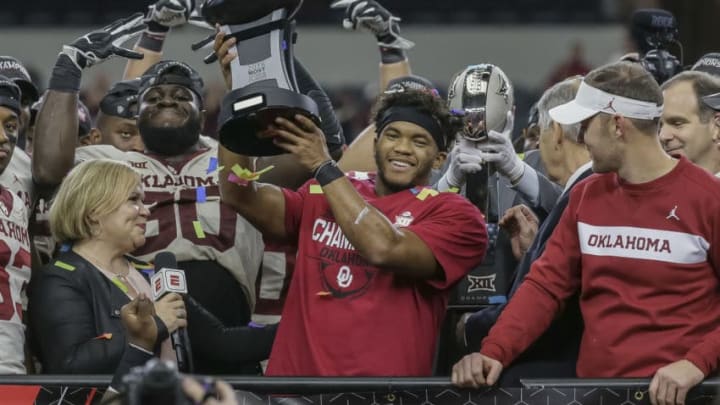 ARLINGTON, TX - DECEMBER 01: Oklahoma Sooners quarterback Kyler Murray (1) holds up the Big 12 Trophy after winning the Big 12 Championship game between the Texas Longhorns and the Oklahoma Sooners on December 1, 2018 at AT&T Stadium in Arlington, Texas. (Photo by Matthew Pearce/Icon Sportswire via Getty Images) /
Who will get the final spot in the College Football Playoff?
Entering Championship Week, there were three teams vying for one spot in the College Football Playoff. Alabama and Clemson were viewed as mortal locks, even if they lost their conference championship games and Notre Dame finished the regular season undefeated last week.
That left one spot for Georgia, Oklahoma and Ohio State to fight over. UCF, despite a 25-game winning streak, will be left out of the four-team field for the second year in a row. The Knights will play in the Fiesta Bowl, but the fight for the last spot is a heated debate.
Alabama beat Georgia 35-28 with a last-minute touchdown from Jalen Hurts who replaced an injured Tua Tagovailoa. The close loss had Nick Saban, Kirby Smart and SEC Commissioner Greg Sankey thinking they merit inclusion as one of the four best teams.
With two losses and no conference championship, Georgia isn't getting in. If they beat LSU earlier this year, it's a different conversation.
That leaves Oklahoma and Ohio State for the final spot.
Oklahoma avenged their lone loss in the regular season, a 48-45 loss at the whistle, to Texas with a 38-27 win in the Big 12 Championship. This strength of win is greater than Ohio State has with their win over a four-loss Northwestern. The Buckeyes won the Big Ten Championship Game behind 499 yards and five touchdowns from Dwayne Haskins, but it won't be enough to jump Oklahoma in the final playoff rankings.
The College Football Playoff should see No. 1 Alabama take on No. 4 Oklahoma in the Cotton Bowl with No. 2 Clemson taking on No. 3 Notre Dame in the Orange Bowl on Dec. 29.
Ohio State fans will naturally be upset with this, but the 29-point loss to a 6-6 Purdue team is too much to overlook. Just like their blowout loss to Iowa kept them out of the field as a one-loss conference champion last year, history will repeat itself.
The final College Football Playoff rankings will be revealed on ESPN at 12 p.m. ET.