Will and Grace midseason premiere live stream: Watch online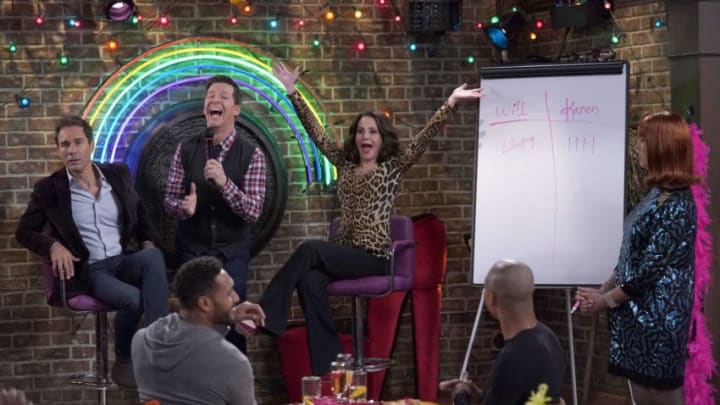 WILL & GRACE -- "Grace's Secret" Episode 208 -- Pictured: (l-r) Eric McCormack as Will Truman, Sean Hayes as Jack McFarland, Megan Mullally as Karen Walker, Clinton Leupp as Miss Coco Peru (standing) -- (Photo by: Chris Haston/NBC/NBCU Photo Bank via Getty Images) /
Will & Grace returns from the break with season 2 episode 9's "Family, Trip." Here's what you need to watch Will & Grace on TV and online.
Will & Grace is back for the second half of the season, and there are ten episodes to look forward to before the season finale. Thankfully, NBC has already granted the show a season 3 with 18 episodes, which means fans don't have to go through sweeps worrying about whether or not their show will return in the fall.
This spring the show starts at 9:30, following the debut of Brooklyn Nine-Nine. The shows will definitely help each other and provide a boost for one another in terms of ratings, which help ensure that both stay on the air for a long time.
Take a look at the episode description of Will & Grace "Family, Trip":
"Will, Karen and Jack unknowingly take hallucinogens, which cause Will and Jack to wonder whether they're soul mates and have Karen giving her final performance as Mrs. Stanley Walker; a high-powered client takes up with Grace's sister Janet."
It was only a matter of time until the hallucinogens arrived on Will & Grace. Two seasons into the reboot and it's time for a little trip, quite possible of the gummy bear or even brownie variety. In the mid-season premiere Will, Jack and Karen go on a trip with some very interesting, and potentially game-changing, implications.
Leave it to hallucinations to bring Will and Jack closer together. Will their mutual drug-induced experience reveal something that fans have been seeing all along, that they're actually meant to be together?
Here's everything you need to know to watch Will & Grace:
Date: Thursday, January 31
Start Time: 9:30 p.m.
Episode: "Family, Trip"
TV Channel: NBC
Live Stream: Watch live on Fubo TV. Sign up now for a free seven-day trial. You can also watch on the NBC website or app.
Will & Grace airs at 9:30 PM on NBC. The show stars Eric McCormack, Debra Messing, Sean Hayes and Megan Mullally.