Someone tried to sneak into locker room dressed as security guard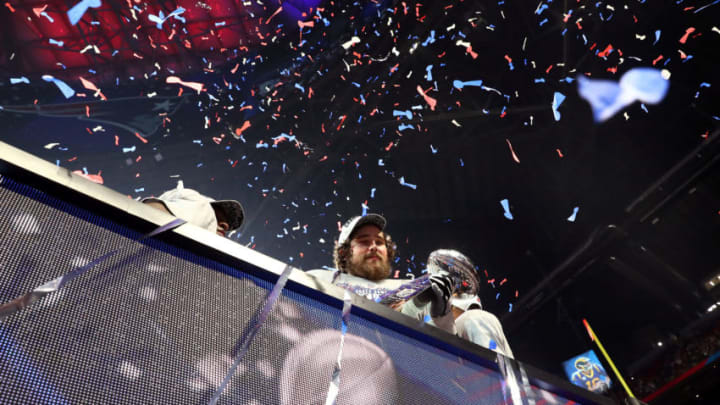 ATLANTA, GEORGIA - FEBRUARY 03: David Andrews #60 of the New England Patriots celebrates his teams 13-3 win over the Los Angeles Rams with the Vince Lombardi Trophy during Super Bowl LIII at Mercedes-Benz Stadium on February 03, 2019 in Atlanta, Georgia. (Photo by Maddie Meyer/Getty Images) /
While everyone was celebrating the New England Patriots win (at least in the winning team's locker room) one man attempted to take advantage of the chaos. There are literally hundreds of people to navigate at the end of Super Bowl LIII, so one guy thought he could go unnoticed, but that was not the case this time.
One might say you have to respect the hustle. This man allegedly stole a security guard's jacket during the biggest event in the world. There is literally nothing in this country with more eyes on it, yet he was able to steal this crucial piece of equipment. Still, the keen eye of a fellow security guard stopped him before he got to the promise land.
We could give the man the benefit of the doubt. Maybe he just wanted to take in on the ambiance of being in the locker room of a winning locker room of the Super Bowl Champs. It's very possible he wanted to be in Tom Brady's presence and just tell his grandchildren that "he was there."
However, we've seen this in the past where someone with bad intentions would get into the winning Super Bowl team's locker room, and he would steal things. In March of 2017, ESPN reported that Martin Mauricio Ortega stole Brady's Super Bowl LI jersey, along with another Patriots jersey from Super Bowl XLIX. A Denver Broncos helmet believed to belong to Von Miller was also recovered from Super Bowl 50.
Maybe this guy wasn't trying to steal things, but with how much these game-used jerseys go for on the market, whether black or legitimate, security can't take any chances.
We will learn more tomorrow about whether this guy will face any charges, but for now he will remain a viral video. He made his move to get into the locker room, but he will just be the guy who got oh so close.