Tottenham on the brink of Europe's true elite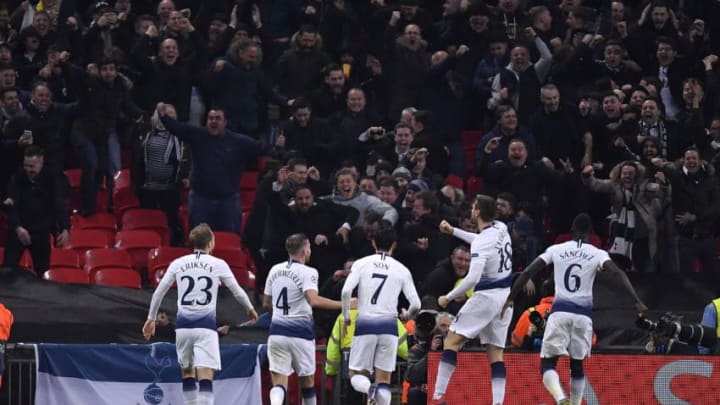 Fernando Llorente of Tottenham Hotspurcelebrates the goal during the UEFA Champions League, Round of 16 1st leg, 13 match between Tottenham Hotspur FC and Borussia Dortmund, on 13 February 2019, at Wembley Stadium, in London, UK. (Photo by Alex Nicodim/NurPhoto via Getty Images) /
Tottenham have waited a long time to return to the Champions League quarterfinals. The wait should end on Tuesday.
In 2010-11, Harry Redknapp took Tottenham on an incredible European journey. His side were in a group with the reigning Champions League holders, Inter Milan. The clubs waged two classic battles, and Spurs advanced in first place. After beating AC Milan in the round of 16, Redknapp acknowledged the enormity of such a historic feat.
"I don't know how far we can go but we've done very well to make the last eight," the manager said. "If you'd have said that two years ago, people would have said you were crazy. It's a fantastic achievement and we deserve to be here. We won our group featuring the defending champions Inter and we've kept two clean sheets against AC Milan."
Fans were in dreamland, but those dreams were ultimately dashed when Spurs were humbled by Real Madrid in the quarterfinals. In the years following, the sales of Luka Modric and Gareth Bale saw the club back in a familiar position, on the outside looking in at the European elite. Even as the club have clawed their way back to relevance under Mauricio Pochettino, however, they've yet to match that 2010-11 run.
In their first Champions League campaign under Pochettino, they exited in the group stage. Last season, they went one better, but ultimately exited in the most disappointing fashion, coming from two goals down to secure a 2-2 draw with Juventus in Turin only to lose the second leg at home after taking an early lead. The club seemed to have hit the same wall in Europe as they had domestically: Good, but not quite good enough in the big moments.
Fast forward 12 months, and Spurs are on the brink of a quarterfinal berth once more. This time, however, it's almost impossible to see them missing out. Having beaten Dortmund 3-0 in the first leg, they're huge favorites to see the tie through and make it to the last eight for the first time since 2011.
Perhaps even more impressive is the way Spurs have arrived here. Stuck in a group featuring Inter Milan, PSV and Barcelona, advancing wasn't a sure thing. After two defeats and a draw in their first three games, there was little hope Pochettino's side would make it through. But they responded, beating Inter and PSV at home before securing a 1-1 draw at the Camp Nou on the final matchday of the group stage.
The first leg against Dortmund was a similar uphill battle, with a rash of injuries forcing Pochettino to field four center-backs, including Jan Vertonghen in a wing-back role, and Heung-min Son up front in place of Harry Kane. After a shaky first-half, Tottenham overpowered the German outfit, with Vertonghen and Son the standout performers.
The game was just the latest to underline how good of a job Pochettino is doing with this club, with few resources compared to his closest rivals and a lengthy injury list on top of that. Their outside chance at the Premier League title seems to have evaporated in recent weeks, but advancing in Europe would do much to remind everyone how much the Argentine is doing well.
This is a crucial year for this club. Despite waiting for clearance to play in their new stadium, Spurs are taking it seriously in Europe's biggest competition. Add the fact that this club haven't signed a new player in over a year, and the achievement shines even brighter.
Should Spurs progress, fans will be celebrating like it's 2011. Very few will want to play them in the quarterfinals.