March Madness: 10 best moments from the NCAA Tournament's opening weekend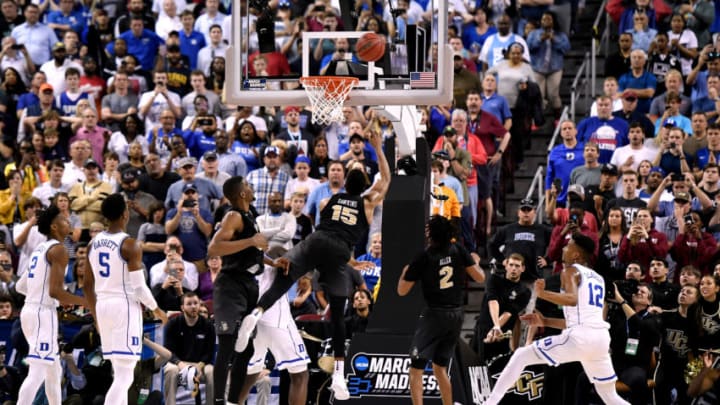 COLUMBIA, SC - MARCH 24: Aubrey Dawkins #15 of the Central Florida Knights puts up a shot as time expires in their game against the Duke Blue Devils during the second round of the 2019 NCAA Men's Basketball Tournament at Colonial Life Arena on March 24, 2019 in Columbia, South Carolina. Duke won 77-76. (Photo by Lance King/Getty Images) /
JACKSONVILLE, FL – MARCH 23: Kentucky Wildcats guard Keldon Johnson (3) celebrates after a play during a game against the Wofford Terriers at VyStar Veterans Memorial Arena on March 23, 2019 in Jacksonville, Florida. (Photo by Matt Marriott/NCAA Photos via Getty Images) /
After a wild start to March Madness, let's take a look at the 10 most memorable moments to come out of the first weekend of NCAA Tournament action.
The Sweet 16 is set, and that means we just digested 48 basketball games in the span of four days. All of that hoops action produced a ton of drama and upsets, but it's hard to blame you if some of the finer points of the action blended together.
Before we move on to the analysis of the Sweet 16, let's take one last look back at the best moments of the weekend, beginning with a record-setting performance in Jacksonville.
10. Fletcher Magee sets the all-time three-point record
One of the most unheralded stars in the country was Wofford senior Fletcher Magee, who has been knocking down threes at a prodigious pace for the past four years. Magee finally made it to the big stage of the NCAA Tournament with a chance to make history.
Entering Wofford's First Round matchup with Seton Hall on Thursday night, Magee needed just two triples to pass Travis Bader for the most three-pointers in NCAA history. Magee smashed the record with style, knocking down seven threes and leading the Terriers past. Seton Hall with a game-high 24 points.
9. Ja Morant records the first March Madness triple-double in seven years
NBA draftniks have been all over the Ja Morant story for weeks now, but the rest of the country finally got to see Murray State's prodigious point guard in action against Marquette. Morant took full advantage of his first opportunity in the spotlight with a mesmerizing performance.
The Golden Eagles were helpless against Morant, who recorded 11 points, 11 rebounds, and 16 assists to become the first player to record a triple-double in the NCAA Tournament since Draymond Green in 2012. Morant also displayed his incredible potential, dropping tremendous dimes that evoked memories of a young Russell Westbrook, to help the Racers blow out Marquette 83-64 to advance to the Round of 32.