Trail Blazers answer every challenge, take Game 4 from the Thunder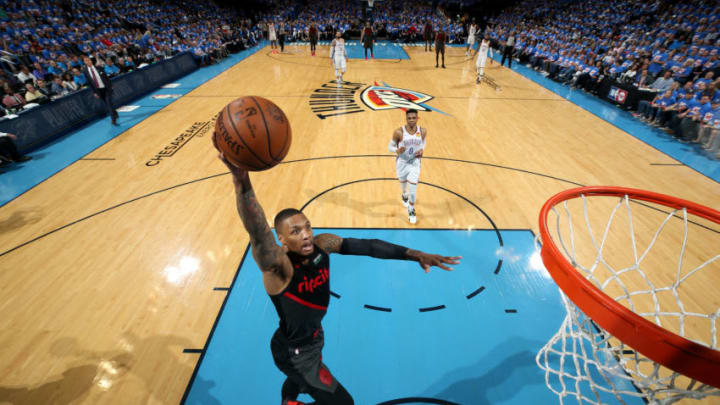 OKLAHOMA CITY, OK - APRIL 21: Damian Lillard #0 of the Portland Trail Blazers dunks the ball during the game against the Oklahoma City Thunder during Game Four of Round One of the 2019 NBA Playoffs on April 21, 2019 at Chesapeake Energy Arena in Oklahoma City, Oklahoma. NOTE TO USER: User expressly acknowledges and agrees that, by downloading and/or using this photograph, user is consenting to the terms and conditions of the Getty Images License Agreement. Mandatory Copyright Notice: Copyright 2019 NBAE (Photo by Zach Beeker/NBAE via Getty Images) /
Damian Lillard and company have answered every challenge from the Thunder, taking Game 4 and giving the Trail Blazers control of this series.
The Thunder seemed to have stolen momentum in Game 3, getting a big night from Russell Westbrook and trolling Damian Lillard throughout their first win of the series. The Trail Blazers bounced right back in Game 4, winning each of the first three quarters and leading by as much as 19 on the road, as they firmly took control of the series.
Westbrook and Lillard have, in their own ways, made themselves the central story of this matchup and Game 4 went firmly to Lillard. Now the series will shift back to Portland with the Trail Blazers having a chance to close things out at home in Game 5.
Takeaways
How about a round of applause for Al-Farouq Aminu and Mo Harkless? The Trail Blazers forward duo are the weakest link in their starting rotation but they've been played tremendously well in this series. Their defense has been energetic and engaged and they've combined to make 10-of-29 3-pointers through four games. They combined for 34 points, 19 rebounds, 3 steals and 4 blocks in this crucial win, giving Portland everything they could reasonably expect, and then some.
This is going to be a series to forget for Paul George and Russell Westbrook. George has an injury to excuse his performance but it's still discouraging to watch a potentially career-defining regular season be washed away by this playoff disaster. Including Game 4, George has put up 107 points on 37 percent shooting in the series, including an eye-gouging 12-of-39 on 3-pointers. And if these playoffs were the opportunity for a final referendum on Westbrook he's going to be voted down. He showed up in Game 3, but in the three Trail Blazers wins he's shot 18-of-58 from the field. The structure of the Thunder roster puts incredible pressure on their stars to play their best. So far, they have not been up to the challenge.
Lillard and McCollum are not messing around. Game 3 and all the Westbrook baby-rocking looks like a blip as the Blazers backcourt is clearly on a mission to redeem themselves for the sweep they suffered at the hands of the Pelicans in last year's first round. Through the first three games, Lillard and McCollum had combined to average 56.3 points, 11.0 rebounds, 10.3 assists and 3.4 steals per game, shooting 23-of-50 on 3-pointers. In Game 4, with a forked path of regaining momentum or letting Oklahoma City even the series, they put combined for 51 points, 7 rebounds, 11 assists and 2 steals, hitting 9 -of-17 3-pointers. For the past few years, discussion of the Trail Blazers has been about the inherent limitations of their supporting cast. Maybe they're ready to transcend that and we should all be paying more attention to how high Lillard and McCollum can raise their ceiling?