NFL Draft reactions, Tyreek Hill and will Patrick Mahomes regress?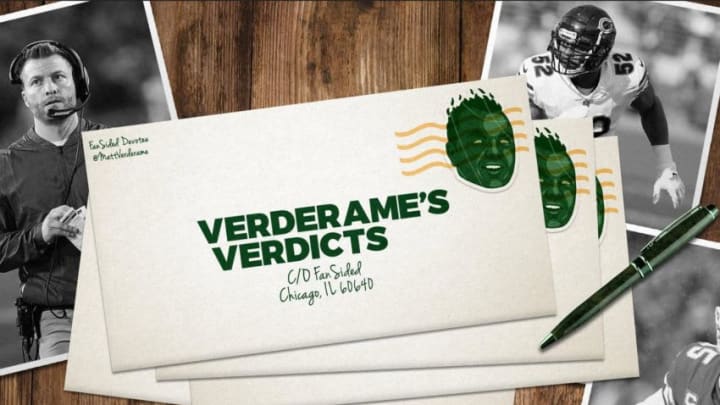 In this week of Verderame's Verdicts, we tackle whether players are paid for one-day contracts, if Patrick Mahomes will regress and which Day 3 was best?
The latter question actually stumped me. After quick research, the contract is strictly ceremonial. In other words, Jamaal Charles and Derrick Johnson aren't costing the Kansas City Chiefs against their cap.
As for the public relations side, it certainly doesn't hurt. I don't believe the Chiefs are doing this for that reason, but the organization can use the good publicity after what has been an awful month.
Frankly, I'm just happy for Charles and Johnson. Both are all-time Chiefs, who will soon be in the Ring of Honor.
Lots to choose from here. I'll go with the first pick of the entire day. After watching of film of him before the draft, I thought Iowa State's Hakeem Butler could develop into a terrific possession receiver. The Arizona Cardinals getting him in the fourth round, to go with a class that already had UMass' Andy Isabella and Oklahoma quarterback Kyler Murray is incredible.
If Butler reaches the potential I believe him to have, Arizona fans should be thrilled. Larry Fitzgerald is unfortunately not going to play forever.
Also, I loved the picks of Michigan State safety Khari Willis to the Indianapolis Colts in the fourth round and Auburn inside linebacker Deshaun Davis to the Cincinnati Bengals in the sixth. I got to speak with both men extensively prior to the draft, and I couldn't have been more impressed.
Above are the links to both pieces, should you want to learn their stories.
If we're talking about statistical regression, that's inevitable. If Patrick Mahomes posts another season of 50 touchdowns and more than 5,000 yards, it's the greatest two-year span we've seen by a considerable margin.
To be direct, here's my scientific projection for him: 4,689 yards, 42 touchdowns, 15 interceptions
By the way, those are MVP-caliber numbers.
Mahomes is a tremendous talent, but it seems likely at this juncture he's without Tyreek Hill for at least some of the season. That matters. Take Hill out of the equation and while Kansas City's offense remains potent, it's home-run hitter is gone.
All that said, I think Mahomes is better in 2019. He'll have more freedom at the line of scrimmage, he should improve his deep-ball accuracy and his knowledge of the playbook will only continue to grow. The numbers might be down, but the level of play will rise.
I also think the point you make about the defense is a good one. The Chiefs should be improved on that side after replacing coordinator Bob Sutton with Steve Spagnuolo. The losses of Dee Ford and Justin Houston matter, but they are outweighed by the additions of Frank Clark, Alex Okafor, Bashaud Breeland, Emmanuel Ogbah and Tyrann Mathieu. Also, don't sleep on rookie safety Juan Thornhill. I believe he makes an instant impact as one of the draft's biggest steals.
What regression do I expect from Mahomes, and will the defense get him more touches?
The investigation involving Tyreek Hill has taken more turns than a back-country road. I would caution anybody to take the letter from his attorney with a grain of salt. It's intent is to make Hill look good. It doesn't mean the letter isn't factual, but it has a specific purpose.
The blunt truth? Kansas City hasn't cut Hill because he's a phenomenal football player and critical to its success. The Chiefs are trying to win the Super Bowl right now. If this was a third-string running back, he would have been long gone.
Still, some would say Kareem Hunt is a great player and the Chiefs cut him. True. However, Hunt's situation involved video, and it happened on a Friday afternoon during the season. To this point, there's no video evidence of Hill involved in wrongdoing. That's powerful. It's also May. The team, and the league, aren't facing some type of deadline. Both can take their time.
I believe the Chiefs were right to cut Hunt. Remember, though, that they didn't cut him for pushing and kicking a 19-year-old woman in a Cleveland hotel last February. They cut him because he lied to the organization.
What happens to Hill remains anybody's guess. Kansas City could still release him. The NFL could suspend him for six games. It could suspend him for the season. With the investigation from the Johnson County District Attorney's Office still open, criminal charges are possible.
I have believed for some time and continue to believe that the Chiefs are going to ride this out.