NFL mailbag: Patrick Mahomes contract, Jets and Giants messes and more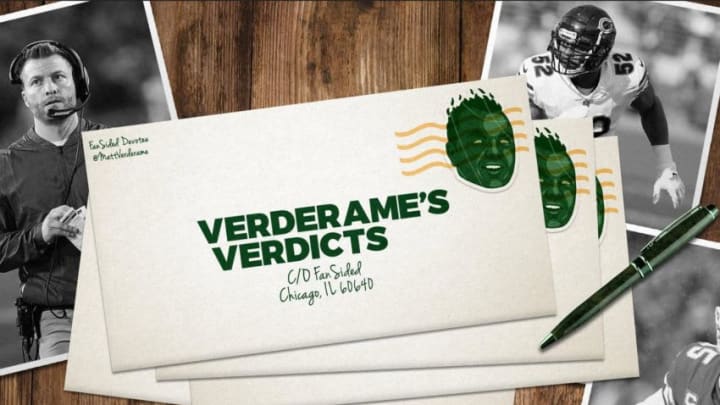 In this week's NFL mailbag, we cover how much Patrick Mahomes is eventually going to get paid, and how much rosters may change before training camp.
I love this question. As a native New Yorker who lives in Chicago, I can actually hear the faint sounds of Mike Francesa killing both franchises on the WFAN airwaves, as dismayed fans call in and ask for a mass firing at MetLife.
Look, we're all prisoners of the moment. The Jets made the most recent gaffe with the Mike Maccagnan/Adam Gase fiasco. Still, the Giants are the clear winners here.
When you trade away Odell Beckham Jr. — and take a cap hit in the process — you're having a bad offseason. When you get nothing for Landon Collins as he signs with a division rival, you're having a horrendous offseason. When you compound that by panicking and selecting Daniel Jones at No. 6 overall, now you have an all-time bad offseason unless Jones proves everyone wrong.
Finally, we can't forget about GM Dave Gettleman. Gettleman has done nothing but blow that roster up and lie all the way through the process. It's been hideous.
According to Over The Cap, the Chiefs rank 16th in the league with $15.617 million in cap space. Looking at next year's projections, Kansas City checks in 22nd with $24.979 million to play with.
Realistically, Kansas City General Manager Brett Veach has a few tough decisions to make, and two easy ones.
Let's start easy. Veach and owner Clark Hunt are going to sit down with agent Leigh Steinberg, hand him a blank contract, and tell him to fill out the terms of Patrick Mahomes' deal. Mahomes' rookie deal runs through 2021, including the fifth-year option, so the Chiefs don't have to do this tomorrow. However, they also don't want to annoy Mahomes.
The two sides can begin negotiations on an extension after this season. It makes sense for both parties to get a deal done at that point. It gives Mahomes long-term security and the team can lock him up before the cap rises any further … or he has another MVP season. Still, the huge numbers won't kick in until 2021 at the earliest.
Second, Chris Jones is going to get paid this summer. Jones is staying away from voluntary OTAs as his representation works on getting him north of $100 million. Barring a freak injury, it would be surprising if he doesn't land it. That will start eating into the cap immediately, with Jones only scheduled to make $1.982 million this season.
Now, for the tough decisions.
What do the Chiefs do with Tyreek Hill? Any extension this offseason is off the table. However, Hill becomes a free agent after this season. While the ugliness surrounding him is both important to note and impossible to ignore, teams will justify almost anything if a guy can play.
Let's say Hill is suspended for six games, and then puts up 1,000 yards receiving and 10 touchdowns. Does Kansas City apply the franchise tag for 2020? That would count approximately  $17 million against the cap.
Ultimately, what the Chiefs decide to do with Hill will heavily influence the rest of their decisions. If Hill isn't part of the organization in 2019, Kansas City probably keeps Sammy Watkins around at $21 million or extends him to lower the number.
The really short answer to your question? Kansas City is likely saving its space to pay guys already in house, with the only caveat potentially being Hill.
Kansas City isn't going to suspend Hill for a few reasons.
One, the legal case has to be played out. After originally closing the investigation into the potential child abuse of Hill's 3-year-old son on April 24, the Johnson County (Kan.) District Attorney's Office reopened the case two days later following an audio tape coming out featuring Hill telling his fiance, Crystal Espinal, that she should be terrified of him.
Two, the Chiefs are going to allow for the NFL to make this decision. The league commented on Wednesday that it would wait until the case wraps up before speaking with Hill and his representation. It's impossible to say when that will happen, whether it be in the summer or fall.
In the end, Hill is very likely going to be suspended. It's a fool's errand to guess how many games he'll get, but he will be missing at least part of the 2018 season.
I would be surprised if it does. You never know about legal matters, but let's run down what's happening here.
Geourvon Sears is a relative of Tyrann Mathieu. Federal prosecution is alleging that Sears threatened Mathieu with blackmail through multiple calls and texts if he wasn't given a financial payment of $1.5 million and later $5 million. On Wednesday, Sears was in court due to his bond being revoked. In that hearing, George Sears, brother of Geourvon, claimed Mathieu threatened his family and put a hit out on his brother.
Frankly, this is a tough sell. When you start asking for major sums of money — or any money for that matter — it becomes difficult to believe in honest statements coming from that side. Anything is possible, but Mathieu doesn't appear to be in any trouble.