Will the 2019 NBA Finals be the end of an era?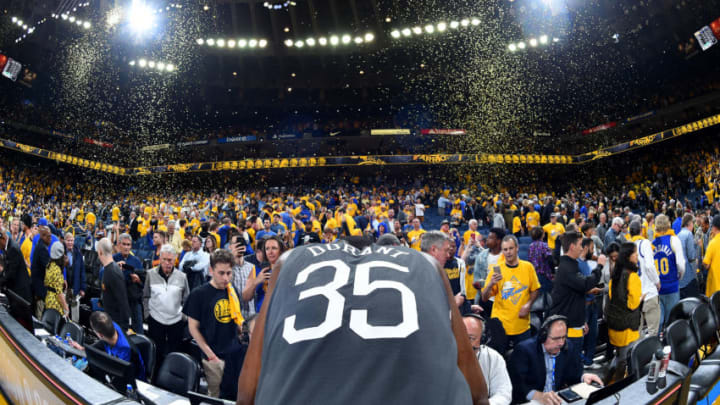 OAKLAND, CA - APRIL 30: Kevin Durant #35 of the Golden State Warriors looks on after defeating the Houston Rockets in Game Two of the Western Conference Semi-Finals of the 2019 NBA Playoffs on April 30, 2019 at ORACLE Arena in Oakland, California. NOTE TO USER: User expressly acknowledges and agrees that, by downloading and or using this photograph, user is consenting to the terms and conditions of Getty Images License Agreement. Mandatory Copyright Notice: Copyright 2019 NBAE (Photo by Andrew D. Bernstein/NBAE via Getty Images) /
Sometimes, you just know.
By the time Michael Jordan turned Bryon Russell from a somewhat talented NBA wing to a footnote in sports history, everyone already had a sense that it was the end of an era.
Six titles in eight years, bookended by two three-peats, had a certain ring to it. Yeah, sure, with the lockout looming, there was a convenient excuse to pull the plug…but did they really need an excuse?
Another title would have upset the symmetry that always seemed to surround Jordan's career. Six in eight? Clean. But seven in nine? Or, God forbid, a loss? Messy. Besides, trying for another title would have almost been superfluous. All due respect to Hakeem, but the 1990s belonged to Mike. They were his and his alone.
Even the Pistons teams that won back to back rings the two years' prior are remembered as much for being the hump that Jordan needed to get over than for the wins themselves. Detroit was a buffer in NBA history — a bridge between the era of the Celtics and Lakers and what was to come after it.
That's the way sports work sometimes. Narratives render certain accomplishments as part of the appendix and not the main story. The Pistons and Rockets know the feeling, as do most champions from the 1970s — a buffer decade following Boston's dynasty.
No buffers were needed after Jordan's shot, of course. The following June, Tim Duncan raised the trophy for the first time. It was something either he or Shaquille O'Neal would wind up doing for eight of the nine years following MJ's final triumph. The last of those, when a 31-year-old Duncan made quick work of a 22-year old LeBron James, would represent a passing of the torch.
Sorry Kobe stans, but it's true. Just like the 1970s Knicks, Dr. J & Moses, the 1980s Pistons, and those plucky Rockets, Kobe had his moment. But it was a moment. LeBron? Like Jordan before him, the man had an era.
That's what happens when you dominate the landscape for a decade. It seems like it's been forever since every conversation and every controversy didn't touch on James in some way. Even now, as we prepare for what should be a competitive Finals, most of the week's attention has been on the long awaited ESPN expose about LeBron's new team and his sphere of influence within it. All roads, as always, lead back to the King.
Which leads us to now. After seven-plus decades of NBA lineage, from Mikan's Lakers to Russell's Celtics to a 1970s hodgepodge to Bird vs. Magic to Michael to Shaq vs. Duncan to LeBron, it seems we've arrived at another crossroads.
You'd think that, as we get ready for tip-off tonight, the favorite in the 2019 NBA Finals has already done enough to raise their status above buffer level. Five finals in a row, with at least three rings, gets you that honor.
Or does it?
With the amount of uncertainty hanging over the league at the moment, can we really rule anything out? If Kevin Durant leaves and wins elsewhere, what then? Who claims the last two championships as their primary accomplishment? The Warriors, or KD?
What if they won without Durant altogether? If that were to happen, how much more credit does the team get? Would they need one more ring, either next year or at some point in the near future, to solidify this as the Warriors' era, as opposed to Durant's? Or would they have already done enough?
Better yet, what if Toronto pulls off the upset? That would make it two rings and (presumably) two Finals MVP's five years apart for Kawhi Leonard, who is about to turn 28 — the age both Jordan and James were when they won their first titles. Does he then dictate how the following pages in NBA history will be written?
Perhaps most interesting of all: what if the two men poised to take the reins from the King teamed up and chased banners together, either in New York or LA? How the hell would we reconcile that one?
And then there's Giannis and AD and Zion and before you know it, the clock on Kawhi and KD is ticking before it's even been wound. Eras, moments, whatever you want to call them…they're all fleeting. Now more than ever, change is the only constant.
It makes you truly appreciate a guy like LeBron, who was so dominant so as to override the fact that he switched uniforms three times in his prime. Once he rose up, there was never any question about who lorded over the sport. Ditto for Mike, and Larry and Magic, and Tim and Shaq. Will anyone else have that power? Could they, as the sport continues to evolve and building dynasties has become harder now than it ever has been? Maybe this is proof that, yes, three titles and five Finals in as many years is already enough to etch Golden State deeper into the NBA's pantheon than we realize, even as it's happening.
As we all get ready to take in the best basketball of the year, this is the stuff that will be in the back of my mind, because pretty soon, everything is going to change. Plans are already being made, courses charted, and sights set. Jordan's outstretched right arm was the clearest image we've ever had of the end of one chapter and the beginning of another.
Until now.
We don't know what picture will be forever etched in our minds after this series is over, but it's safe to say that we'll look back on it with the same finality as Jordan's shot a little over two decades ago.
Who'll be in the frame is still a mystery. So is everything that lies ahead.
Before we get there, another blank page needs to get filled.
The Finals starts tonight.