Fantasy Football Mock Draft: 2019 FanSided pick 9 breakdown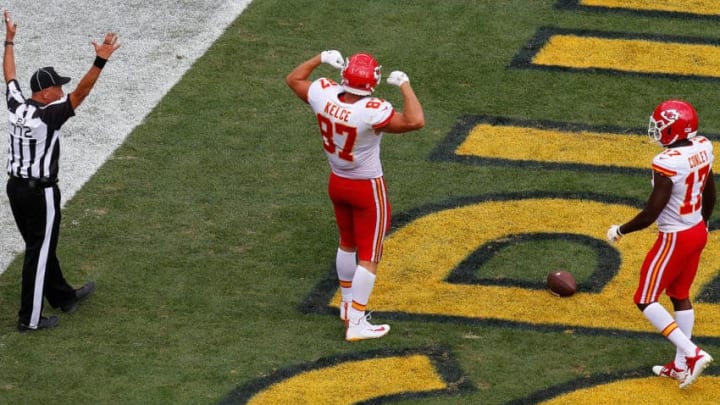 Fantasy Football Mock Draft: PITTSBURGH, PA - SEPTEMBER 16: Travis Kelce #87 of the Kansas City Chiefs celebrates after a 25 yard touchdown reception in the second half during the game against the Pittsburgh Steelers at Heinz Field on September 16, 2018 in Pittsburgh, Pennsylvania. (Photo by Justin K. Aller/Getty Images) /
Fantasy Football Mock Draft: Mandatory Credit: Dylan Buell/Getty Images /
Some of the staff at Fantasy CPR recently participated in a Fantasy Football Mock Draft and here's what we learned to use for the season, from the ninth overall pick!
Fantasy Football Mock Draft are valuable if you can get a group of trustworthy people to do it with you. Doing it with some random people who tune out after round five doesn't exactly help. Fortunately, the staff of writers gave a very realistic feel for the draft. This was a PPR league with one quarterback, two running backs, two wide receivers, one tight end, two flexes and a defense.
Fantasy Football Mock Draft Pick 9: Rounds 1-3
When you're picking ninth out of 12 teams, it's almost a guarantee that you won't get a high end running back. That almost wasn't the case for me, as I missed on Arizona Cardinals running back David Johnson by one pick. Green Bay Packers receiver Davante Adams is a great consolation prize at ninth overall.
Coming back around in round two, I was left with an interesting choice. I could take any of the big three tight ends in Travis Kelce, Zach Ertz or George Kittle. Being closer to the turn, this was the only shot I had.
I happily passed on players like Joe Mixon, Antonio Brown and Damien Williams for Kelce. The first two picks almost guarantee me 20 touchdowns, 2,400 yards and 180-200 receptions off the top. That did leave me a little behind on running back, but round three gifted me with a number one back.
As T.Y Hilton, Marlon Mack and Stefon Diggs went ahead of me, Kerryon Johnson fell right to me and I didn't hesitate to pounce. I won't get to into why I love him so much here, since I wrote an in-depth profile about him here.
The first three rounds had left me a top five receiver, the number one tight end and a top 10-15 running back. We're off and running from the nine spot!
Fantasy Football Mock Draft: Team at this point 
Davante Adams, Wide Receiver
Travis Kelce, Tight End 
Kerryon Johnson, Running Back