The Walking Dead season 10 premiere live stream: Watch online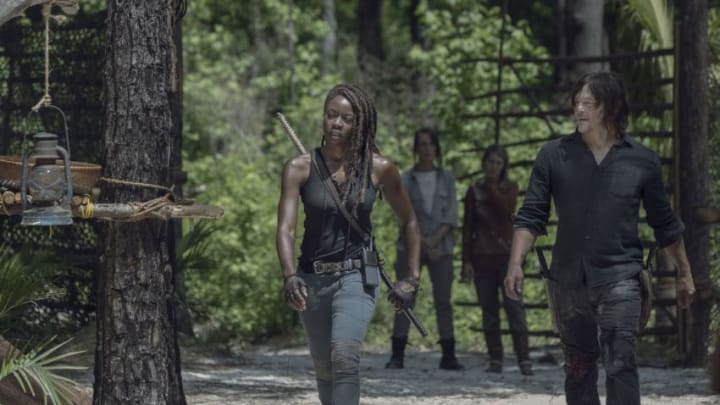 Danai Gurira as Michonne, Norman Reedus as Daryl Dixon - The Walking Dead _ Season 10 - Photo Credit: Jackson Lee Davis/AMC /
The Walking Dead premiere hints at a calm before the storm. Here's how to watch The Walking Dead season 10 episode 1 live on TV and online.
The Walking Dead is back and even more changes are in store, so find out how to watch The Walking Dead online or live tonight as the new season premieres.
The AMC series starts its tenth season on Sunday with TV fans well aware this will be the last go-around for Michonne as Danai Gurira is leaving the show to pursue other opportunities. With her on the way out, that leaves Daryl Dixon (Norman Reedus) as the most popular character still in the fight. How will the survivors, and the fans, react to the eventual absence of Michonne?
Then there's the usual question of what the next threat will be. The Whisperers are still out there and still intent on causing all kinds of havoc, and they're poised to continue their terrifying ways this season. But don't be surprised if something else emerges from the woodwork (or is that the woods?) as no one is ever really safe.
Below is all the information you need to watch The Walking Dead online and live Sunday to catch the first episode of the season.
Here's how AMC officially describes the episode:
"The Oceanside group continues to train in case the Whisperers return."
And here's how you can watch "Lines We Cross" live, on TV or via live stream:
Date: Sunday, Oct. 6
Start Time: 9:00 p.m. EST
Episode: "Lines We Cross"
TV Channel: AMC
Live Stream: Watch live on Fubo TV. Sign up now for a free seven-day trial. You can also watch on the AMC website or app.
For the latest The Walking Dead season 10 spoilers and news, plus more on everything happening in TV, follow the Television category at FanSided.