What Christian Eriksen's transfer means for Inter Milan and Tottenham
Christian Eriksen is off to Inter Milan after seven seasons in the Premier League with Tottenham. What can Inter expect out of their new signee and how will Spurs move on?
After weeks of rumors and speculation, Christian Eriksen finally completed his long-awaited transfer to Inter Milan.
Sky Sport's Fabrizio Romano confirmed the news of an agreement being reached between player and club on Friday, which was followed by the official announcement on Tuesday.
https://twitter.com/Inter_en/status/1222142281710522368?s=20
Eriksen, who was slated to become a free agent in the summer, signed a contract through June 2024 with the current Serie A contenders.
The move seemed inevitable from the start of the winter transfer window in early January. Talks between the two clubs were rampant throughout the month only at a standstill for a short period of time after Spurs' club chairman Daniel Levy refused to budge below the €20M target. But in the end, Inter CEO Giuseppe Marotta gave into Tottenham's take it or leave it offer and completed the deal for the Danish midfielder.
Eriksen's move will have major ramifications for both Inter and Tottenham from both a tactical and financial perspective.
From a tactics point of view for Inter, they are bringing in one of the top creative forces in Europe and a talent that can change the complexion of the game with just one pass.
Over the past five seasons, he cemented his status as one of the best playmaking midfielders in all of Europe. He recorded 52 league assists over that same period with Tottenham, which ranked second in the Premier League behind Kevin De Bruyne's 60.
In just his final three Premier League seasons he totaled for an astounding 200 key passes, according to Football Reference. When a graphic was shown during a game that highlighted the top assist leaders in the Premier League, fans at home watching were always accustomed to seeing Eriksen's name alongside the likes of David Silva and De Bruyne.
Eriksen's on-ball creativity is what sets him apart from several other elite attacking midfielders in England. He can initiate quick transitions upfield through runs into space, which is why Spurs were often lethal on counters. His vision on the pitch is also unparalleled; he can pick out passes to open teammates in the box with relative ease.
What he succeeds at better than most other attacking midfielders is the composure on the ball that he maintains while he scans the pitch. Eriksen is not one to recklessly distribute possession, but rather patiently waits for the opportune moment to send in a precise key pass.
While Eriksen's strongest role is as an attacking midfielder, he is also a versatile talent on the pitch. As was on full display over the past two months, the Danish international can orchestrate play as a winger, base midfielder and a double-pivot midfielder. Still, playing as an attacking-minded midfielder is the role tailored for his style and one that he gradually mastered while in England.
For Inter, the biggest question surrounding the addition of Eriksen is just how he will fit in with the club. Eriksen offers a creative option and versatility to manager Antonio Conte, but how exactly will he be used in the 3-5-2 setup?
One thing is for sure: Conte will not alter the formation or tactics to accommodate for Eriksen's arrival. Inter have the personnel to play formations like the balanced 4-2-3-1 — a formation suited for a CAM — or a 4-4-2. But all signs point to Conte continuing to operate his side under the prototypical three at the back system.
However, Conte may tweak the formation and elect to go with a 3-4-1-2 setup, which puts a central attacking midfielder in behind the two main strikers upfront. For Inter, Eriksen would tuck in behind Lautaro Martinez and Romelu Lukaku while hovering in the space just outside the box.
The role entails linking up with both Lukaku and Martinez and distributing them an array of passes within the final third of the pitch — a task which Eriksen is all too familiar after building strong chemistry with Harry Kane. And to an extent, the Danish international would also be impactful in assisting defensive midfielder Marcelo Brozovic with negating an opponent's high press and providing open passing links anywhere on the pitch.
For instance, see this early sequence from Inter's fixture against Napoli. Brozovic is able to find Roberto Gagliardini in open space while both Martinez and Lukaku hustle upfield into the final third. However, Gagliardini is not able to do much over his eight seconds with the ball as he was subsequently dispossessed. This is a sequence where Inter could have used Eriksen, as the 27-year-old is known for his ability to dish out through balls to strikers in quick transitions.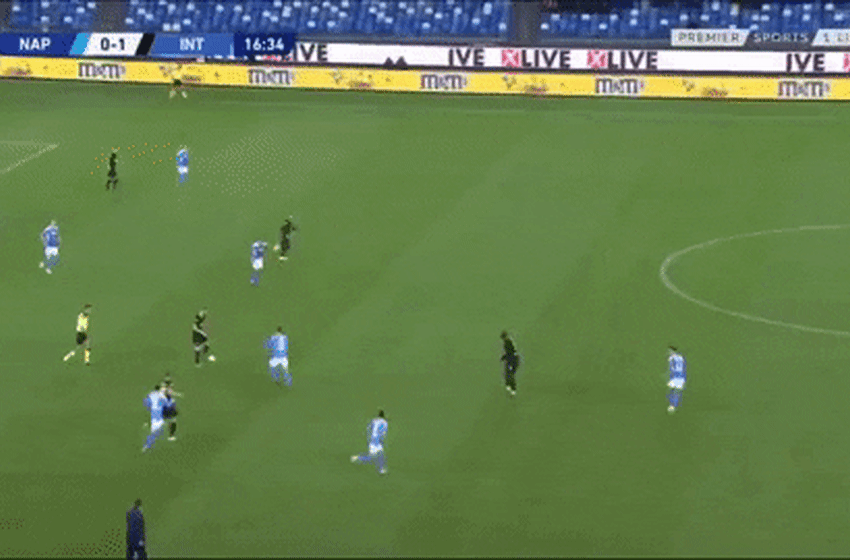 Playing a 3-4-1-2 with Eriksen opens up a number of attacking options for Conte's side.
First, Eriksen would be designated as the main ball progressor, whether in transitions or methodical build-up sequences. Even in what has considered a down year for Eriksen, along with the drop in playing time, the Danish international has still accounted for 58 passes to the final third and 21 passes into the penalty box. Both of those figures would have ranked 4th with Inter this season, according to Football Reference. And according to Wyscout, his 2.14 key passes per 90 rate would rank 5th in Serie A this season and 1st in Inter's side by more than one per game.
In the case that Conte decides to stick with the 3-5-2 and not push Eriksen in an advanced position while in possession, Inter can still formulate a much-improved attacking gameplan with Eriksen in the lineup. However, as with any Conte-led side, he will be tasked with hefty defensive responsibilities. When Inter are in their 5-3-2 defensive setup, Eriksen must be willing to exert more of a defensive presence. His mobility must be keen when it comes to pressing and tracking back on defense.
Meanwhile for Tottenham, they are losing one of their most influential players in club history. He was part of Spurs' rise from the laughingstock of London to a perennial contender for a top four league finish. One could make a strong case that he was their best player over their Premier League emergence under manager Mauricio Pochettino.
Sure, Eriksen did not look like himself this season and he was bound to eventually leave in the summer on a free transfer. After minimal talks over a contract extension during last year's summer transfer window, it seemed inevitable that Eriksen's time with the club was soon coming to an end.
His falling out of favor under new manager Jose Mourinho was the final straw in the drama between club and player. But Eriksen is not an easy player to replace. Not many attacking midfielders can come in and generate multiple seasons of at least 10 assists and more than two key passes per game.
From a financial perspective, Spurs were successfully able to at least make €20M as opposed to receiving nothing if he left on a free transfer in the summer.
Now the attention shifts on just how they may replace him.
With the winter transfer window closing soon, it is becoming highly unlikely Spurs will bring in midfield reinforcements let alone sign a talent capable of replacing some of Eriksen's attacking production, such as a Bruno Fernandes. So, Daniel Levy may just wait until the summer transfer window to identify and sign a player who fits the profile on an ideal Eriksen replacement.
Assuming Tottenham stand pat, they do have just enough depth and talent in the midfield to make the late push for a top-four finish. But for this to be the case, Spurs will need contributions across the board, including from Giovani Lo Celso and Dele Alli.
The Argentine international Lo Celso has provided the spark Tottenham so desperately needed as of late. He has held his own as a double pivot midfielder, base midfielder and winger over the past month. Alli may play a more impactful role for Spurs filling in as the attacking midfielder in a 4-2-3-1 formation. Eriksen's departure may also provide a golden opportunity for Benfica loanee Gedson Fernandes, who needs all the playing time he could get to show his caliber as a well-rounded midfielder.
From a general outlook, Eriksen's transfer is a win-win deal for both teams.
Inter are receiving an illustrious creative talent who is more than able to create multiple goal-scoring chances every game. He is just the player who can prevent lethargic attacking sequences, which had become the norm as of late. Inter were at times starting to look one-dimensional, as in their performance against Leece when they attempted 55 aerial balls into the box. But now with Eriksen, he can turn the tide and provide a different array of key passes, via long balls upfront or through passes to the box, for Martinez and Lukaku – two players who only need one shot to get going on the score sheet.
While his salary may only add to Inter's wage bill concerns, it will all be worth it in the end if Conte and his side are celebrating a domestic double in May along with possibly a Europa League win. With the season heading into the stretch run, Eriksen is just the player Inter need to push them over the edge in a tight league title race.
On the other hand, Tottenham say goodbye to a fan favorite. But in the end, both sides needed to move on, and each are content with a fresh start.