NBA Draft 2020: Keyontae Johnson is the class's most underrated prospect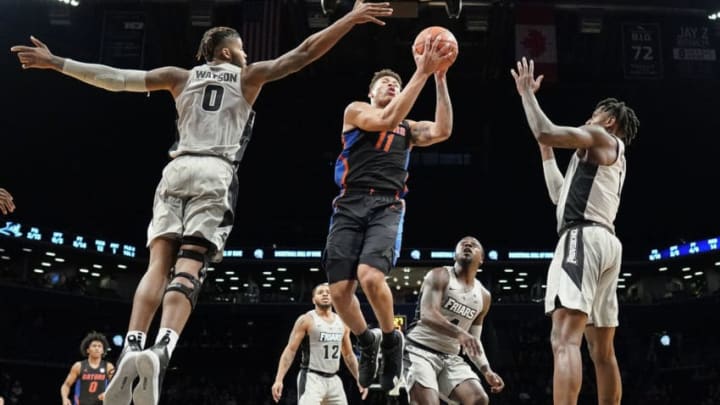 BROOKLYN, NY - DECEMBER 17: Keyontae Johnson #11 of the Florida Gators shoots against the Providence Friars during the Basketball Hall of Fame Invitational at the Barclays Center on December 17, 2019 in the Brooklyn borough of New York City. (Photo by Porter Binks/Getty Images) /
Keyontae Johnson hasn't gotten much attention but he has the tools to be one of the most impactful wings in the NBA Draft 2020 class.
The absence of buzz surrounding Keyontae Johnson is strange. The NBA and the mainstream scouting consensus adores athletic tools, so much so that a prospect like James Wiseman is slated as a top-five prospect. It swoons over toolsy wings fitting into the "3-and-D" archetype, like ESPN ranking Robert Woodard in the top 25.
Therefore, it is odd that Florida sophomore wing Keyontae Johnson, who slides into the above categories seamlessly and is a genuinely good basketball player, is absent from any mainstream top 30s. Firmly in the top 20 on my board, he finds himself 39th on ESPN's best available, 53rd on Sam Vecenie's latest board and 74th on NBADraft.net's board.
Keyontae Johnson is a blatant first-round prospect, especially in a draft as weak as 2020. The 6-foot-5, 231-pound wing, sporting a reported 41-inch vertical leap and a 6-foot-11 wingspan, passes the physical tools test with flying colors and is one of the five best athletes in the class. His per 100 scoring took a jump this season as well, upping his points to 27, shooting 38 percent from 3 and 60.2 percent inside the arc.
Johnson's athleticism is top-tier and multifaceted, excelling in more than the traditional run-jump expression. That being said, he's an eruptive athlete in more traditional senses. Vertically, Keyontae Johnson's legs are pogo sticks, routinely elevating for monster dunks.
He's one of three players this season 6-foot-5 or under to record 30 dunks and one of two to post 25 dunks, a 2 percent steal rate and shoot 75 percent from the line, the other being Anthony Edwards. Three of the five drafted players to post those numbers as underclassmen are John Wall, Victor Oladipo and Ja Morant, the other two being Elliot Williams and Quinndary Weatherspoon.
Oddly, the majority of Johnson's dunks come in the half-court, as Florida rarely pushes in transition, placing 326th out of 353 teams in transition frequency at just 11.2 percent of its offensive possessions. This only makes Johnson's dunk numbers more impressive — he has no trouble rising off of one or two feet in the half-court for thunderous throwdowns:
Johnson's horizontal explosion is just as impressive as his vertical explosion and, combined with his tree-trunk strength, forms an unstoppable slashing profile. His balance as an athlete makes him one of the most functional athletes in the draft, plowing through defenders and finishing through contact on offense when he can't beat them with his burst, and stonewalling attackers on defense.
One of Johnson's most encouraging intangible indicators is his constant improvement not just from his freshman to his sophomore season, but his improvement as his sophomore year went on. His ball-handling control and creativity have improved and while Johnson lacks any advanced moves or counters, he's becoming more comfortable with a live dribble, this in-and-out hesitation move becoming his go-to:
Next to his lack of countermoves, Johnson's biggest slashing weakness is his severe right-hand dominance. Despite this reliance on his strong hand, Johnson's finishing was excellent this season, shooting 63.5 percent in the half-court at the rim, placing in the 84th percentile. Among non-bigs who have generated draft buzz and have at least 100 attempts, the only prospect with better efficiency at the rim is Naji Marshall at 69.1 percent, with Grant Riller right behind Johnson at 63.4 percent (granted Riller's finishing is at a much higher degree of difficulty).
That being said, Johnson plays like his left hand is invisible. Of his 94 makes at the rim in the half-court, only one came with his left hand: this beauty early in the season spinning past the defense and extending with his off-hand:
Johnson goes to great lengths to avoid using his weak hand, resulting in some ugly misses on the left side of the basket:
Yet, Keyontae is as good as one can get as a single-limbed finisher, a master scooping shots in with his inside hand, extending for reverses with his length and spinning back to the right side of the rim:
Impacting winning as an off-ball wing without at least a serviceable jumper is difficult and Keyontae will likely need to shoot to be a valuable NBA starter. This season, Johnson upped his free throw percentage from 64.3 percent to 76.8 percent this season on 95 attempts He's a career 37.3 percent shooter from deep on 142 attempts.
Though he's been largely successful as a spot-up shooter, Johnson lacks in shooting versatility, taking nine off-dribble jumpers this season and logging nine off-screen possessions. Still, his mechanics are smooth and he's been impressive in a limited sample off of screens:
Johnson's playmaking is another skill that has improved as the season has gone on and, while it is still developing, hiss aptitude making plays for his teammates is on an upward trend. As an off-ball passer, Johnson makes quick decisions passing to cutters and shooters exploiting openings in the defense, keeping the ball zipping around the court:
Though Johnson's ball-moving tendencies will be valuable in an off-ball role, his on-ball passing still has plenty of room to grow. At this point, Johnson is comfortable attacking closeouts and picking apart defenses in advantage situations, with the occasional laydown pass as his gravity collapses the defense. His vision and decision making on the move are works in progress, as Johnson often misses passes on his drives, especially when he's unable to separate:
Defensively, Johnson's physical tools again make him an impact wing defender, his strength and mobility making him a wall at the point of attack. Offensive players cannot run through him and they struggle to maneuver around him. Even when ballhandlers beat Johnson, his recovery tools are such that he can still contest shots. In the first clip, Johnson records what might be one of the only on-ball catch blocks in history:
Off of the ball, Johnson displays playmaking instincts and generally strong court awareness, posting a career 2.5 percent steal rate. Even when Johnson is a step or two late, he can still alter shots due to his vertical leap and long arms. Pay attention to Johnson's communication closely in the final clip, waving Tre Mann to help on the drive, allowing Keyontae to zone the weak side and nab a steal:
Given Johnson's elite verticality and length, one would expect him to produce massively as a help-side rim protector. Yet, he has a career block rate of 1.4 percent, underwhelming given his set of tools and awareness. One cause for this figure is a peculiar habit, where Johnson will often make a rotation and be in guarding position and simply not jump for a block. He's not perfect in his rotations either, often rotating a tad late or staring at a driver, standing stationary:
At the next level, better coaching could help remedy this bad habit of Johnson's. There's ample reason to doubt Mike White after Florida consistently underwhelming despite loads of talent.
Keyontae Johnson slots in as a top-20 prospect for his athletic tools and his upside as a valuable wing contributor. I believe in Johnson's shot to a pretty strong degree, his free-throw percentage, success on catch-and-shoot jumpers and great mechanics all positive indicators he won't be a player defenses can ignore. If Johnson doesn't shoot, he's probably not a very good NBA player, but the projection there is strong enough to bet on him, given the rest of his profile.
Off-ball wings need more than shooting to be really useful offensively and Johnson's ability to attack a closeout, make decisions and finish at an elite level all boost his offensive value. Johnson's development curve is an important consideration, as there's ample reason to believe he'll continue to improve his ancillary skills as he continues to age. And defensively, Johnson is toolsy enough and flashes enough intelligence to comfortably project him as a positive defender.
Johnson's athleticism and the functionality of it offer Johnson a high NBA floor along with competence in many offensive areas. At his worst, Johnson should be able to offer some value as a high-level play finisher, maybe even eating up some possessions as a roller with his bounce and length.
Johnson das a real argument as the most athletic prospect in the class and compared to the other guys in his neighborhood, he's bigger than a Grant Riller, more well-rounded and functional than Anthony Edwards and more intelligent than Precious Achiuwa
Keyontae Johnson at his highest end looks like a player who can play real rotation minutes on the wing on a playoff team, which is a rarity in today's NBA. He still has hurdles to leap to reach that ceiling and there's a real chance Johnson never is much more than a bench wing if the shot or ancillary skills stagnate, but wings with his baseline of tools, skills, intelligence and an elite skill (finishing) are rare and generally worth first-round draft capital.